Mill and Water Street
Introduction
Further down the West branch of the Black River is Plum Creek. As Oberlin College and the town began in the early 1830s, various mills and factories needed to sustain the fledgling community were established on Mill and Water Streets (now Vine and Park Streets) surrounding Plum Creek. The growth of Oberlin and its mills is indicative of other small towns beginning in the 19th century.
Images
Excerpt from Oberlin: Origins and Onward comic that depicts the use of steam engines.

Dismantling and Burning of the Colburn Mill, 1893.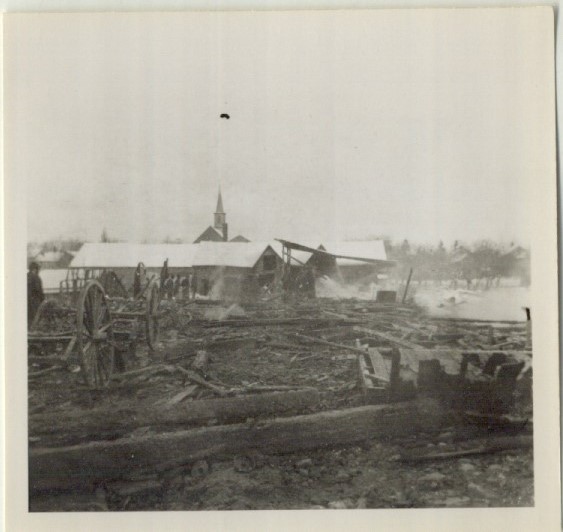 Google Maps image with pinpoints of approximate locations of Oberlin's early industries. Different colored pinpoints indicate a different industry: red for mills, dark blue for Blacksmiths, light blue for metal work, green for transportation related industries, and brown for carpentry, coopering, and sash and blind shops.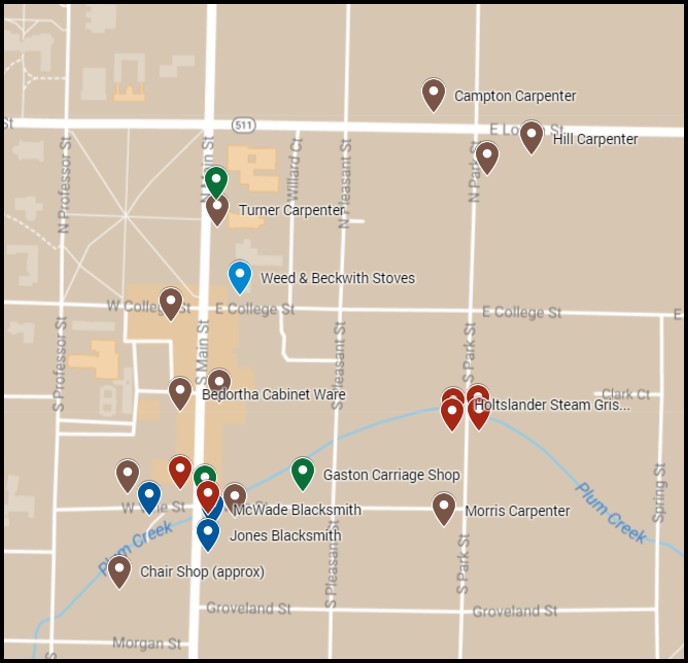 Backstory and Context
The first mill that Oberlin established was the College Mill, which sat at the southeast corner of South Main and Mill (Vine) Streets and began operating in October 1833. While the College Mill started as a sawmill, a grist mill and machinery for building construction supplies (such as shingles, posts, flooring, columns, and furnishings) were added as the town and college grew. To help with the increase in labor that the additional mill and other machines brought to the College Mill, Oberlin College employed its students as a way for them to fulfill their daily requirement of four hours of manual labor under the school's "learning and labor" motto. When the College Mill was sold to a private owner, Isaac Chamberlain, he still employed a few students so they could complete their labor requirement.
Plum Creek powered the College Mill and other early mills and machinery through steam power. Although the creek has been known to flood occasionally, its water supply generally has been low and sits at a low ground elevation making it difficult to use a water wheel or turbine. Steam engines proved a more effective alternative. The College Mill's steam engine was 25-horsepower engine from Cleveland and was enclosed by a partially open shelter.
In 1838, Oberlin students constructed another mill at the corner of South Main and Mill (Vine) Streets (approximately where the Midas stands today). The students intended the mill to rely upon student labor and focused on carpentry and cabinetry. With each new owner, however, the mill saw the addition of new mills and machines. In 1840, Seth B. Ellis and his partners put in a show peg factory, a pail factory, and a planer machine. Around 1848, a carding and cloth-dressing machine was added. With Lyman Stanton Colburn, the mill was turned into a planing mill and furniture factory in 1870. Later he also added a drying kiln over the engine room, which during the course of the mill's lifetime held four steam engines at different times. In 1891 with the mill no longer operational, all the machinery (which took up three train cars) was removed and shipped to Kanasha, West Virginia. 
 Along the east side of Water (Park) Street stood two mills. The first was a sawmill built in 1841 that also relied on steam engines for power. The second was a flour mill built in 1856 and used the original steam boiler from the 1841 sawmill. In the 1870s, these two mills were owned by Gillet and Allen and went by the name "City Mills." They continued to operate as a flour mill until later owners Crocker and Crane brought in machinery to make it a furniture factory. 
On the west side of Water (Park) Street stood another flour mill built in 1846 by Louis Holtslander. For a time, this flour mill was used as a planing mill until Hervey Leonard returned it to a flour mill. When he returned it to a flour mill, he introduced modern roller equipment that could produce 75 to 100 bushels of flour per day.
By the turn of the century, most of Oberlin mills and shops, including the ones discussed above, had either been destroyed, deconstructed, or repurposed. New trends and technologies in buildings and preferred products as well as an increase in demand meant that mill owners constantly had to update their equipment. Oberlin's businesses and industries could not keep up with these pressures, especially when transportation to larger cities and their industrial sectors were becoming more convenient. 
While none of the Mill (Vine) or Park (Water) Street mills still exist today, you may walk or drive Mill (Vine) and Water (Park) Streets and imagine the mills and machine shops that once lined these streets. To follow Plum Creek, start at Wright Memorial Park on West Vine Street and travel east bound to Martin Luther King Jr. Park. Continue heading east on Vine Street until you reach South Park Street and make a left. Ahead on the left will be Park Pavilion and a bridge that crosses Plum Creek. Please note that this path 0.4 miles one way and that sidewalk paths are uneven. Public bathrooms are located at the Oberlin Public Library at 65 South Main Street.
Sources
Phillips, Wilbur H. Oberlin Colony: The Story of a Century. Oberlin, Ohio: Oberlin Publishing
           Company, 1933.
Manahan, Amanda. "Gearing Up, Then Winding Down: A History of Oberlin Industry." Fall
           Public Program at the Oberlin Heritage Center, Oberlin, Ohio, October 23, 2018.
Image Sources
Image 1 courtesy of the Oberlin Heritage Center, Oberlin, OH

Image 2 courtesy of the Oberlin Heritage Center, Oberlin, OH

Image 3 courtesy of the Oberlin Heritage Center, Oberlin, OH