Railway Exchange Building
Introduction
The Railway Exchange Building, completed in 1914, is a 21-story building occupying an entire city block at 600 Locust Street in downtown St. Louis, MO. It was designed in 1912 by the St. Louis architectural firm of Mauran, Russell & Crowell and constructed in 1913 in the Chicago architectural style. It was the tallest building in the city at the time it was constructed, and contained 31 acres of floor space. Originally, its most prominent tenant was the Famous-Barr Dry Goods Company, which occupied the lower 10 stories. It was also the headquarters of the May Department Stores Company, of which Famous-Barr was a part. Despite the presence of the department store, the building's official name was derived from the many railroad company tenants that originally occupied it. Although currently vacant, it is historically significant in both the areas of commercial history and engineering and architectural history. In 2009, the building was entered in the National Register of Historic Places.
Images
Illustration of the Railway Exchange Building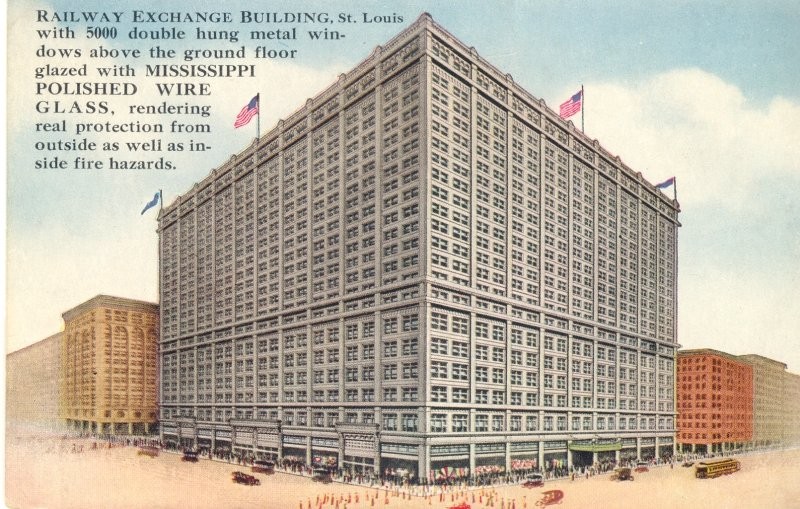 Railway Exchange Building - Top view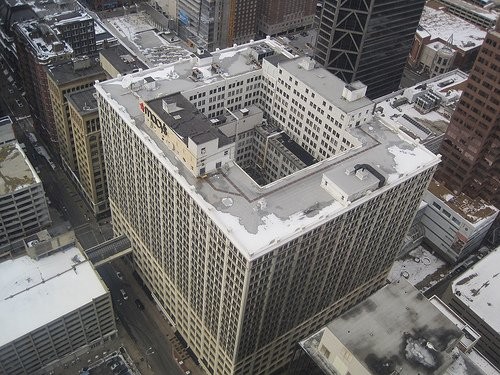 Railway Exchange Building - Ground view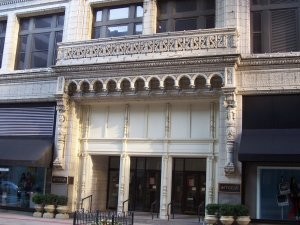 Railway Exchange Building - Detail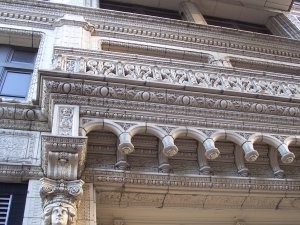 Backstory and Context
At the time of its construction, the Railway Exchange Building was St. Louis's largest commercial and office building. However, as stated in its NRHP nomination form (2008), "the building's rich history was built more on the shoulders of the companies it was designed to house than the structural supports and ornamental flare it boasted in its design." Chief among those companies was the enormous department store Famous-Barr. William Barr & Company opened as a drygoods store before the Civil War, in 1850. Famous Shoe and Clothing Company began in a small building on Franklin Avenue about a quarter century later, in 1873. In 1911, the two venerable stores merged and became part of the May Department Store company. The company moved into its new home in the summer of 1913. The store included two restaurants, three-level escalators, four elevator shafts and seven stories of retail commercial space. To quote the NRHP nomination form, "Famous-Barr is an excellent example of a local company that encouraged the national department store phenomenon by marketing the consumer experience to women shoppers as a leisure and social activity."

John Mauran of Mauran, Russell and Crowell, one of St. Louis's most prolific architectural firms, had originally begun his career in Boston, moving to St. Louis when his firm assigned him to its branch in that city. He started his own firm there in 1900, and became so prominent in the area that he eventually was elected president of the St. Louis chapter of the American Institute of Architects. Like many other buildings the firm designed, the Railway Exchange Building had a terra cotta exterior, and the Chicago-Style tower with classical elements is typical of the firm's work elsewhere in St. Louis. Its terra cotta facings, which includes piers, spandrels, brackets, and columnns, have led the structure to be called "perhaps the most lavishly ornamented building in the entire city." He attributed his use of brick and terra cotta to the climate of the city, writing in a 1904 article, "... as wood construction is neither cool enough nor sufficiently durable, and native granite difficult to quarry, the local material, clay, has lent itself admirably to a brick and terra-cotta expression of the solution of the same problem in 'sunny Missouri,' worked out so many years ago in Spain and Italy." More than ten of the firm's buildings are listed in the National Register of Historic Places.

When the building was designed in 1912, fireproofing designs had already reached St. Louis. The Railway Exchange Building boasted of its status as a "perfectly fireproof building." An extensive sprinkler system, with the nozzles placed every 94 feet within the building, helped the brick and steel structure, with its metal-frame windows, resist fire. A ground-level fire engine could circulate water throughout the building if the sprinkler system failed. In addition, the "complete enclosure of all floor openings" kept fires from spreading down stairwells and between floors. All these precautions persuaded the fire department and other officials that the building would serve as a barrier to fire rather than spread it, and so waved the usual height restrictions for the 21-story building.

Famous-Barr became the city's largest retailer, and when in 1949 it opened its first suburban store, the company was making twice the profits of any other company in the city. The downtown store remained open until 2006, when Federated Department Stores bought out the May Department Store Company and replaced Famous with Macy's, which utilized the building's lower department store and several of the upper levels for its Midwest headquarters. In 2008, Macy's moved its headquarters to Ohio. The store itself closed in 2013.


Hudson Holdings purchased the vacant property in early 2017. At a November 2017 meeting, the city's Industrial Development Authority considered issuing $160 million in Housing Revenue Bonds to help finance redevelopment. The plan was to include not only retail and office space but a residential component of perhaps 600 apartments. Total renovation costs are expected to top $250 million.


Sources
LaMouria, Julie Ann. "Railroad Exchange Building: National Register of Historic Places Registration Form." U.S. Department of the Interior - National Park Service. Published: 6/19/08. Access Date: 1/12/18. https://dnr.mo.gov/shpo/nps-nr/09000411.pdf.

"Railway Exchange Building." Emporis. Access Date: 2/4/18. https://www.emporis.com/buildings/127169/railway-exchange-building-st-louis-mo-usa.

"Railway Exchange Building." Built St. Louis. Access Date: 2/4/18. http://www.builtstlouis.net/opos/railwayexchange.html.

Toft, Carolyn Hewes. "John Lawrence Mauran, FAIA (1866-1933)." Landmarks Association of St. Louis, Inc. Access Date: 2/4/18. https://www.landmarks-stl.org/architects/bio/john_lawrence_mauran/.

Bryant, Tim. "Macy's to close downtown St. Louis store." St. Louis Post-Dispatch. Publication Date: 5/20/13. Access Date: 2/4/18. http://www.stltoday.com/business/columnns/building-blocks/macy-s-to-close-downtown-st-louis-store/art....

Bryant, Tim. "Developer buys Railway Exchange Building downtown." St. Louis Post-Dispatch. Publication Date: 1/31/17. Access Date: 2/4/18. http://www.stltoday.com/business/columnns/building-blocks/developer-buys-railway-exchange-building-do....

Johnson, Greg. "Railway Exchange Redevelopment Close to Reality." Publication Date: 11/21/17. Access Date: 2/4/18. https://nextstl.com/2017/11/railway-exchange-redevelopment-close-reality.
Additional Information