Old Judge Coffee Building
Introduction
The Old Judge Coffee Building is a historic, industrial building in St. Louis. This five story brick building has been converted multiple times, but most famously remembered for the lingering smell of cinnamon and coffee. This historic landmark is significant in the coffee history of St. Louis. During the late 1800s and early 1900s St. Louis had a significant amount of local coffee roasters, and was an asset in their local economy.
Images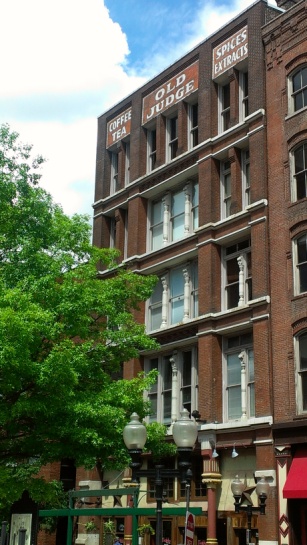 Made in 1935 Old Judge Coffee teamed up with the St. Louis Cardinals to create this memorable calendar.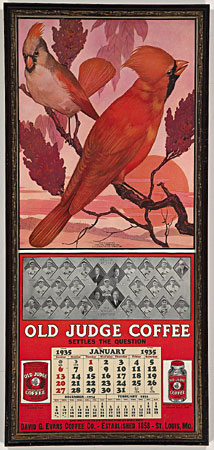 Backstory and Context
The Old Judge Coffee Building is a staple in St. Louis coffee culture. Although this brick, industrial building was intended to be a warehouse and office space for Scharff, Bernnheimer and Co.(1) In the 1918's David Evan's Co moved the Old Judge Coffee and Spice business into the building. At it's prime the business produced three million pounds of coffee (1) and progressively led the use of sealed cans in the production.
St. Louis was leading the country with coffee roasting during the late 1800s and early 1900s this hub made coffee an important resource within their economy. Some pioneering coffee firms in the area were; "David G. Evans & Co.; James H. Forbes; Wm. Schotten & Co.; Fred W. Meyer; H. & J. Menown; Cavanaugh, Rearick & Co.; and Frederick A. Churchill & Company By 1920 there were over 86 coffee roasters locally.(1) "
In 1962 Old Judge Coffee sold to Chock- Full-O-Nuts, but the smell of cinnamon can still be found lingering within the building.(2) The building was revamped again in 1977 creating a home for restaurants, businesses, and even back to its roots in coffee. Historic St. Louis is a hub for industrial buildings, but this landmark is one no coffee lover should miss.


Sources
http://landingtour.mobi/Stops/CoffeeBldg.htm (1) http://www.hmdb.org/Marker.asp?Marker=78837 (2) https://www.antiqueadvertisingexpert.com/project/old-judge-paprika-spice-tin-david-evans-coffee-co-st-louis-mo/
Additional Information