The Black Cat Bar
Introduction
Not to be confused with The Black Cat of Los Angeles (site of a landmark gay rights protest in 1967), the Black Cat bar was a bar and club located here from 1906-1964. The bar garnered an increasingly gay and tourist clientele beginning in the war years, leading to a raid in 1949. A 1951 State Supreme Court case over its liquor license was one of the earliest cases establishing legal protections for LGBT Americans. In the years following, spurred in particular by the performances of José Sarria, who later went on to be the first openly gay candidate for public office in the United States. The Black Cat is a key example of how the gay public spaces became an integral part of the queer community in San Francisco.
Images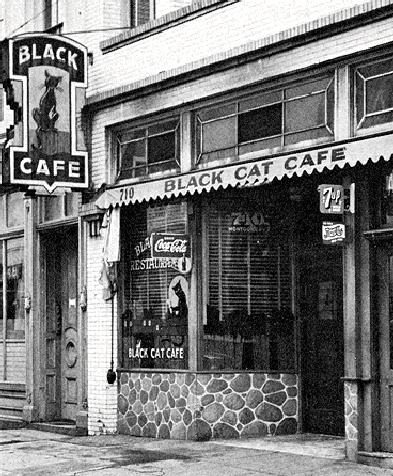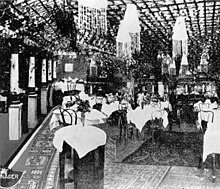 Backstory and Context
The Black Cat Bar located at 710 Montgomery St., San Francisco California, was first established in 1906 on the corner of Eddy and Mason in the Tenderloin district. Some notable regulars included the writers John Steinbeck and William Saroyan, and entertainer Bette Davis. Gay establishments like the Black Cat had a fraught relationship with prostitution, which brought the attention of police during periods of vice crackdowns. In 1921, the bar lost its dance permit and closed for over a decade, after women were observed mingling too much with guests, signaling possible prostitution. As the 1954 police raid and ensuing press scandal at nearby Tommy's Place/12 Adler Place shows, the connection and connotation of queer bars and nightclubs with prostitution persisted long after the Black Cat's closure, and became more prominent during the moral panic of the 1950s.
San Francisco has had a long history of opposing reform movements in the name of maintaining its particular reputation for being a "wide open town," including anti-alcohol efforts like the temperance movement. This created an environment in which queer spaces could become established. During Prohibition, San Francisco was one of the "wettest" cities: speakeasies and bootlegging operations abounded. Thus, following Prohibition, liquor interests held significant sway in the city. Furthermore, state-level control of alcohol regulation fell to the state's tax board, which was less inclined to focus on vice control. As a result, nightclubs and entertainment abounded post-Prohibition, including the Black Cat, which reopened during this time.
Sal Stoumen purchased the club in the 1940s, and like many other establishments during the war era and the late 40s/early 50s, began to serve an increasingly gay clientele, and found itself on the armed forces list of "off limits" establishments as a result. Police raided the bar in 1949, but this did not dampen the bar's popularity, driven by its performances by female impersonators, particularly José Sarria. Sarria and other performers' and staff's "defensive" interactions with tourists and heterosexual couples, according to Nan Alamilla Boyd, "defended their space from being overrun by tourists and outsiders" by "enforcing a culture that assumed everyone in the bar was gay—and gayness was not simply the norm but a preferred way of being."(59). For example, heterosexual men entering with a woman would be greeted with calls like "I didn't know I was merely another woman" or "Why haven't you ever told me you were married?" (58). The bar became one of the most prominent examples of gay bars as a visible institutions, and performances like Sarria's did much to create "a unified and resistant bar-based gay and transgender community." Sarria, in his campaign for city supervisor in 1961, coined the phrase "gay is good!" Gay bars began to become the center of an explicitly politicized movement. As the stories of The Black Cat and Tommy's Place tell, gay and lesbian communities that "fought to defend their territory from police intrusion… came to understand the power of collective action. Their choice to legally defend themselves with the right to (group) public association rather than (individual) privacy rights inserted new ideas and new language into a nascent movement for lesbian and gay civil rights" (Boyd 17).
Owner Sal Stoumen took the state to court following the 1949 raid, and in 1951 the CA Supreme Court issued a decision that ruled that simply having homosexual patrons was not sufficient grounds for suspending its liquor license, and that it was not illegal for gay people to simply assemble. Despite the growing resistance and political solidarity within the city's gay bars and nightclubs, the years ahead would see greater crackdowns in San Francisco, spurred on in part by the creation of the CA Dept. of Alcoholic Beverage Control and stricter laws, during the era of McCarthyism and what has become known as the "The Lavender Scare." Despite Stoumen's efforts, The Black Cat finally closed in 1964 under this pressure, after the bar lost its liquor license in a raid on October 31, 1963. However, the mark left by the Black Cat, Stoumen's decade-and-a-half-long battle, and Sarria's calls for solidarity, would not be lost.
Sources
Boyd, Nan Alamilla. Wide-Open Town: A History of Queer San Francisco to 1965. University of California Press, 2003.
San Francisco Planning Department Historic Context Statement for Lesbian, Gay, Bisexual, Transgender, and Queer History in San Francisco https://commissions.sfplanning.org/hpcpackets/2014.0266U.pdf
Tangents - Homosexual Resort. ONE Magazine. January 1st 1964. 17.
Image Sources
https://www.foundsf.org/index.php?title=The_Black_Cat_Cafe

https://en.wikipedia.org/wiki/Black_Cat_Bar

Additional Information