Big Elephant (Sample's Barber Shop)
Introduction
Author-Uploaded Audio
In this now empty lot once stood a large white building locals called the White Elephant.  Built around 1921, the structure had three separate entrances — "one led to the barber shop, one to the pool hall, and one to a residence."[1] Other businesses that operated from the Big Elephant included a taxicab service and a restaurant attached to the pool hall. Peter J. Finney was the building's first owner and operator of the barber shop. In 1904, sometime after Finney stopped practicing, Lloyd Thomas Sample established Sample's Barber Shop. After Lloyd passed away in 1939, his sons Paul Bernard and John Barkley Sample continued the family barber shop. Sample's Barber Shop moved from the Big Elephant to nearby 309 Jefferson Avenue between 1961 and 1962 and continued operating at that location until the business closed permanently in 2014. John's son famed professional football player, Johnny Sample, Jr., brought world-wide recognition to the family. In Cape Charles, Sample's Barber Shop is equally recognized. Sample's not only provided haircutting services but served as a place for people to openly discuss important issues in the African American community for over a century.
Images
This now-empty lot once housed a building so large it was nicknamed the Big Elephant by locals. (Allison Blakeman)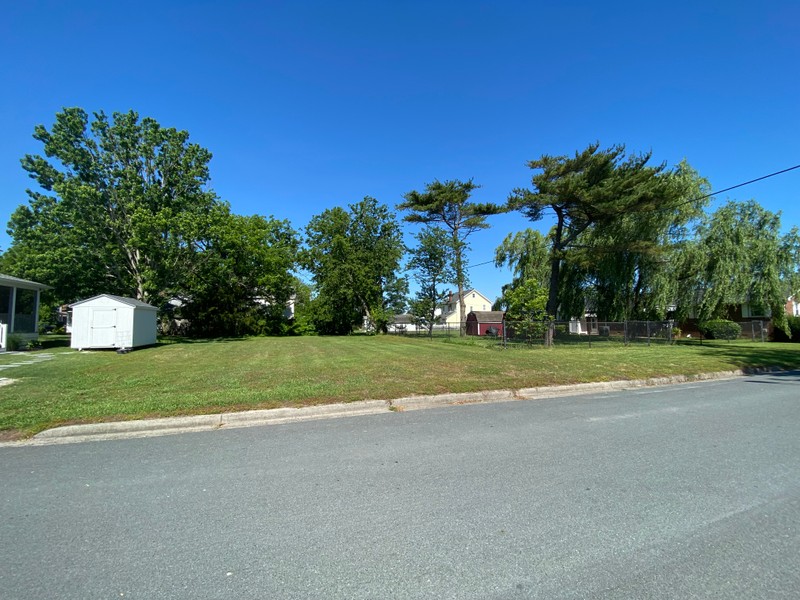 The White Elephant, former home of Sample's Barbershop, is pictured in February 1988 prior to being demolished sometime after 1995. (Virginia Department of Historic Resources)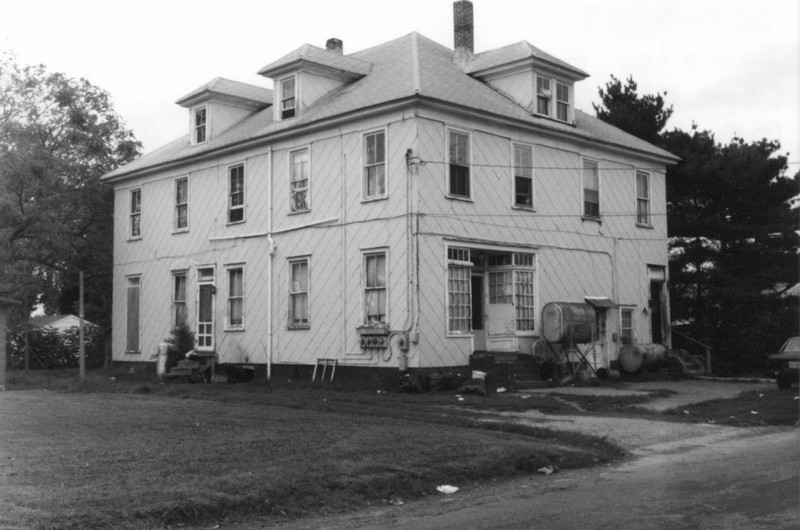 This 1921 Sanborn map shows the White Elephant according to building plans. (Library of Congress)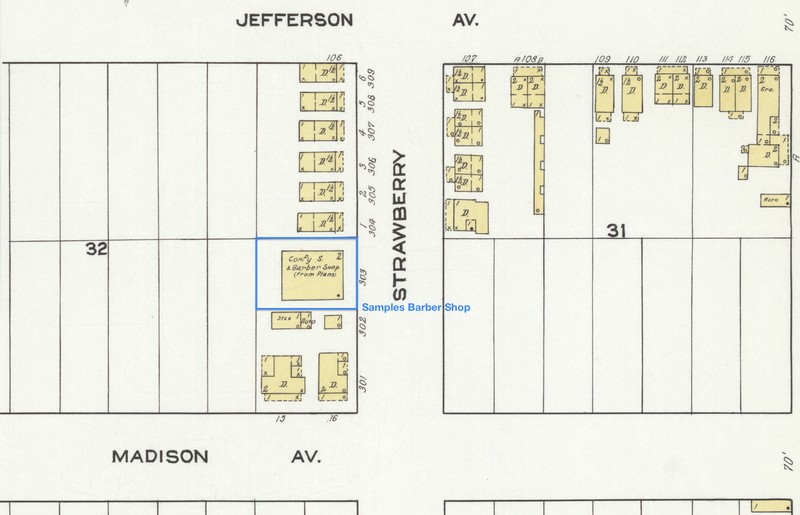 Now a bakery, Sample's Barbershop operated in this location on Jefferson Avenue from 1959 until 2014. (Allison Blakeman)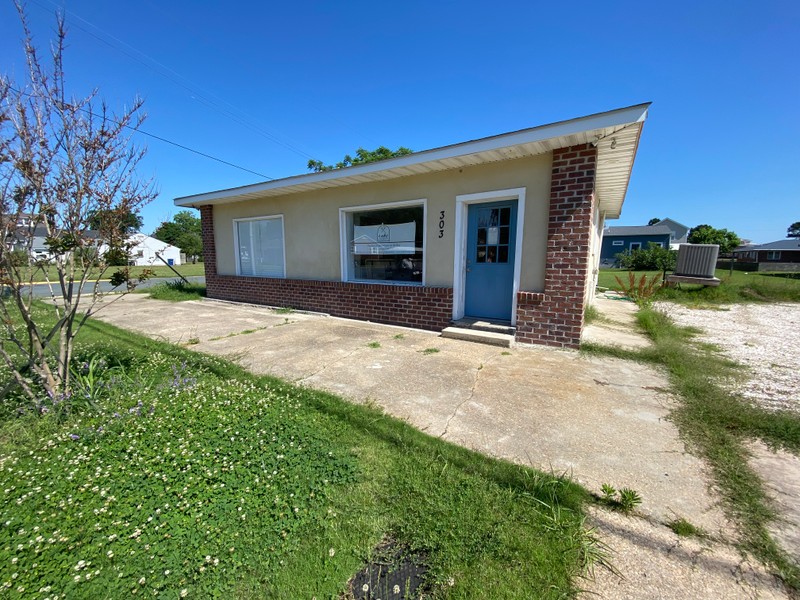 One of Juanita and Tom Godwin's sons sits in a chair at Sample's Barbershop on Jefferson Avenue for his first haircut around 1970. (Juanita and Tom Godwin)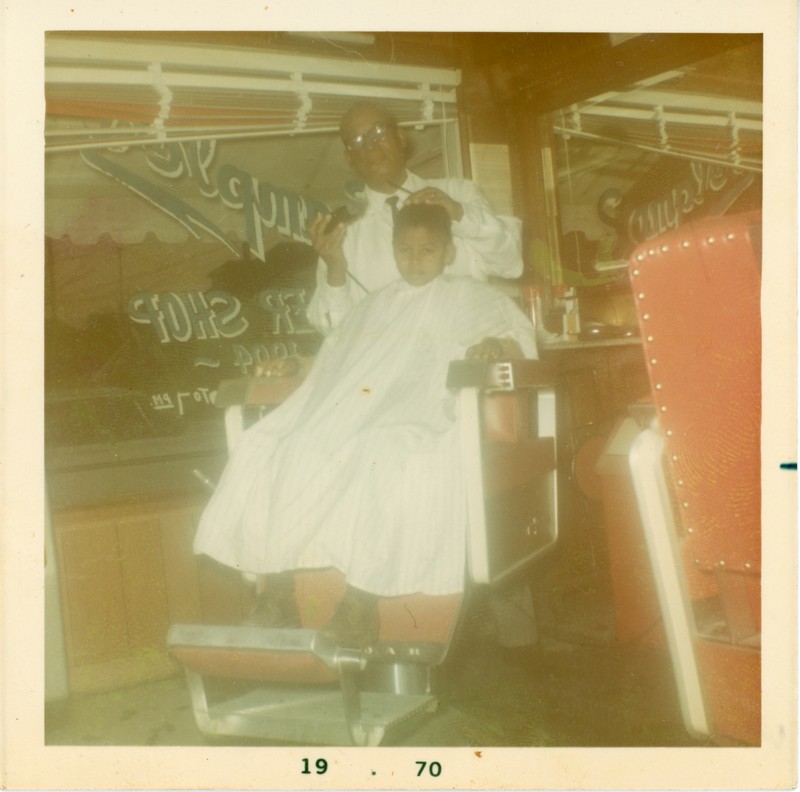 After its move to Jefferson Avenue, Sample's Barber Shop advertises, "I Need Your Head To Run My BUSINESS." (Archive.org)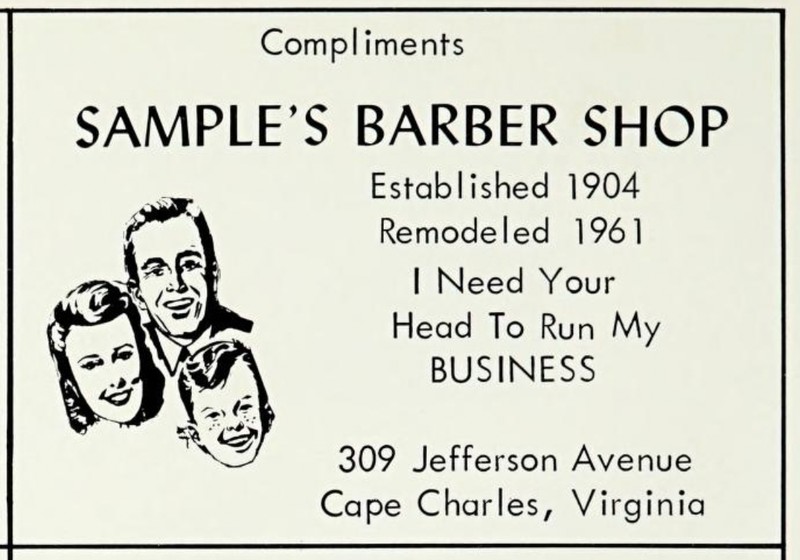 A birthday party is held in the honor of Johnny "Happy" Sample. (The Cape Charles Rosenwald School Restoration Initiative)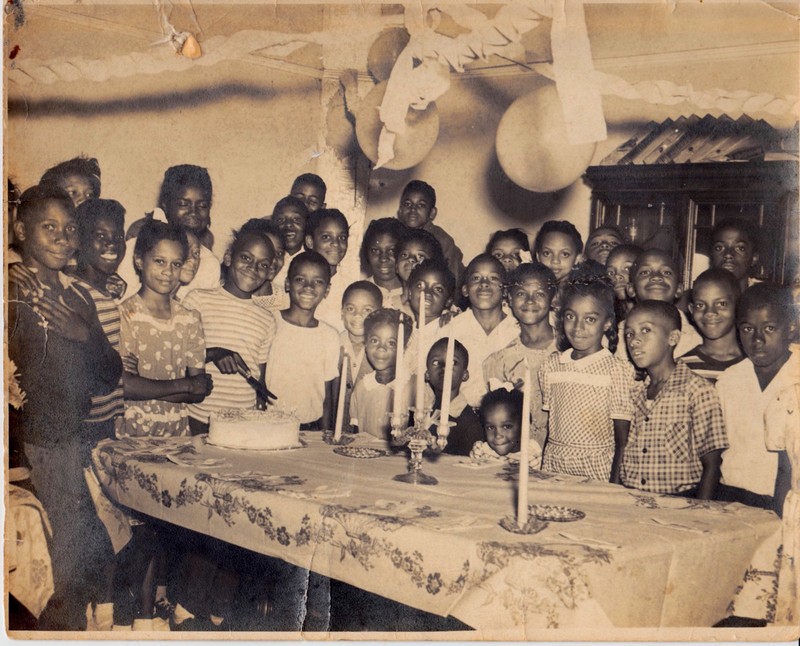 Backstory and Context
Not long after the New York, Philadelphia, and Norfolk Railroad began operations in Cape Charles, the town's first barber shop opened. The shop, operated by William "Albert" Morris, an African American, reflected his entrepreneurial spirit and ingenuity at a time when African Americans possessed extremely little after centuries enduring enslavement. Extremely crafty, Morris constructed a "shack […] built of car doors, boxes, etc." on the railroad's property around 1885.[2] Albert capitalized on the prosperity that the railroad brought and was the first of many African Americans in Cape Charles who built businesses that served their community's grooming needs. 
One of these barbers was Peter J. Finney, who purchased the land at 515 Strawberry Street from William L. Scott between 1887 and 1889. As of 1887, the land was an empty lot. By the time Peter acquired it, a building had been constructed on it. This original building was replaced around 1921 with the foursquare, three-entrance Big Elephant Building, which housed Finney's barber shop. When Finney closed his business, Sample seized the opportunity to move his business, Sample's Barber Shop, to the location.
While the exact date Sample moved his barber shop to the Big Elephant remains unknown, Sample's Barber Shop proudly advertised its founding in 1904. The elder Sample labeled his profession as "barber" as early as 1893, when just 25-years-old.[3] Along with his work at Sample's Barber Shop, Lloyd at one point operated a soft drink business. A year after raising his barber's pole, Lloyd married Mathilda Lanier Sample, with whom he had four boys and one girl. Two of his children, Paul Bernard and John Barkley Sample, Sr., later took over the barber shop, taking forward the family business.
Lawmakers in Virginia repeatedly called for reform to the barber and beautician professions. They sought to restrict these businesses in the name of sanitation and safety, but beneath this rhetoric lurked efforts to hinder the independence and economic rise of African Americans during Jim Crow given the prominence of barbers and beauticians in the African American community.[4] The shoeshines that barber shops often employed likewise faced discrimination and disparaging descriptions in both newspapers and public opinion. Those in these crucial service professions saw the thinly veiled racism behind the push to regulate, license, and sanitize barber and beauty shops. African American barbers and beauticians in Cape Charles relied on their long-practiced, skilled trades for a living, but were not included in the white-dominated labor unions or training schools. Likewise, those who needed haircuts relied on these businesses, as white establishments refused them service. While Sample's Barber Shop kept their business above-board and held a state Barber Shop License until 2013, some of Cape Charles' other practitioners continued providing services underground, working out of their homes.
Lloyd Sample supported his family and his community through Sample's Barber shop until his death at age 66. His last day cutting hair came on December 27, 1938, when heart disease incapacitated him. He passed away a few months later. Already working next to their father, Lloyd's sons Paul and John Sample joined together to keep the business open. While still located at the Big Elephant, Sample's Barber Shop charged 75 cents for a haircut. Saturdays were the busiest days at the barber shop, often requiring a 7 A.M. to 10 P.M. shift.
In 1959, John bought the lot at nearby 309 Jefferson Avenue, and the brothers built their own storefront, which still stands today. The brothers employed shoeshines, one being John "Johnny" Barkley Sample, Jr., who remembered "getting a dime for shoeshines."[5] Johnny also remembered that Sample's Barbershop "was different" because his father, John, "was an independent businessman who worked only for black dollars. He didn't cut white heads."[6]
Even if you do not recognize Sample's Barber Shop, you have likely heard of Cape Charles' prodigal son, Johnny Sample. Johnny, known as "Happy" in his hometown, eventually earned the title of the only football player in history to win AFC, NFC, and Super Bowl titles, though he has yet to be inducted into the Pro Football Hall of Fame. Evelyn Sample-Oates, Johnny's daughter, believes her father more than deserves the honor, remarking, "He played during a difficult time for people of color, yet he stayed the course. He received unequal pay, endured discriminatory treatment and poor conditions, yet continued to play the sport and contribute championship wins."[7] Johnny's determination came from his father John, who raised him to "stand up for what I thought was right."[8] Prior to John's death in 1971, he lamented to his son that with no heirs around to pick up the scissors, Sample's Barber Shop would eventually cease operation under the family name. This prediction came to be true. After Paul retired, William "Willie" Collins ran the barber shop with the help of Irving Jackson until his retirement in 2011. Then, Thomas Wilson, Jr., ran the shop until 2014. Many men who experienced having a haircut or hot shave at Sample's Barber Shop mourn what has been lost, not only a great place for grooming but also a place where African American men could talk and find community, though without profanity out of respect to the churchgoing families who desired "to keep it clean".[9]
Sources
[1] "Architectural Survey Form: DHR ID: 182-0006 Sample's Barber Shop," Virginia Department of Historic Resources, 2.
[2] W. D. Williams, "A Short History of Cape Charles, Part 2," Northampton Times, June 20, 1946. Newspaper accessed via http://eshore.iath.virginia.edu/node/1901.
[3] Virginia, U.S., Birth Registers, 1853-1911 [database on-line]. Lehi, UT, USA: Ancestry.com Operations, Inc., 2022. Register 606.
[4] "Tests for Barbers of State Argued Before Committee," The Times Dispatch, February 15, 1940, 2.
[5] Johnny Sample, Confessions of a Dirty Ballplayer (New York, NY: Dial Press, 1970, 28.
[6] Sample, Confessions, 1972, 18.
[7] Pspencer, "Daryl Bell: Push for Johnny Sample in Hall of Fame gains steam," The Philadelphia Tribune, October 4, 2019. Newspaper accessed via www.phillytrib.com.
[8] Sample, Confessions, 18.
[9] Sample, Confessions, 35.
Image Sources
Allison Blakeman, June 2022

Virginia Department of Historic Resources, Samples Barber Shop, 182-0006, Unknown, February 1988; 182-0006_Samples_Barber_Shop_from_SE2

Library of Congress

Allison Blakeman, June 2022

Juanita and Tom Godwin, circa 1970; InvisibleHistoryCC035

Archive.org

The Cape Charles Rosenwald School Restoration Initiative; RW18-28 CCE John _Happy_ Sample 9 Birthday

Additional Information