The Palm Tavern
Introduction
Author-Uploaded Audio
The weekend has arrived in early 1950s Cape Charles. White residents have their pick of countless shops and restaurants along Mason Avenue for dining and entertainment. In the largely segregated downtown, many of the same shops and eateries refuse entry to African Americans. However, everyone is welcome at the Palm Tavern at 341 Mason Avenue. 
In the late 1930s, Samson Shawnee Joynes and Emily Young Joynes moved to Cape Charles from Cheapside with their five children: Dutell, Oliver, Purnell, Roxie, and Cathryn. They opened the Palm Tavern and made their home above the restaurant. Later the business became Joynes' Seafood Headquarters, a walk-up food stand run by their son Dutell. The Joynes family purchased the building at the corner of Mason and Peach after prior owner Laura E. Seldon Lewis' death in 1931. Laura, an African American entrepreneur, opened her café, tavern, pool hall, and rooming house at the location in 1885 and ran the successful business for many years. 
Images
In November 2022, all that remains of the Palm Tavern is the concrete that still sits on the empty lot. (Allison Blakeman)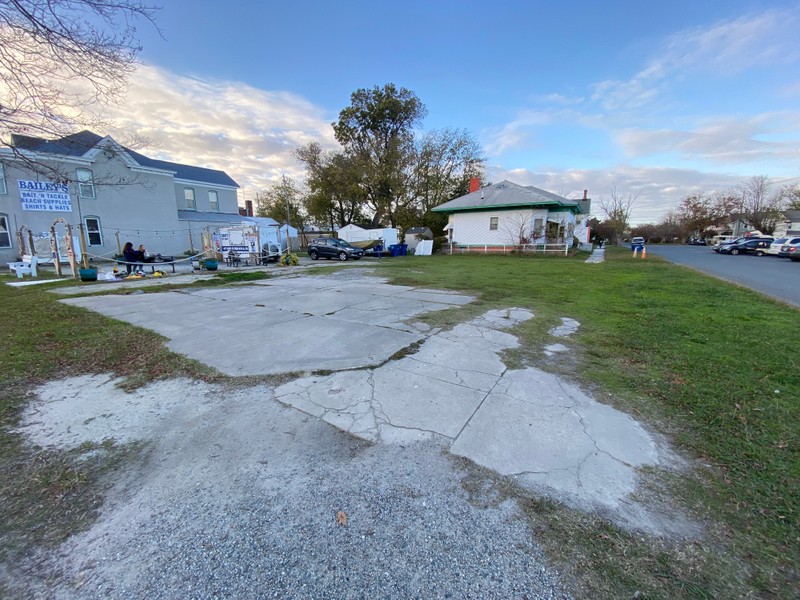 The former Palm Tavern is pictured prior to being demolished in 2003. (Dianne Joynes Grace)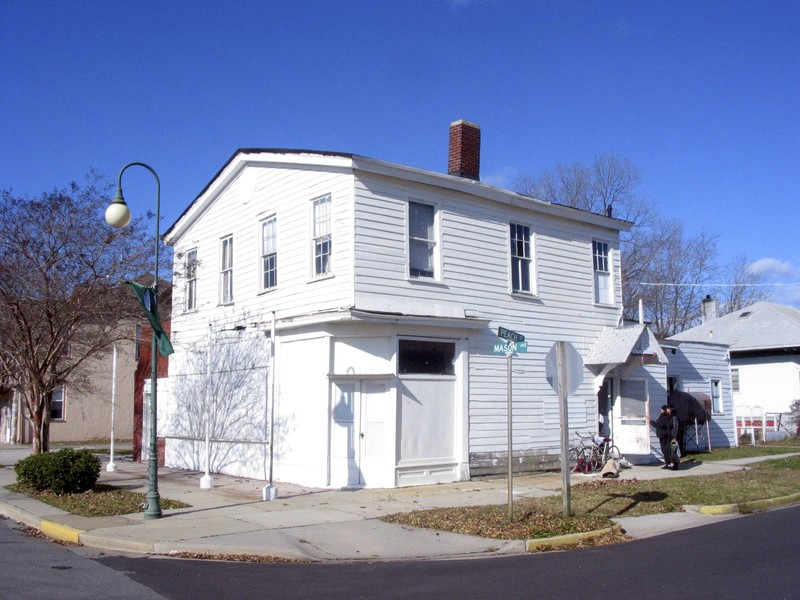 Dutell Joynes, son of Samson Joynes, proudly poses in front of his family's former sit-down restaurant, which he transformed into a walk-up food stand. (Dianne Joynes Grace)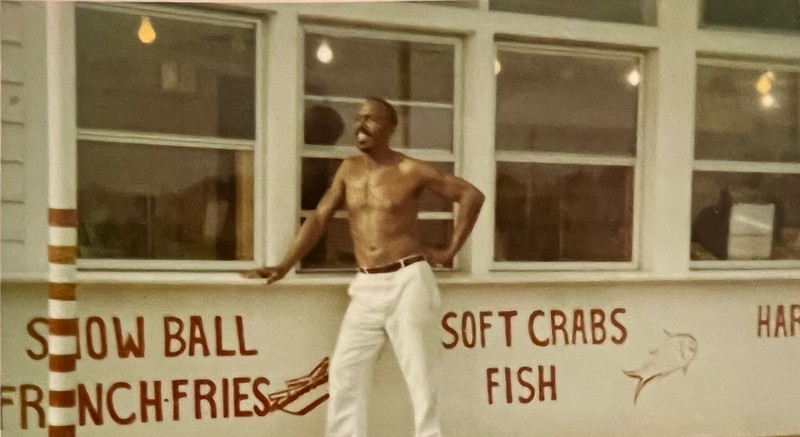 Dutell Joynes & Bros. Sea-Food Market advertises live bait, live hard crabs, clams, and oysters on the half shell. (Dianne Joynes Grace)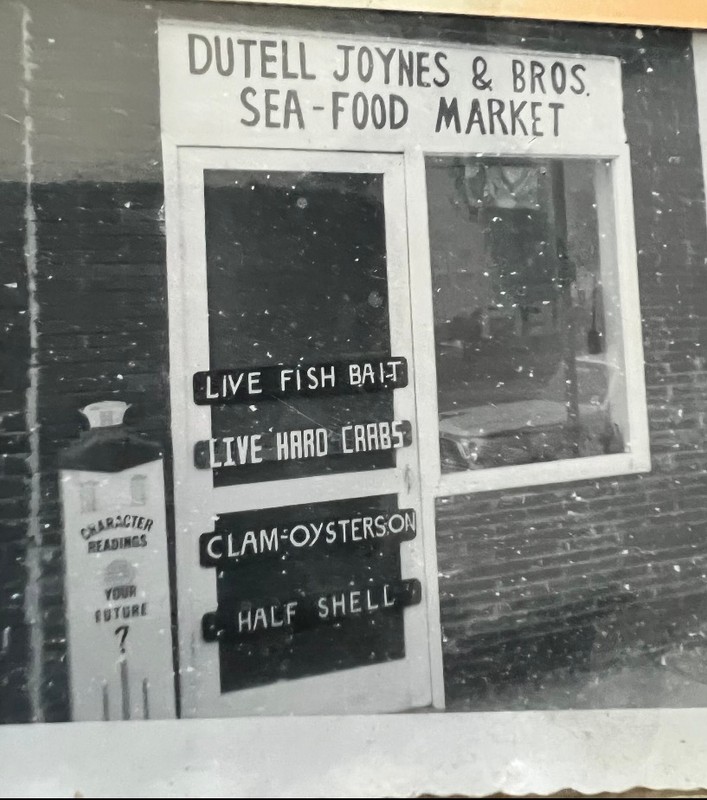 What once was Joynes' BP Station now serves as a realty. (Allison Blakeman)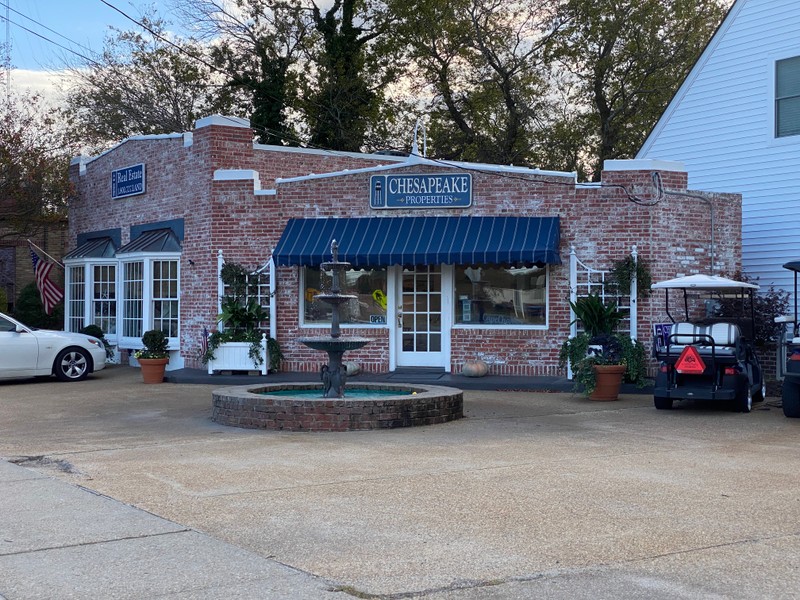 Dianne Joynes Grace, Oliver Joynes' daughter, stands outside of his service station. (Dianne Joynes Grace)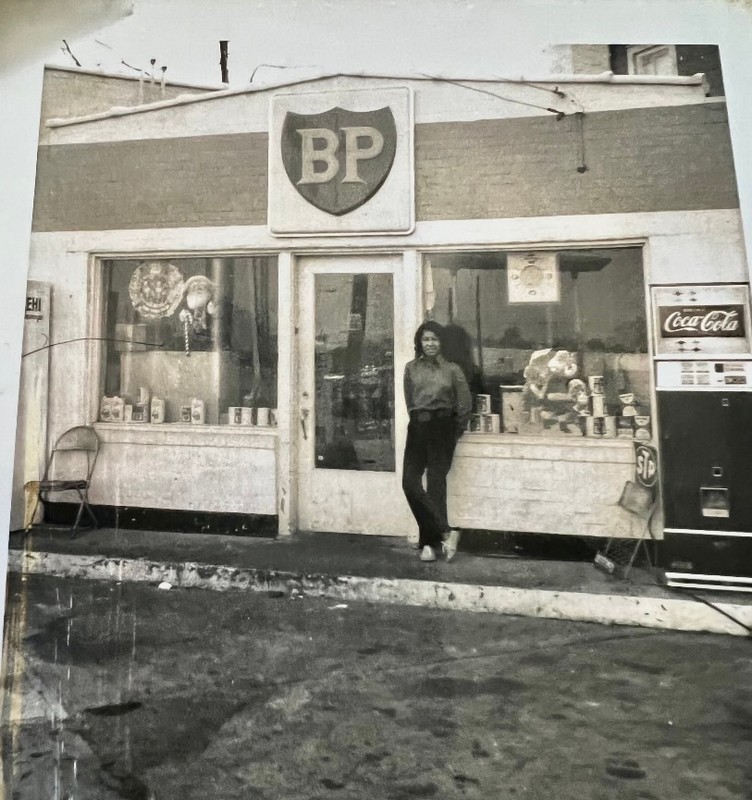 Oliver Joynes sits on the hood of a car in a work shirt emblazoned with the "BP" logo in front of the gas pumps at his service station. (Dianne Joynes Grace)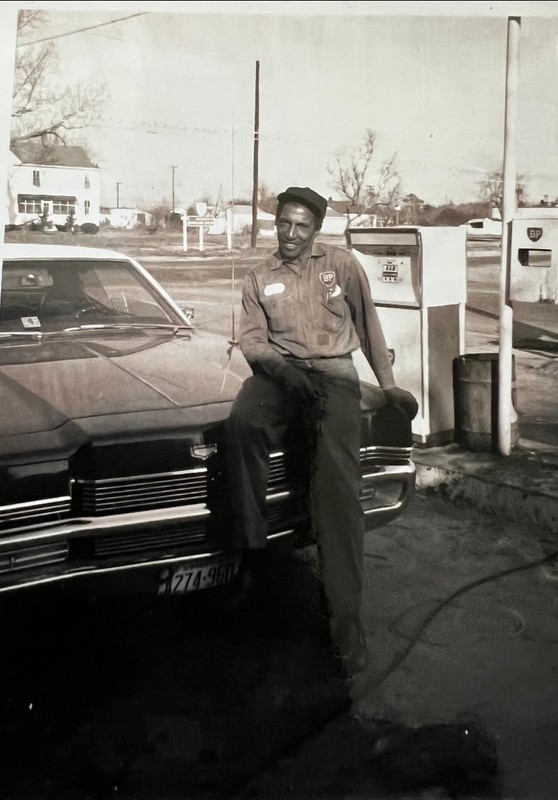 This advertisement for Joynes' BP Station appeared in the 1972 Cape Charles High School Yearbook. (Archive.org)
Backstory and Context
Stafford's Café, Laura E. Seldon Lewis' licensed ordinary, offered it all. Walton "Walter" Philander Jefferson, proprietor of Jefferson's Store, wrote that you could, "Call at Stafford's Café, cor. Mason Avenue and Peach Street, and get a copy [of the Journal and Guide], and then have your luncheon [...] or ask to be shown the commodious rooms."[1] Laura was already well-versed in the dining trade prior to arriving in Cape Charles. Before her husband William Henry Lewis' death in 1876, the couple owned a restaurant in Norfolk, Virginia. After William died, Laura and their daughter Lavinia Lewis Bragg moved  to Cape Charles and bought the corner lot at 341 Mason for $450 in 1885. Laura then constructed a $1400 commercial building, rather expensive for the time. The proprietress' new building became the headquarters of her multifaceted business- it functioned as a pool hall, saloon, café, and living quarters. Some locals remember hearing hushed whispers of the upstairs "living quarters" operating as a brothel. These unsubstantiated rumors were perhaps intensified by Laura moving into a sizable home at 554 Madison Avenue prior to 1930.
Laura's death in 1931 left the building at the corner of Mason and Peach vacant for nearly a decade. In the late 1930s, Samson Shawnee Joynes' family moved into the living quarters and opened a restaurant called the Palm Tavern. Once again African Americans could gather downtown and enjoy a good meal and company. In 1942, the Cape Charles Players' Guild did just that, celebrating the closing night of their annual play at the Tavern. Samson and wife Emily operated the Palm Tavern throughout the 1940s and 1950s, its jukebox ready to play popular tunes of the day. Their son, Dutell, owned his own seafood market next door and eventually took over the family business. He transformed the sit-down restaurant into a walk-up food stand, the first fast food establishment in Cape Charles. Aside from Dutell's personality, former customers most frequently remember his delicious fried crabs. For less than one dollar, customers ordered soft-shell crabs from the screened walk-up window that were fried up with tasty batter and served between soft white bread. The secret ingredient: a dash of hot sauce on top for some added zing. The skilled fisherman's food stand opened seasonally, selling, "fish, crabs, French fries, snowballs, and drinks."[2]
Oliver "Ollie Boy" Joynes, Sr., Dutell's younger brother, also ran multiple businesses in Cape Charles including a taxi service out of the Palm Tavern. With many African American families unable to afford their own cars, businesses such as Cook's, Davis', Bailey's, and Joynes' taxi services alleviated transportation deficiencies facing their community. Eventually, Oliver purchased the 1920s service station at the corner of 7 Fig Street and Randolph Avenue after the previous owner passed in 1968. A realty currently occupies the building. The station's formal name was Joynes' BP Station, but everyone knew it as Ollie Boy's Service Station. Oliver sold sodas, sandwiches, and other assorted snacks inside the store, where he displayed a photograph of his sister Roxie Joynes Campanella, star of the 1940s soundies, alongside her husband Roy Campanella, star catcher of the Brooklyn Dodgers. Many Cape Charles locals relate stories about knowing, meeting, or even just seeing Roxie and Roy. All of Samson and Emily's children lived above the Palm Tavern with them, making it their business and family home. Oliver's family was also raised in the home. Though the building itself was razed in 2003, Oliver's children continue to hold onto the land. While the corner of 341 Mason Avenue and Peach Street operated from 1885 until around 1983 under only two different African American families, the only physical remnant of this history is an empty lot and concrete.
Sources
[1] W. P. Jefferson, "Cape Charles News," Journal and Guide, May 19, 1917, 1.
[2] Dianne Joynes Grace to Allison Blakeman (September 28, 2022), email.
Image Sources
Allison Blakeman, November 2022

Dianne Joynes Grace

Dianne Joynes Grace

Dianne Joynes Grace

Allison Blakeman, November 2022

Dianne Joynes Grace

Dianne Joynes Grace

Archive.org

Additional Information