Spady's Service Station (Northampton Service Station)
Introduction
Author-Uploaded Audio
The Kellogg Building, with its 1920s Spanish Colonial Revival architecture and massive size, differs from many of the other former locations of African American businesses in town. The former Northampton Service Station remains standing well after owner Raymond Owens Spady's death in 2007. Other historical commercial buildings such as Jefferson's Store, the Palm Tavern, and the White Elephant fared a worse fate, no longer standing to remind passersby of their rich history. The Kellogg Building survived due to its unique architectural style and structural stability, unwavering over a century after Benjamin Franklin "B. F." Kellogg constructed his namesake structure. The location at Fig and Mason held the title of Cape Charles' first private family home, and eventually became headquarters of the Northampton Motor Company started by Kellogg's son Eucebius "E. M." Milton Kellogg, a business sometimes also called Kellogg's Motor Company. Incorporated in Cape Charles in 1933, the enterprise originally operated as a De Soto-Plymouth dealership with Ecebius later adding a service station. The Kellogg Building still stands to tell the story of an African American business that supported its community with 45 years of service in Cape Charles' then-thriving auto industry.
Images
The Kellogg Building, formerly Spady's Service Station, undergoes renovations in November 2022 after decades of dormancy. (Allison Blakeman)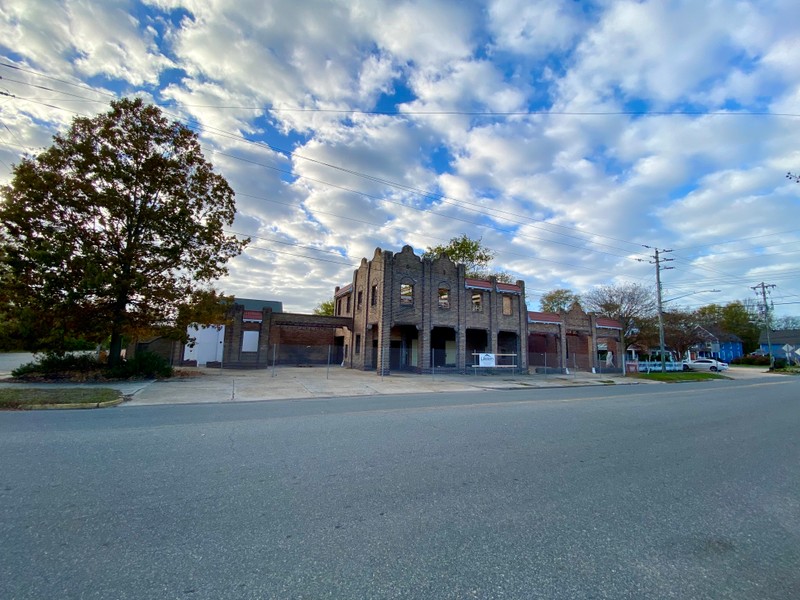 The old gas station portion of what once was Spady's Service Station is pictured behind a construction fence in November 2022. (Allison Blakeman)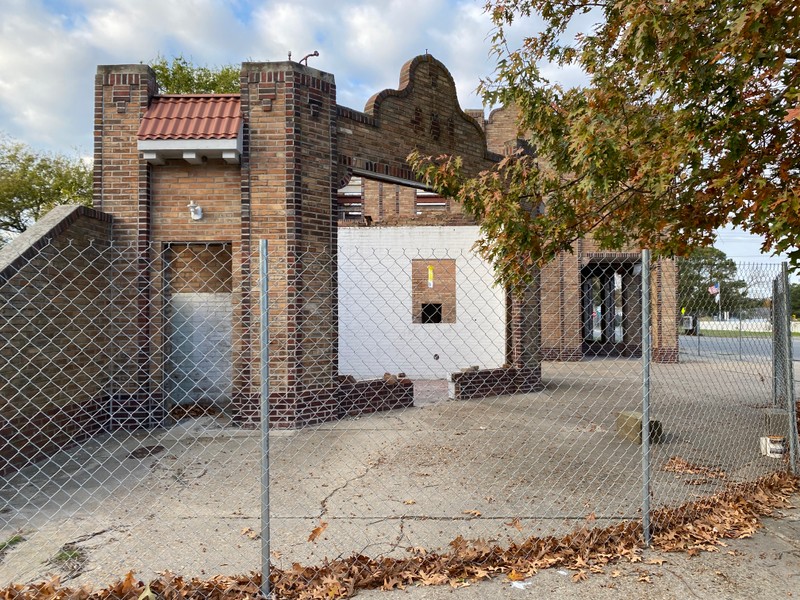 In 1988, Spady's Service Station operates under Union Oil, as evidenced by the round Union 76 sign. The gas station and convenience store is shown in front (viewers' left) while the office, garage, and car dealership is at the rear (viewers' right). (Virginia Department of Historic Resources)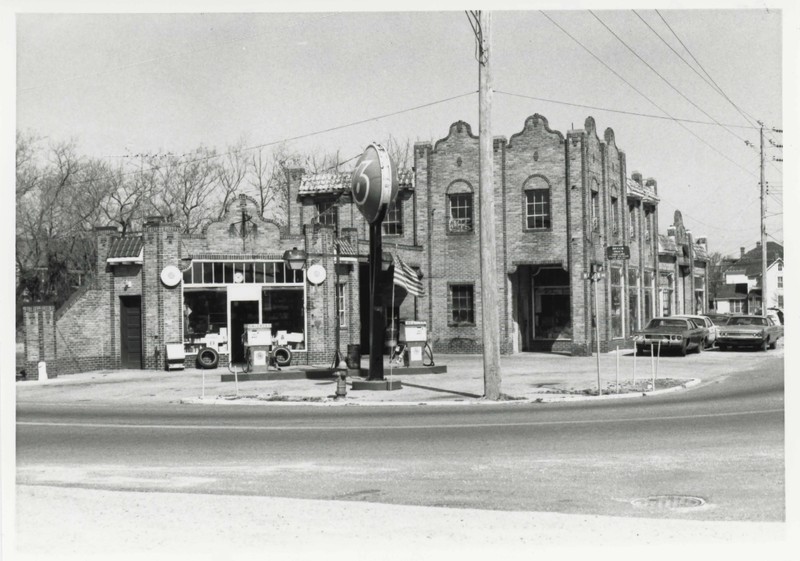 Raymond Spady, proprietor of Spady's Service Station, is pictured. (Gray's Funeral Home Website)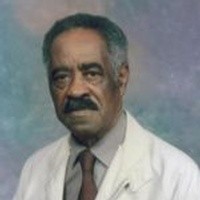 One of the many advertisements that Spady's (Northampton Service Station) placed in the Northampton County High School Yearbook over the years. (Archive.org)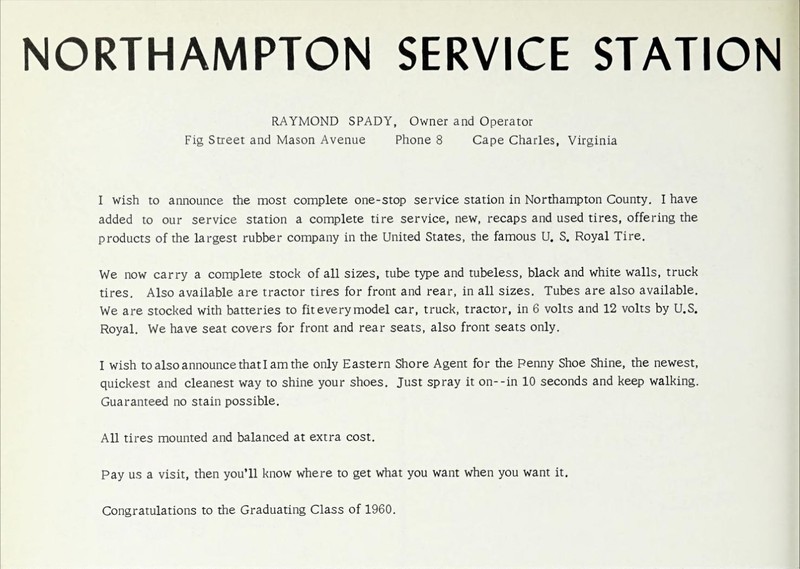 In this 1954 advertisement for Raymond Spady & Bros. in the Northampton County High School Yearbook, the company boasts itself as the "Shores Only Colored Owner & Operator". (Archive.org)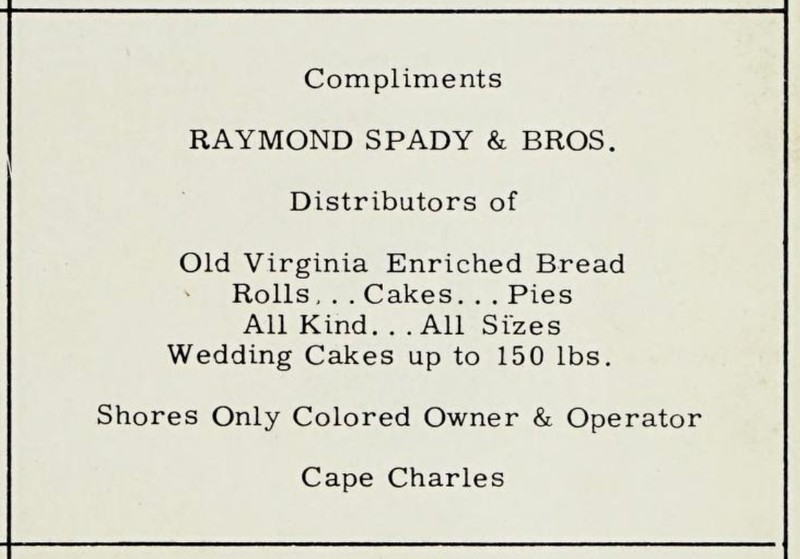 Backstory and Context
An announcement in the Journal and Guide's "Cape Charles News" section in 1921 marked the opening of the town's first African American-owned and operated garage, stating that mechanic and proprietor Frederick Leon Matthews, Sr.'s "work [was] done satisfactorily and prices reasonable."[1] Matthews first worked from a garage on Nectarine Street close to Jefferson Avenue but moved his business to 514-518 Jefferson Avenue when he bought two separate lots from Lydia Cropper. He invested in constructing a new garage in 1930. The modernized Matthews' Garage, according to reports at the time, "greatly improved the appearance of that part of the city" and could "render you better service."[2] The new garage introduced an untapped business — dealing in used cars. However, by 1938, Matthews resided in Philadelphia, leaving Matthews' Garage behind after creating a climate that facilitated African Americans' car ownership and involvement in automobile-related businesses in Cape Charles. 
Raymond Owens Spady, an "energetic and enthusiastic [...] entrepreneur," furthered the work of Matthews when he opened Northampton Service Station at the corner of Fig Street and Mason Avenue.[3] Raymond Spady married Dorothy Morris in the 1940's and shortly thereafter lived with their two young daughters, Madeline and Pauline, on 615 Plum Street. In 1964, teenaged Pauline, along with Walter Gholson, Charles Evans, and Larry Gholson, integrated Cape Charles High School. Although the U.S. Supreme Court had ruled segregation in public schools unconstitutional a decade earlier, the majority of African American children in the South still attended segregated schools. Pauline recalled, "Something really had to be done – and I didn't mind participating."[4]
The Spadys eventually bought what would become the Northampton Service Station, which first operated as a Pure Oil station until Union Oil took over the company, bringing in the iconic round Union 76 sign. Spady operated various enterprises, acting as Old Virginia Bakery Products distributor, Texaco supplier, new and used car dealer, U. S. Tires purveyor, Pure Oil and Gasoline supplier, Union 77 supplier, shop operator, long hauler, restauranteur, Penny Shoe Shine peddler, and more. 
Spady revealed bits of his personality in ads placed in local yearbooks. These ads incorporated sayings like "Pay us a visit, then you'll know where to get what you want when you want it," and "Don't Ask For It if you don't want It."[5] Operating under "RAYMOND SPADY & BROS," he proudly boasted of being the "Shores Only Colored Owner & Operator" who distributed Old Virginia Enriched Bread, including, "Wedding Cakes up to 150 lbs."[6] As part of his long haul trucking business, Spady also worked for over 50 years alongside the operators of Gray's Funeral Home, a mother-son duo named Alston Joynes Godwin and Thomas George Godwin. Whenever the funeral home needed bodies transported long distances, Spady delivered them. The three entrepreneurs formed such a close bond that Alston lovingly evoked, "And he was just as Thomas George is to me, my son. And he was good all the time. He and his family just loved us and we loved them. And his wife, she just could talk herself to death."[7] Losing track of time while chatting with Dorothy, nicknamed "Ghesey," was commonplace if you pulled into Northampton Service Station. As Terri Lynn Brown Andrews reminisces, her family would go to Spady's Service Station just to fill their tank, but "would usually stop and stay for a while to talk to Miss Spady."[8] Dorothy always brought Terri out a Coconut Junior Tasty Cake from the store along with an ice-cold grape soda and is credited with teaching her how to chew gum.[9] While Raymond Spady and his brother ran the garage, Dorothy offered up conversation while selling the sodas, snacks, and roadmaps inside the store. 
Raymond and Dorothy would run Spady's Service Station for 45 years, until Raymond's death in 2007, cementing it as one of the longest running African American-owned businesses in Cape Charles. For those who grew up with the couple fixing their car and selling them sodas out of the large, red Coca-Cola cooler, the Northampton Service Station has been a fondly remembered mainstay in their lives. With the gas pumps now long gone and a new business slated to take over, the tales of Spady's dedication to his family and the African American community in Cape Charles is an important part of the town's history.
Sources
[1] T. Jefferson, "Cape Charles News," Journal and Guide, June 25, 1921, 7.
[2] "Flag Presented by Citizens to Cape Charles School," Journal and Guide, January 18, 1930, 12; "Matthews Garage," Journal and Guide, January 18, 1930, 12.
[3] "Raymond Owens Spady," Gray's Funeral Home, 2007, https://www.grays-funeral-home.com/obituary/169388.
[4] Shockley, Ted. "One brave girl made all the difference at Cape Charles High." Eastern Shore News February 17th, 1991.
[5] Northampton County High School, The Lighthouse (Machipongo, VA: 1960), 88, Archive.org, https://archive.org/details/lighthousethe1960nort/page/n87/mode/1up; Northampton County High School, The Lighthouse (Machipongo, VA: 1970), 95, Archive.org, https://archive.org/details/lighthousethe1970nort/page/95/mode/1up.
[6] Northampton County High School, The Lighthouse (Machipongo, VA: 1954), 81, Archive.org, https://archive.org/details/lighthousethe1954nort/page/n80/mode/1up.
[7] Bill and Jan Neville, "Oral History: A Chat with Alston Godwin," Cape Charles Wave, January 26, 2014. https://capecharleswave.com/2014/01/oral-history-a-chat-with-alston-godwin/
[8] Terri Lynn Brown Andrews interviewed by Bill Payne (February 21, 2022), Oral History Interview for the Cape Charles Rotary Club Invisible History Project.
[9] Terri Lynn Brown Andrews, Cape Charles Rotary Club Invisible History Project.
Image Sources
Allison Blakeman, November 2022

Allison Blakeman, November 2022

Virginia Department of Historic Resources, National Register of Historic Places Nomination, Cape Charles Historic District, David A. Edwards, March 1988; 182-0002_Cape_Charles_HD_1988_NRHP_photograph_Page_25

Gray's Funeral Home Website

Archive.org

Archive.org

Additional Information