St. Stephens A.M.E. and First Baptist Church
Introduction
Author-Uploaded Audio
Did you know that St. Stephen's African Methodist Episcopal Church (A.M.E.) is the oldest church building still standing in Cape Charles and the location of the first African American school in town? For well over 100 years, the building has served as a place of worship for the African American community. St. Stephen's, along with the First Baptist Church of Cape Charles, became the pillars of their community, supporting everything from church programs, community meetings, and fundraisers for causes, including African American education. Terri Lynn Brown Andrews, whose grandfather Reverend John H. Brinkley pastored First Baptist, remembers, "Everything was centered around the church in town."[1] While many of the African American owned and operated businesses in Cape Charles no longer exist, African American churches like St. Stephen's and First Baptist remain at the heart of the community, welcoming old and new members alike.
Images
The St. Stephens A.M.E. Church structure is the oldest surviving church in Cape Charles. It is pictured in June 2022, 137 years after the church was originally constructed for the Bethany Methodist Episcopal church congregation in 1885. (Allison Blakeman)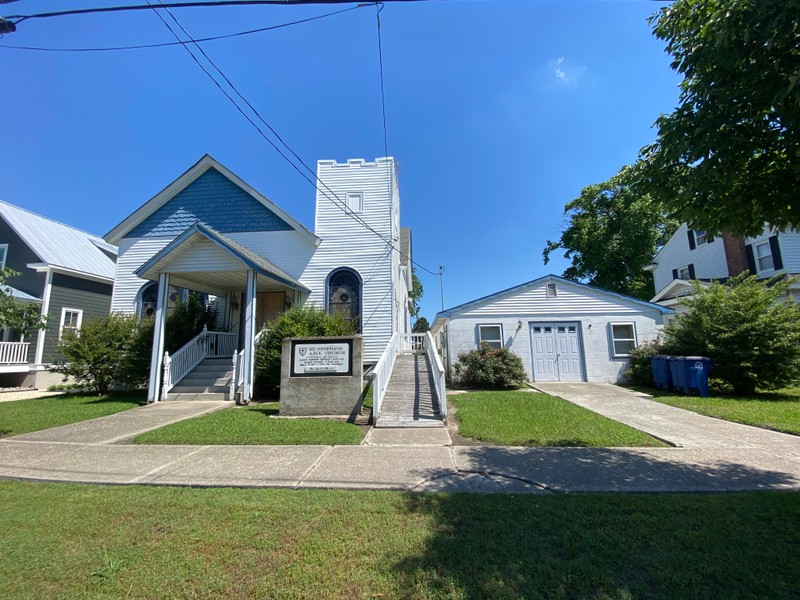 St. Stephens A.M.E. stands prior to renovations to the entrance, addition of a ramp, and as the education building is only a pile of cinderblocks. (Cape Charles Museum and Welcome Center)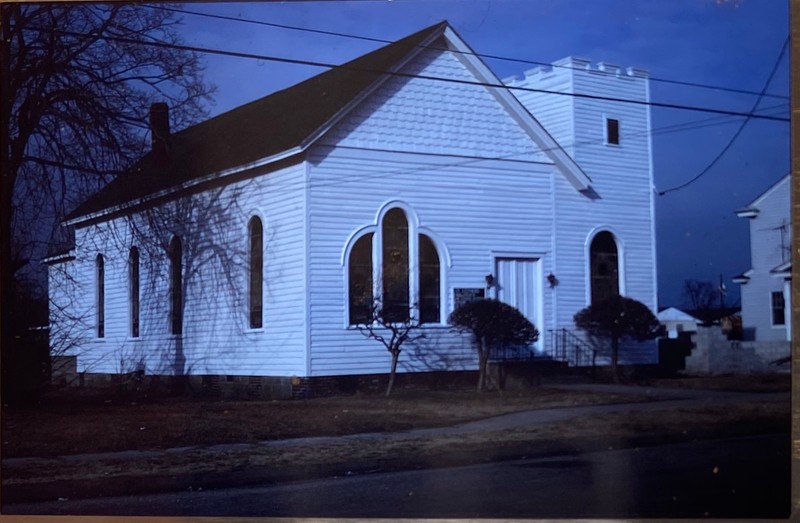 The current First Baptist Church structure, built around 1900, is pictured well-over a century later in November 2022. (Photograph courtesy Allison Blakeman)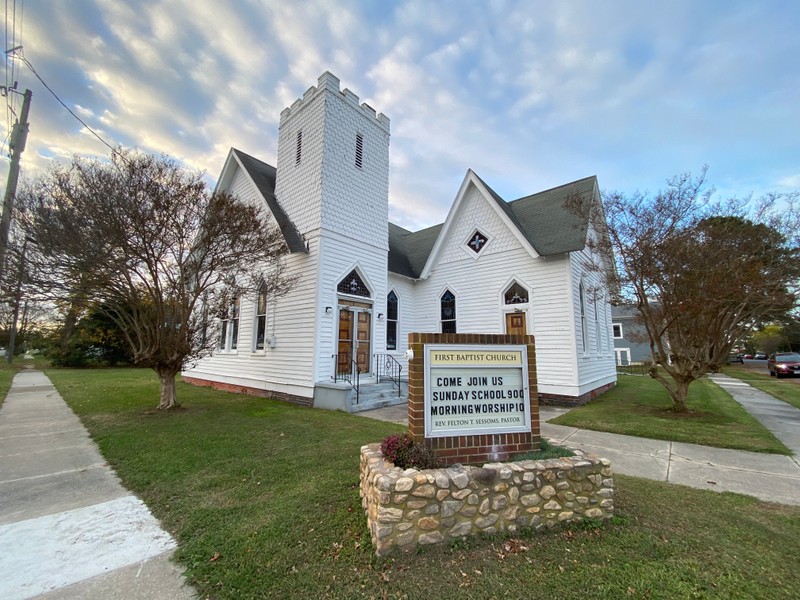 Cape Charles First Baptist is pictured decades earlier before the tree in front of the church has grown and the building has undergone a paint freshening and the addition of beautiful wooden doors. (Cape Charles Museum and Welcome Center)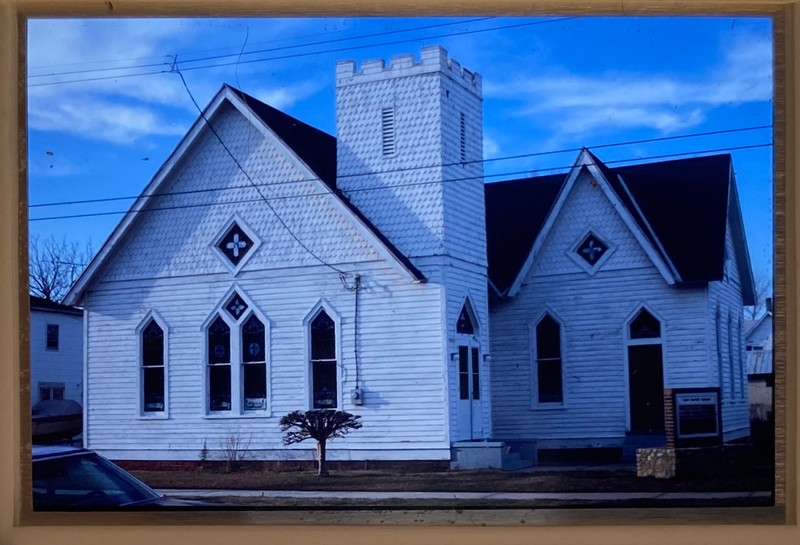 A baptism of at least 20 people takes place in the waters off of the Cape Charles beach, with onlookers in rowboats trailing behind. (Cape Charles Museum and Welcome Center)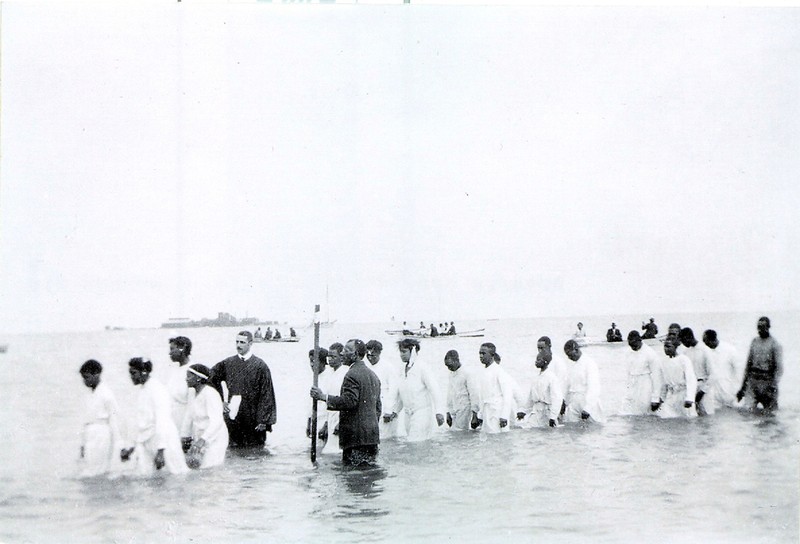 Backstory and Context
The St. Stephen's A.M.E. church building, with its stained-glass windows and tower, originally served the Bethany Methodist Church congregation at the corner of Monroe Avenue and Plum Street in 1885, the year before Cape Charles was incorporated. After a few years and a growing congregation, Bethany Methodist, in search of a new, larger church, sold the building. In 1897 the site officially became St. Stephen's A.M.E. Church. The congregation moved to its current location at 511 Jefferson Avenue in 1912. St. Stephen's holds 137 years of memories, including baptisms, marriages, funerals, community activities, and various other programs. The church also served as the first school for African American children in Cape Charles. In 1888, Taylor "T. D." Daniel Jefferson, proprietor of Jefferson's Store, and his wife, educator Mattie Kellam Jefferson, started the school to provide formal education to the community's African American children. Around 1912, a schoolhouse on Washington Avenue and Peach Street was constructed. While the original building no longer stands, this location continues to serve the community as Philadelphia Church of Christ Disciples.
Like St. Stephen's, the First Baptist Church at the corner of 501 Nectarine and Madison has served an important role in African American life in Cape Charles. The church congregation formed in 1885 as the Hollywood Baptist Church before its renaming to First Baptist Church in 1893. Besides the name change, First Baptist underwent a few location and venue upgrades throughout its history. The congregation that began meeting in community members' homes eventually grew, and the current First Baptist Church building was constructed around 1900 under the leadership of Reverend W. H. Davenport.
In October 1916, the Cape Charles First Baptist Church held a large ceremony on the town's beach where 34 people were baptized by Reverend P. W. Cook, B. DD., and Deacon Smith Palmer "before a crowd numbering more than a thousand persons," comprised of both African American and white onlookers.[2] Usually, however, church activities were not integrated. Juanita Brickhouse Godwin recalls, "African Americans had their churches, and then the other races had their churches," pointing out that segregation dictated town life "even during our worship hours."[3]
Many excellent singers have raised their voices in songs of worship at these churches. Alvy Rolland Powell, Jr., began his storied singing career around five-years-old at nearby African Baptist Church in Cheriton, where he remembers, "I guess they recognized early that I could sing a little bit, I guess."[4] Through learning and encouragement from his church, Alvy eventually joined the U.S. Army Chorus. Since his days singing in the sanctuary, Alvy has performed for many U.S. presidents, including Gerald Ford and George H. W. Bush. Alvy credits singing in church as the start to his future career as an opera singer, which took him all over the world.
African Americans living in Cape Charles experienced every stage of life within their church- baptism, Sunday school and children's programs, social clubs and programs for young adults, marriage celebrations, and, eventually, a funeral after their passing. Churches were more than a place to worship; they became community centers. At First Baptist, various community organizations held their meetings at the church. The congregation raised money not only for continued operation of the church but also for the betterment of the community, including Cape Charles Elementary School and the Tidewater Institute. 
The church, school, and civic organizations were all intertwined. Some residents today feel this is no longer the case. Odelle Collins, who grew up worshiping at First Baptist and attended Cape Charles Elementary, believes values have changed. She says, "Kids are not in the church. Parents don't make kids go to church anymore."[5] While some younger people and families might be moving away from the church, the doors of First Baptist Church and St. Stephen's A.M.E. Church of Cape Charles remain open and continue to serve the community.
Sources
[1] Terri Lynn Brown Andrews interviewed by Bill Payne (February 21, 2022), Oral History Interview for the Cape Charles Rotary Club Invisible History Project.
[2] W P Jefferson, "Cape Charles," Journal and Guide, October 21, 1916, 5.
[3] Juanita Brickhouse Godwin interviewed by Reginald "Reggie" Widgeon (May 22, 2021), Oral History Interview for the Cape Charles Rotary Club Invisible History Project.
[4] Alvy Powell, Jr. interviewed by Reginald "Reggie" Widgeon (May 6, 2022), Oral History Interview for the Cape Charles Rotary Club Invisible History Project.
[5] Odelle Johnson Collins interviewed by Fiameta "Metty" Vargas Pellicer (July 27, 2021), 
Oral History Interview for the Cape Charles Rotary Club Invisible History Project.
Image Sources
Allison Blakeman, June 2022

Cape Charles Museum and Welcome Center; 2009.23.6; CC

Allison Blakeman, November 2022

Cape Charles Museum and Welcome Center; 2009.27.9; First Baptist CC

Cape Charles Museum and Welcome Center; 2965q Baptismal 2

Additional Information