Gallup's Court
Introduction
Author-Uploaded Audio
With beachfront property at a premium, it may be hard to imagine that Mr. Gladstone's dairy farm, complete with wandering cows and a big green barn, once occupied the waterfront along Washington Avenue. Where houses and the Bay Lake condominiums now stand at the corner of Washington and Nectarine, African American children of yesteryear flocked to a temporary amusement park when the carnival arrived each summer. This highly anticipated event was enjoyed by the African American community's children and adults alike.
Between this idyllic period and the arrival of the condominiums in the early 2000's, a nondescript, one-story "L"-shaped apartment complex called Gallup's Court occupied the site. The proprietors, Beatrice "Bea" Gallup and her husband James Rudolphus Gallup, spent their younger adult lives living in New York City, where they ran a dining establishment. After moving to Cape Charles around 1940, they established the apartment complex, supplying much needed housing options for African Americans, particularly teachers in the community.
Images
The former location of Gallup's Court Apartments is pictured in 2022, nearly two decades after the original apartment complex was demolished. (Allison Blakeman)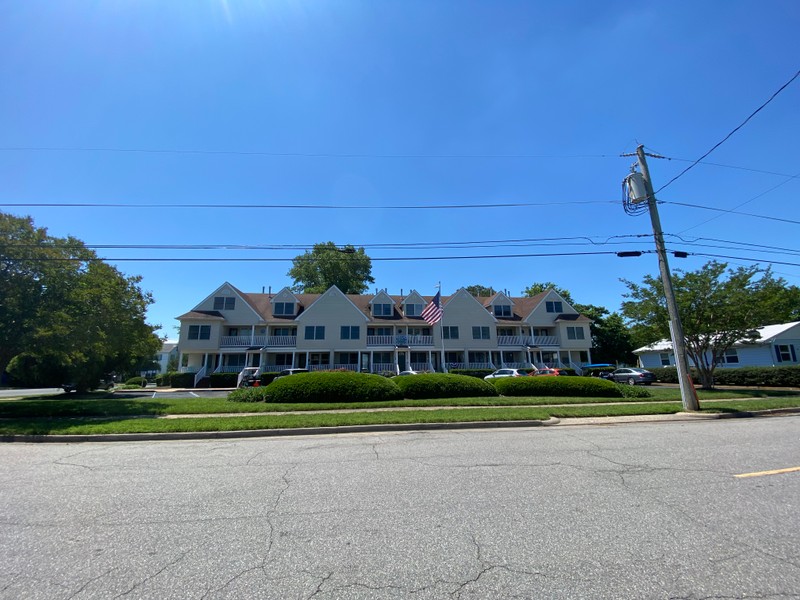 Gallup's Court is pictured in its prime, with the complex marked by the sign out front. (Cape Charles Museum and Welcome Center)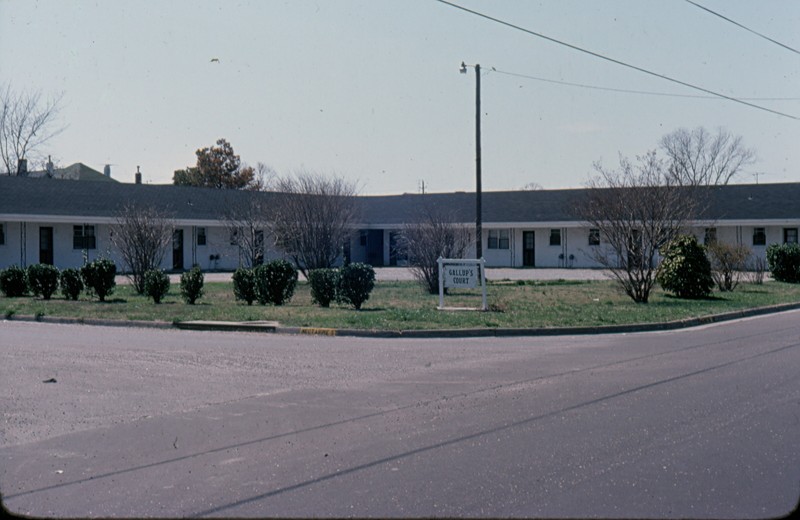 Bea Gallup, proprietress of Gallup's Court, is pictured enjoying a New Year's Eve gathering alongside fellow prominent African Americans in the community. (Juanita and Tom Godwin)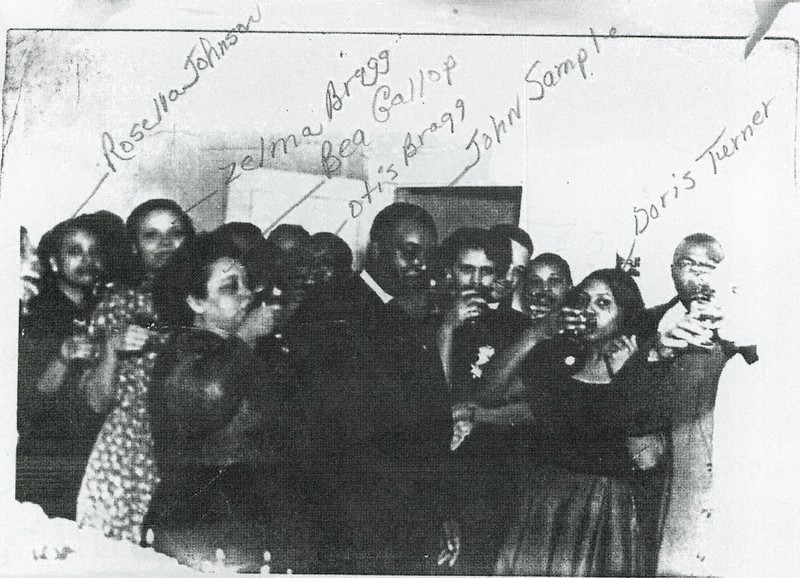 Gallup's Court's "l"-shaped design can be seen from this October 1979 aerial survey. (Library of Congress)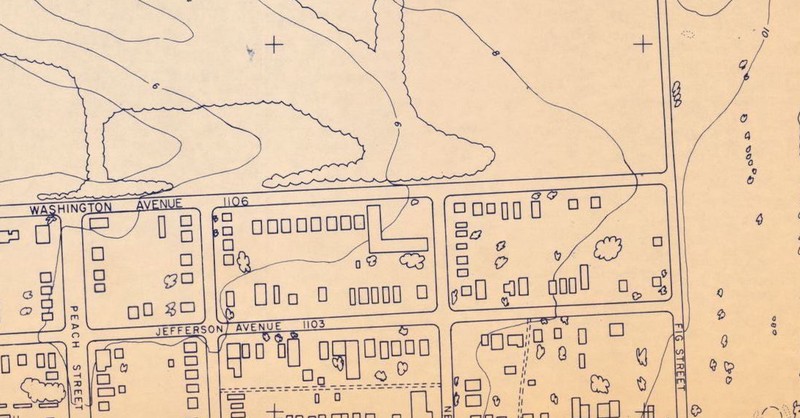 African Americans attend the circus in Cape Charles around 1900. Prior to the complex's development, circuses and fairs were often held on grounds close to where Gallup's Court Apartments eventually occupied. (Cape Charles Museum and Welcome Center)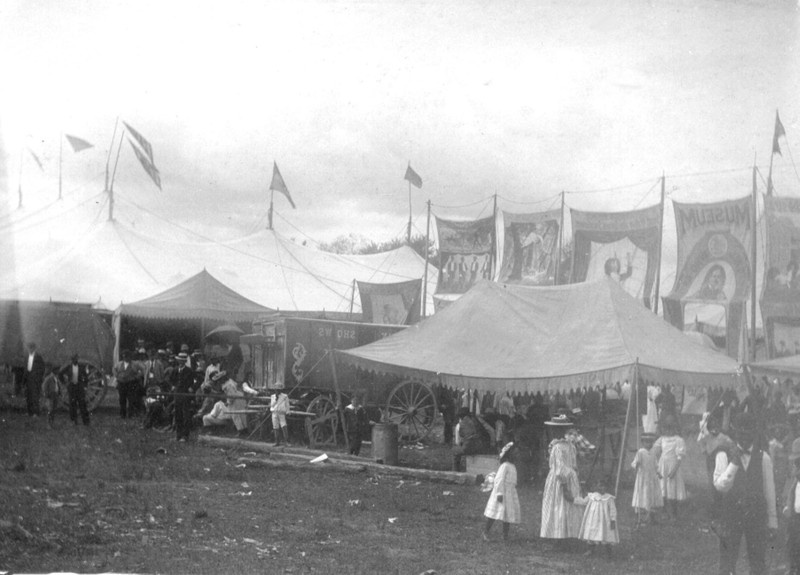 Backstory and Context
Though both Beatrice "Bea" Gallup and husband James Rudolphus Gallup formerly lived in Newport News and Norfolk, respectively, the couple spent some odd years living in New York City, where they ran the Kentucky Dining Room in 1936. The Gallups eventually moved back "home" to Virginia. By 1940 they were living in Cape Charles, likely because James was working for the Pennsylvania Railroad. Coincidentally, Bea and James's new living quarters happened to be in the same duplex as Lottie Spratley, a prominent African American midwife. Spratley lived on the left at 630, and the Gallups on the right at 628 Madison Avenue. By 1950, the Gallups had moved across the street to 645 Madison Avenue. James listed himself as purveyor wines and whiskey, while Bea was a housewife. After real estate baron Charles W. Parsons died in 1943, his wife Elizabeth "Betty" Fitchett Parsons inherited much of his acquired land, including lot 29 in Cape Charles. After Betty passed away in 1953, the Gallups purchased the lot so they could build Gallup's Court.
From its start, teachers from the local schools moved into the apartments, some staying for multiple years, though leases could be either short or long-term. Richard Cornell Press, Sr. saw the complex as on the higher end of the African American community's social status hierarchy. He reminisced, "A lot of the people that went down there were [...] your higher status people, schoolteachers, and so forth. It seemed like they could always find ways to socialize [in] ways that [...] other families could not."[1]
Bea lived what appears to be a fairly affluent life, owning a dining hall in New York, then Gallup's Court in Cape Charles. She traveled frequently, as reported in the Journal and Guide. Bea was extremely close with her family and visited her mother and sister in Newport News often. In 1943, she took a trip that spanned "Washington, Philadelphia, New York, and Harrisburg."[2] Alongside her business and her travels, Bea also contributed her time and money to the First Baptist Church of Cape Charles, where she worshiped. Her birthday appeared in the church's "Birthday Calendar" in 1964, and she helped sponsor the First Baptist's Anniversary Program in 1971. When her husband James died in 1974, his funeral took place at First Baptist Church. Upon his passing, James' occupation was motel owner.
Though Gallup's Court continued to welcome residents, the business closed sometime before 1987, as Bea appears to have passed away in Philadelphia around then. Valentine Elliott Evans, who purchased the house next door to Gallup's Court in 1975, recalls Bea and the complex as being really nice, "a wonderful place."[3] After Bea died, Evans says a man named Mr. James bought the building and rented it as Section 8 housing until he "sold it to somebody else and they sold it to a man that built [the condominiums]."[4] The investor bought the property in 2003 for $1 million and tore down Gallup's Court to make way for a larger, taller condominium. Gallup's Court and its charming proprietor were gone, as were most of the African American businesses and residents from "Backstreet's" prime.
Like many, Odelle Johnson Collins' father William H. Johnson moved to Cape Charles to work on the railroad. He purchased the lot at 621 Jefferson Avenue in 1933, where he built their family home at a time when few African Americans owned land in Cape Charles. However, Collins believes that her father likely would not have secured a loan for the land and the house if not for the help of a white lawyer who employed her father part-time. She explains, "It would have been [...] difficult. [...] He wouldn't, probably wouldn't have gotten that house."[5] Gallup's Court provided a basic, but much desired, necessity for African Americans in Cape Charles- clean, safe, and affordable housing. Housing discrimination practices, while no longer legal, are still prevalent. It remains difficult for African Americans to obtain adequate housing in Cape Charles or to maintain their long-held properties due to rising property taxes.
Sources
[1] Richard Cornell Press, Sr. interviewed by Fiameta "Metty" Vargas Pellicer (February 8, 2022), Oral History Interview for the Cape Charles Rotary Club Invisible History Project.
[2] W. L. Jefferson, "Cape Charles," Journal and Guide, June 26, 1943, 18.
[3] Valentine Elliott Evans interviewed by Fiameta "Metty" Vargas Pellicer (May 20, 2021), Oral History Interview for the Cape Charles Rotary Club Invisible History Project.
[4] Valentine Elliott Evans, Cape Charles Rotary Club Oral History Interview.
[5] Odelle Johnson Collins interviewed by Fiameta "Metty" Vargas Pellicer (July 27, 2021), Oral History Interview for the Cape Charles Rotary Club Invisible History Project.
Image Sources
Allison Blakeman, June 2022

Cape Charles Museum and Welcome Center; 6232

Juanita and Tom Godwin; InvisibleHistoryCC044

Library of Congress

Cape Charles Museum and Welcome Center; 338

Additional Information