Hotel De Anza
Introduction
One of the few art deco designed structures in San Jose, the Hotel De Anza first opened its doors in February of 1931. It was built by an organization comprised of local businesses who hoped to attract tourists and convention goers to the area and planning began in the late 1920s. It was designed by Canadian born architect William H. Meeks and construction was overseen by Carl Swenson. The hotel underwent major renovations in the early 1990s and again in 2015. It was added to the National Register of Historic Places in 1982.
Images
A 1940s postcard that features the Hotel De Anza.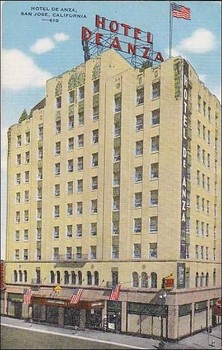 Backstory and Context
As the Santa Clara Valley began to change from an agricultural area in the 1920s, local business owners collaborated to form the West Santa Clara Development Association. This association sought to improve the business climate in the area and, to that end, realized there were few hotels in the area for visitors and they fronted the money to build the Hotel De Anza to solve that problem. Initially called the San Jose Hotel, the name was changed to honor Spanish explorer Juan Bautista de Anza. De Anza travelled up the coast of California from present day Tucson, Arizona in 1776, while the American colonists fought for their independence 3,000 miles to the east. He is credited with blazing an inland route to San Francisco Bay and locating the original sites for the Mission Santa Clara de Asis and San Jose de Guadalupe or modern day San Jose.
The architect, William Meeks, opted to design a 10-story, 144-room art deco structure with Spanish colonial accents within the interior. The first two floors are occupied by its lobby and mezzanine that feature wrought iron balconies, a matching grand chandelier, solid wooden beams, double arch doorways, and a massive fireplace with a canopy that reaches the ceiling. Its Tap Room became a popular local nightclub that featured a live orchestra and its top floor became the home to radio station KEEN. It was also a popular spot for national celebrities and was visited by Eleanor Roosevelt, boxer Jack Dempsey and jazz great Cab Calloway.
The hotel's zigzag, or stepped parapet is still topped by what is now considered a local landmark, a massive "Hotel De Anza" rose-colored neon sign. And the "Diving Diva," a painting of a white-clad woman in the act of diving, still graces the side of the building. She was added in 1951 to promote the hotel's heated outdoor pool. More recently, a massive mural was painted by local artist, Jim Miner, on the hotel's west side. Entitled "Life Abundant in the Face of Death Imminent," or simply "Life Abundant," the mural features a flapper-style woman surrounded by an overflowing cornucopia of fruits and vegetables on a bright purple background.
By the 1970s, the hotel had fallen into a state of disrepair and talk of its demolition swirled. However, it was saved by the San Jose Redevelopment Agency and a new owner invested $10 million for its renovation in 1991. It rooms, common areas, and meeting spaces were updated in 2015 to more reflect the hotel's Jazz Age origins. Today, the hotel is also home to the renowned La Pastaia restaurant, the Hedley Club, a cocktail lounge that features live jazz music, and a fountain courtyard that is perfect for wedding receptions and other gatherings.  
Sources
"The Story of a Legend." Destination Hotels. Accessed June 2, 2017. https://www.destinationhotels.com/hotel-de-anza/hotel/history
:De Anza Hotel." National Park Service. Accessed June 2, 2017. https://www.nps.gov/nr/travel/santaclara/anz.htm
"Lowe Enterprises Investors Acquires Hotel De Anza in San Jose." Hotel Interactive. September 10, 2014. Accessed June 2, 2017. http://www.hotelinteractive.com/article.aspx?articleid=33977
"Hotel De Anza." Swenson Builders. Accessed June 2, 2017. http://www.swensonbuilders.com/hotel-de-anza
Donato-Weinstein, Nathan. "Hotel De Anza for sale for first time in 25 years." Silicon Valley Business Journal. April 2, 2014. Accessed June 2, 2017. http://www.bizjournals.com/sanjose/news/2014/04/02/hotel-de-anza-for-sale-for-first-time-in-25-years... 
Additional Information