Powell's City of Books
Introduction
Established in 1971, Powell's City of Books has become both a beloved Portland institution and the world's largest independent bookstore. Book lovers visiting the city often make room in their baggage for a cache of used books, and many first-time visitors consider a visit to Powell's to be something like a trip to a book-lovers mecca. The flagship store covers an entire city block in the downtown Pearl District with its own coffee shop and 68,000 square feet of bookshelves and spaces for reading. Together with its four other Portland locations, Powell's inventory includes more than four million titles and visitors purchase a total of several thousand books each day, in addition to the store's online sales.
Images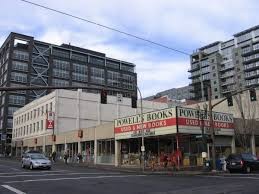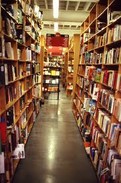 "Portland City Walks: Twenty Explorations In and Around Town" by Laura O. Foster -- Please see the link below for more information.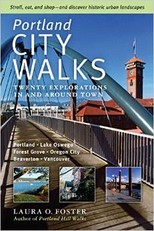 The Pillar of Books can be found at the northwest entrance and features eight best-selling novels and the phrase "Buy the book, read the book, enjoy the book, sell the book" in Latin.

Powell's became a Portland institution shortly after its opening in 1971.

Backstory and Context
Inspired his son's successful bookstore in Chicago, retired contractor Walter Powell opened this store in Portland in 1971. His son, Michael, bought the store in 1982 and by 1984 the company opened its first branch location near Washington Square. Powell's played an important role in the resurgence of independent bookstores across the country, opening a travel bookstore in 1985 and nearly one store per year for the next several years. Powell's began taking internet orders via email in 1993 and launched its own website by 1994. Today, Powell's is run by Walter Powell's granddaughter, Emily Powell. She says the goal of a bookseller should be to "connect the writer's voice with the reader's ear and not let our egos get in between," a sentiment instilled by her grandfather.
Sources
History of Powell's Books, Powell's website, (Accessed 6/4/2016) http://www.powells.com/locations/powells-city-of-books/ Jeremiah Chamberlain, "Inside Indie Bookstores: Powell's Books in Portland," The Practical Writer, May 2010. (accessed 6/4/2016) Oregonhttp://www.pw.org/content/inside_indie_bookstores_powell_s_books_in_portland_oregon?cmnt_all=1
Additional Information