Black American West Museum & Heritage Center
Introduction
The Black American West Museum was created by Paul W. Stewart in 1971. The museum's focus is to gather, preserve, and broadcast the ways in which African Americans were a part of the Old West. At first it was created to share the tale of the "Black Cowboys." However, overtime it has transformed to share the tales of the first African Americans in the west and their lives as miners, soldiers, home and property owners, cowboys, blacksmiths, educators, lawmen, and several other jobs that were desired for the West.
Images
Black American West Museum & Heritage Center
The Homestead room in the Black American West Museum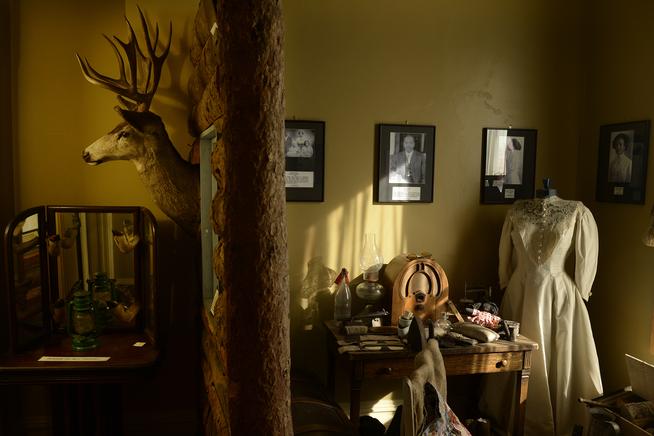 Another room in the Black American West Museum & Heritage Center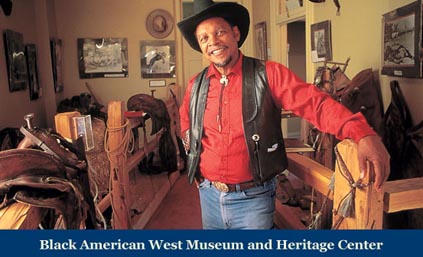 Backstory and Context
The actual museum is found in the house of Dr. Justina Ford who was Colorado's first African American female doctor. There are several things and exhibits to see at the museum. One of these exhibits includes the homestead exhibit. Its focus is mainly on Dearfield Colorado which was an African American town dedicated by O.T. Jackson in 1910. For a while it was a busy community of about 500 citizens who followed the ideas of Booker T. Washington. It lasted until the 1930s but due to the depression, dry weather, and dust storms the majority of the town's citizens returned to the cities. In the beginning of the 1940s approximately 12 people lived in the town but soon they too left. It is now a ghost town and the museum is in possession of a great amount of its property.
The museum has an exhibit on the black cowboys as well, some of them well known and others less known. As part of this exhibit the museum has saddles, spurs, hats, chaps, shoes, and other items used by cowboys. The museum also has military exhibits that reveal the tale of the Buffalo Soldiers. The Buffalo Soldiers were the African American cavalry and infantry that played a significant role in establishing the West. There is another military exhibit that is focused on the Tuskegee airmen and their importance in WWII. Along with several pictures and timelines, the museum owns uniforms, saddles, weapons, and other items used by Western soldiers.
Along with exhibits the museum has several documentaries on African Americans in the West. Also the museum has a bookstore upstairs that contains many books with information on the Old West and the African Americans that played a role in creating it. Visitors can also discuss any questions they have with the museum employees.1 The museum is open to visitors Tuesday-Saturday from 10:00am-5:00pm.
Sources
Introduction: "Black American West Museum," accessed on July 2, 2015, http://www.blackamericanwestmuseum.org/ "Black American West Museum," accessed on July 2, 2015, http://www.blackamericanwestmuseum.org/index.php/pages/about Footnote 1: "Black American West Museum," accessed on July 2, 2015, http://www.blackamericanwestmuseum.org/index.php/pages/about
Additional Information