Terminal Tower
Introduction
The Terminal Tower was the second tallest building in North America from its completion in 1930 until the construction of the Prudential Center in Boston in 1964. The Cleveland landmark, also known as the Cleveland Union Terminal, stands 708 feet tall, 771 feet with its flagpole. The beaux-arts style building (with a steel structure and façade of granite and limestone) was added to the National Register of Historic Places in 1976. Today, the Terminal Tower serves as commercial office space.
Images
Terminal Tower in downtown Cleveland is the most recognizable part of the city's skyline.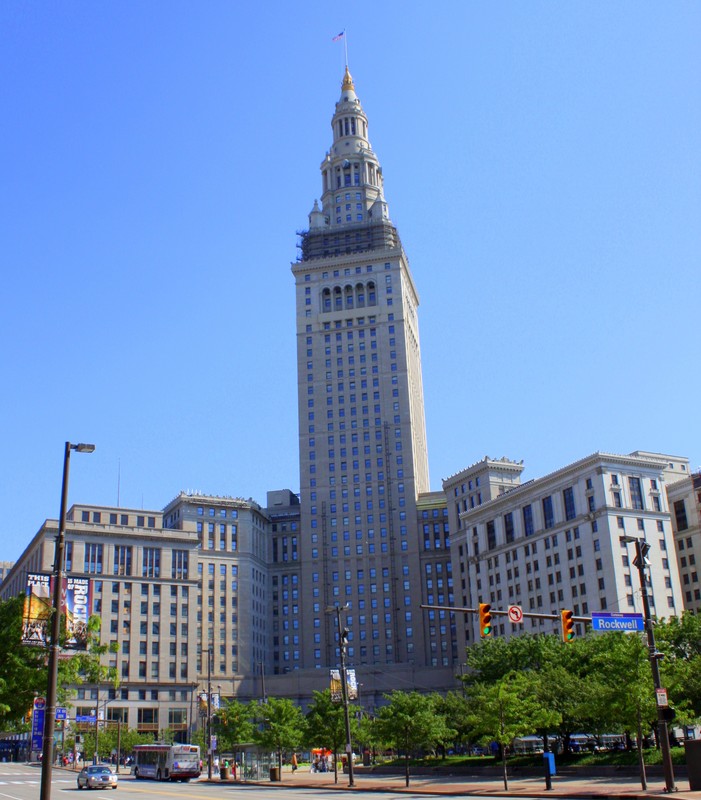 The Terminal Tower, circa 1930. From The Plain Dealer Historical Photograph Collection via Cleveland.com.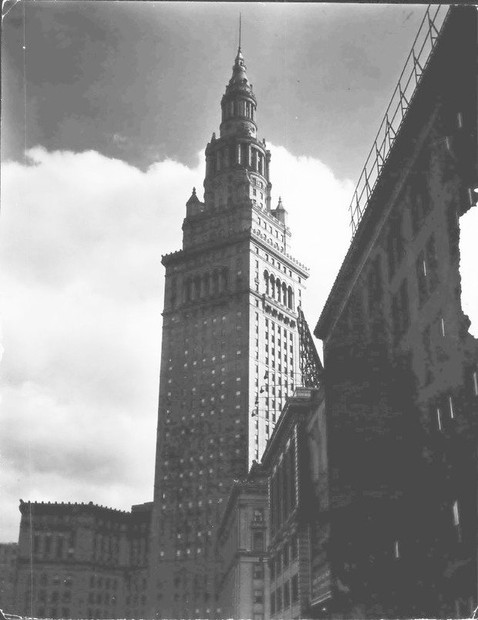 "Balloonfest" in 1986. From The Plain Dealer via Cleveland.com.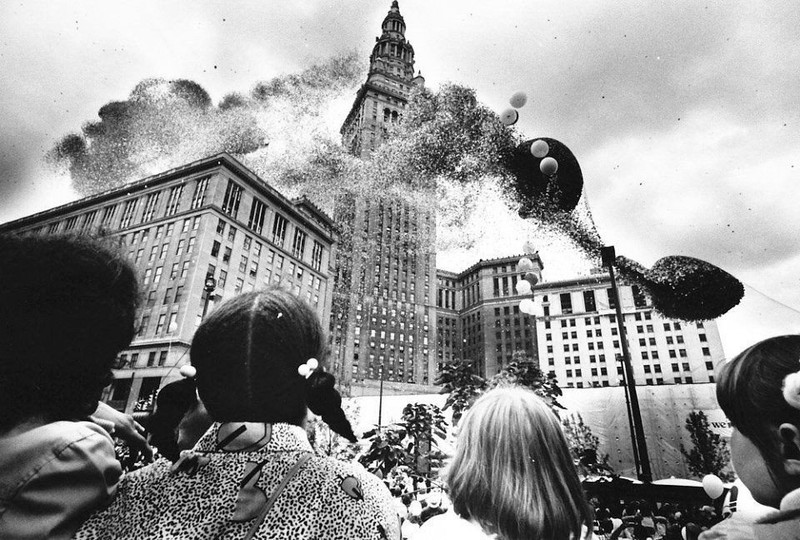 Inside the Terminal Tower. From the Plain Dealer via Cleveland.com.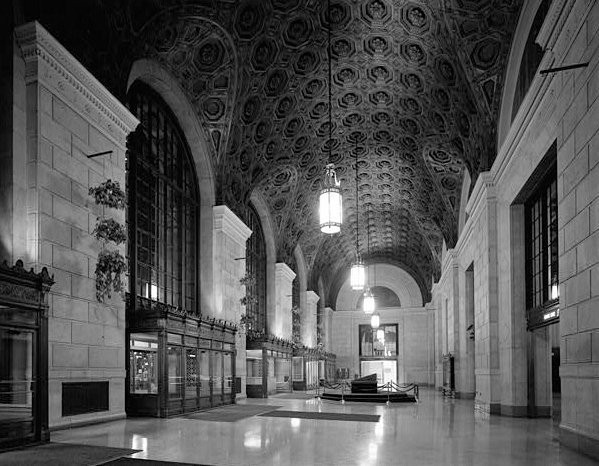 Backstory and Context
Brothers Oris P. and Mantis J. Van Sweringen proposed the construction of a centralized rail station in Cleveland's Public Square. This was more ambitious than their original plan to build a small station in the nearby suburb of Shaker Heights. One thousand buildings were torn down to make room for the new complex. The Van Sweringens then changed the concept of the building from a modest 14-story office space to a 52-story tower. It took seven years and nearly ten million dollars to complete the project, which was overseen by the Chicago-based architecture firm of Graham, Anderson, Probst, and White. The shy Van Sweringen brothers chose not to attend the opening ceremonies of their legacy, the Terminal Tower, in 1930.
By the 1970s, the Terminal Tower and its surrounding complex sat empty, a symbol of the hard times that had hit Cleveland and other similar cities in the U.S. In 1986, a publicity attempt was held to earn a Guinness World Record by releasing almost 1.5 million balloons from the site. Havoc ensued after "Balloonfest" as winds and rain soon forced the balloons back down to earth, causing a 30-minute closure of Burke Lakefront Airport as well as a few car accidents.
The Terminal Tower is still in use as an office building today, though its observation deck was reopened to the public in April 2018.
Sources
Tower City website, accessed August 10, 2016. http://www.towercitycleveland.com/info/overview
Terminal Tower. Emporis. Accessed August 22, 2018. http://www.emporis.com/buildings/121783/terminal-tower-cleveland-oh-usa.
Stutz, Marie. Important Places in Cleveland. Modern Cleveland. November 14, 2005. Accessed August 22, 2018. http://moderncleveland.com/places/.
Petkovic, John. Hello, Cleveland: Terminal Tower observation deck open to public. Cleveland. April 06, 2018. Accessed August 22, 2018. https://www.cleveland.com/entertainment/index.ssf/2018/04/hello_cleveland_terminal_tower.html. Information and photo source.
Terminal Tower. Cleveland Historical. Accessed August 22, 2018. https://clevelandhistorical.org/items/show/21.
Terminal Tower. Ohio History Central. Accessed August 22, 2018. http://www.ohiohistorycentral.org/w/Terminal_Tower.
Additional Information