Lewis Howard Latimer Statue, Bridgeport
Introduction
Commissioned by local leaders in 2015, this statue in front of the Margaret E. Morton Government Center commemorates the life and work of inventor Lewis Howard Latimer who invented and patented the carbon filament used in many of the most important inventions at the turn of the century. The son of runaway slaves, Latimer was a draftsman worked closely with other inventors such as Thomas Edison and Alexander Graham Bell to design innovations that led to the telephone and incandescent lighting. Latimer came to Bridgeport in 1880 to take a job with Hiram Maxim at U.S. Electric Lighting Company. He later worked for Edison Lighting Company and General Electric in New York City.
Images
Lewis H. Latimer's statue in front of Margaret E. Morton Government Center. Photo taken by Michael Herrick, December 24, 2015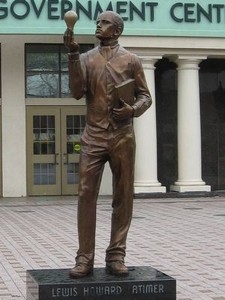 Latimer's work contributed to major inventions from the lightbulb to the telephone.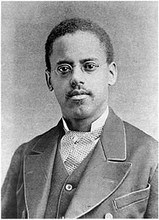 Backstory and Context
George and Rebecca Latimer resided in Chelsea, Massachusetts after escaping slavery in 1842. Six years later, Rebecca gave birth to their son Lewis Howard Latimer, the youngest child of four. In 1857, George fled the area to avoid being captured and reenslaved. With his father on the run, Lewis worked to help support his family. Among many odd jobs, young Lewis delivered and sold abolitionist William Lloyd Garrison's newspaper, The Liberator. He even lied about his age so that he could join the Navy during the Civil War. Despite his youth, Latimer served in the Navy and was honorably discharged. After returning home, he took an entry-level position at the Crosby and Gould patent law office and eventually accepted a promotion to draftsman.
Light bulbs and telephones are not the only things Latimer is known to help design. He also worked on improvements to air conditioner units and helped design railroad car bathrooms. Latimer was appointed as the superintendent of the incandescent lamp department of the United States Electric Lighting Company. He also authored the book Incandescent Electric Lighting: A Practical Description of the Edison System.
Latimer was a pioneer in the electrical industry and was even awarded eight patents. Latimer died in 1928 in Flushing, New York. Remembered today for his accomplishments in engineering, it is important also to recall Latimer's words in support of racial equality. "It is necessary that we should show the people of this country that we who have by our martyrdom under the lash, by our heroism on the battlefield; by our Christian forbearance beneath an overwhelming burden of injustice; and by our submission to the laws of the native land, proven ourselves worthy citizens of our common country," Lattimer wrote.
This statue demonstrates the delayed recognition given to this inventor by a city where he only briefly lived. Although residents welcomed the statue, it was almost moved after it was revealed that the statue was funded with money reserved for neighborhood revitalization which did not include downtown Bridgeport. After extended talks, city leaders decided against moving the statue.
Sources
1. Hine, Darlene Clark, et al. The African-American Odyssey: the Combined Volume. Third Edition ed., Pearson, 2013, p. 408.

2. Lockhart, Brian. "Statue of Black Inventor to Stay Downtown." Connecticut Post, Connecticut Post, 18 Feb. 2017, www.ctpost.com/local/article/Ganim-Statue-of-Black-inventor-won-t-be-moved-10940470.php.

3. "Lewis Howard Latimer Historical Marker." Historical Marker, J.J. Prats, 16 June 2016, www.hmdb.org/marker.asp?marker=91836.


4 Mayko, Michael P. "Bridgeport City Hall Annex Renamed Margaret E. Morton Government Center." Connecticut Post, Connecticut Post, 24 June 2012, www.ctpost.com/local/article/Bridgeport-City-Hall-Annex-renamed-Margaret-E-3658018.php.

5. Witkowski, Mary. "Margaret E. Morton: 1924 – March 10, 2012." Bridgeport History Center, Bridgeport Library, bportlibrary.org/hc/african-american-heritage/margaret-e-morton-1924-march-10-2012/#prettyPhoto.

Additional Information