Court St. Methodist Church
Introduction
Built in the Second-Empire style, this building has seen a lot of changes since it was first constructed in 1868.
Images
Court Street Methodist Church as it once looked. The style of architecture is the very same as the Bates Motel in the movie Psycho.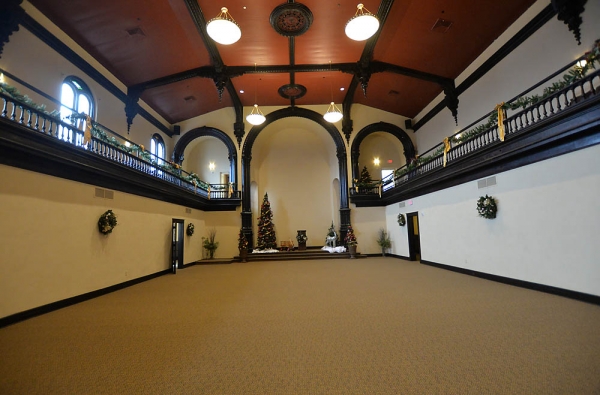 This is the main meeting hall on the upper floor, once used for Masonic Gatherings. You can still see some masonic symbols inside the building, along with stained glass that features biblical motifs from its days as a Methodist Church.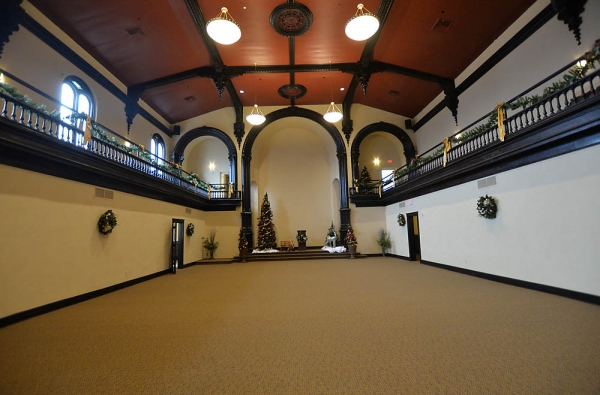 Backstory and Context
The First Methodist Episcopal Church used the building to hold church services until 1905 when it was sold to the Masonic Western Star Lodge, which occupied the building until 1965. J.C. Penny Department store was a tenant from 1920-1974 and the building is now home to both the Voigt Music Center on the ground floor, and the Venue, a banquet hall on the upper floors. This Second-Empire Style building also stands on the site of the American House Hotel, built in 1840 and which burned down in 1867.
The Second-Empire style of architecture, named for the Empire of Napoleon III, is one of the rarest styles to be found in Rock County, as only a handful of buildings in this style still exist in Janesville. The style is meant to evoke the elegant mansions found in Paris along the Champs Elysees and is french in inspiration. Second-Empire style buildings feature a sloped mansard style roof, decorative elements around windows, and are usually constructed out of brick or stone. This building features all three and has been artfully taken care of both inside and out.