Hotel Senator
Introduction
Built in 1924 in the Renaissance Revival style, Sacramento's grand Hotel Senator has long been an integral part of city life, in one capacity or another. For decades, it functioned as a hotel, hosting both politicians and celebrities. Since the 1980s, the building has housed offices used by lobbyists, giving them easy access to the capitol, which is across the street.
Images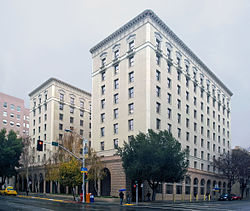 Close-up view of the Hotel Senator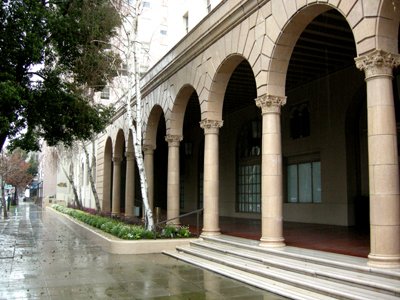 Backstory and Context
The Hotel Senator, which was designed by Kenneth MacDonald and G. Albert Lansburgh, opened in 1924. The 400-room hotel is located directly across the street from the state capitol, and its location frequently meant that the hotel hosted movers and shakers in California politics. It was built in the Renaissance Revival style and was modeled on the Farnese Palace in Rome.

In its heyday, the hotel was a hub of activity for the city's leading citizens, as well as Hollywood royalty. In 1927, Charles Lindbergh was honored with a reception at the hotel following his transatlantic flight. Earlier that year, Buster Keaton spent several weeks in the hotel while filming a movie.

The hotel hosted its share of political luminaries as well. Governors Ronald Reagan and Jerry Brown and Presidents Richard Nixon and Jimmy Carter each visited the hotel. It was just outside the hotel in 1975 that President Gerald Ford was the target of an assassination attempt by Manson family member Squeaky Fromme.

Despite being added to the National Register of Historic Places in 1979, the hotel closed a few weeks later and remained shuttered for several years. It reopened in 1983 as office space for lobbyists, giving them easy access to the capitol. In recent years, there have been talks about restoring the building and reopening it as a hotel, but as recently as 2015 the property was for sale.
Sources
Turner, Rob. Hotel Lobbying. sactownmag.com. Accessed July 30, 2017. http://www.sactownmag.com/October-November-2012/Hotel-Lobbying/index.php?cparticle=1&siarticle=0#artanc.