Golden Bear (1923-1986)
Introduction
The Golden Bear was a cafe and then a nightclub from 1923 to 1986. It started out as the Golden Lion Cafe on Main Street and was renamed The Golden Bear Cafe when it moved to its Ocean Avenue (now Pacific Coast Highway) location. The Golden Bear hosted comedians Steve Martin, Lenny Bruce and Robin Williams, and artists Janis Joplin, Arlo Guthrie, Stevie Ray Vaughan, Hoyt Axton, Jackson Browne, Jimi Hendrix, Joan Jett & the Blackhearts, Dave Mason,Tower of Power, The Chambers Brothers and Jerry Garcia, among others.
Images
The Golden Bear Cafe near the intersection of Main Street and Ocean Boulevard (Pacific Coast Highway), circa 1930s.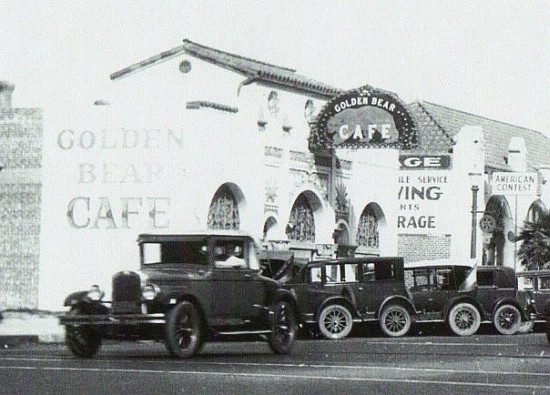 The Golden Bear can be seen at right in this circa 1970s aerial of Pacific Coast Highway and Main Street. Source: City of Huntington Beach archives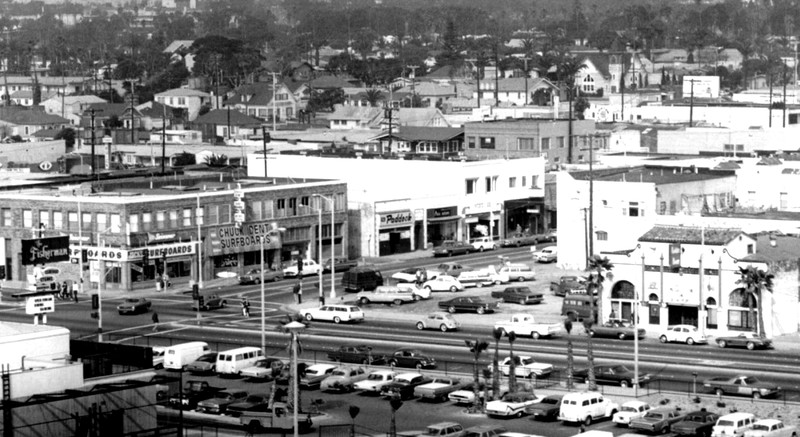 An advertisement for Thanksgiving dinner at the Golden Bear Cafe, November 27, 1928. Source: Santa Ana Register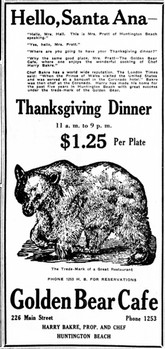 Patrons waiting to enter Golden Bear feel the ocean breezes. Legend has it that the emblazoned bear watches all who enter. Source: Santa Ana Register, July 8, 1976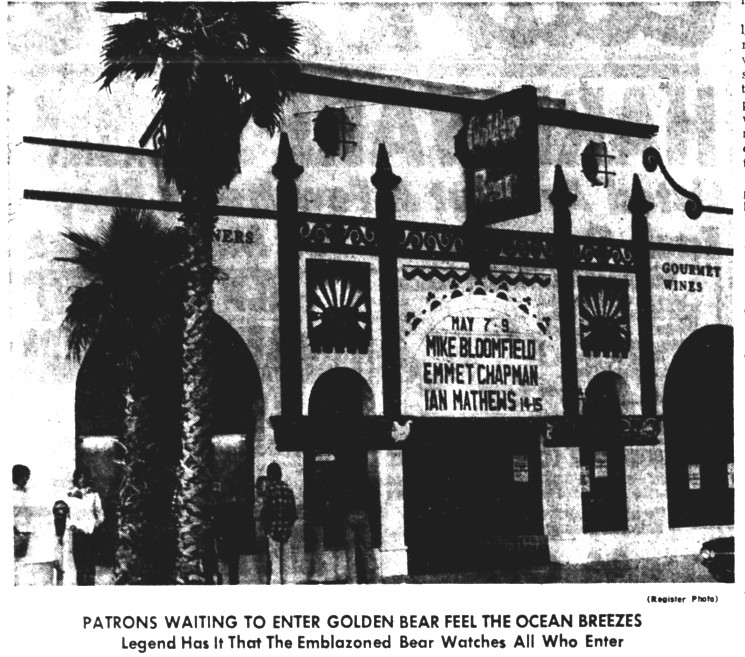 Junior Wells' "Live at the Golden Bear" album cover, a live concert recording from September 18, 1968.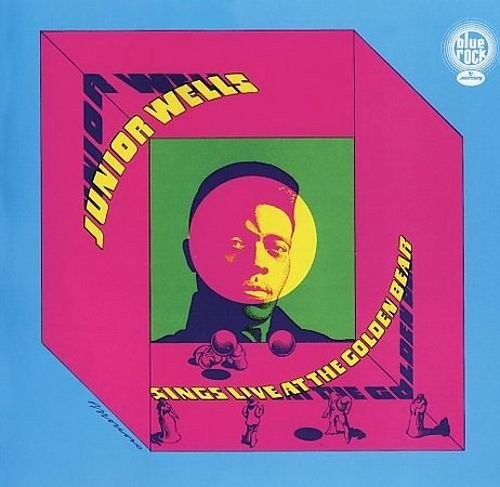 Local band, the Wild Cards performed at the Golden Bear in 1984 and opened for Los Lobos that same year. Source: Los Angeles Times, November 19, 1984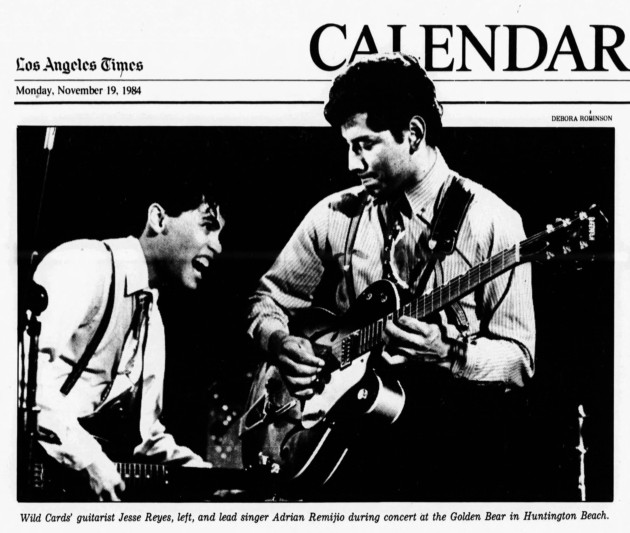 Backstory and Context
One of the iconic buildings in Huntington Beach that did not survive redevelopment during the 1980s was the Golden Bear. The Spanish Revival-California Eclectic style building faced the Pacific Ocean and was located just south of Main Street.

The Golden Bear was founded by chef Harry Bakre in 1923 and started as The Golden Lion Cafe at 226 Main Street. Bakre advertised that he was a "famous chef" who had been with the Hotel del Coronado in San Diego when the Prince of Wales, later King Edward VIII, visited for a banquet in 1919.

In the fall of 1926, Bakre changed the name of the restaurant to the Golden Bear Cafe. Bakre was a clever marketer, using the iconic California brown bear in his advertising. In January 1926, Bakre advertised in the Santa Ana Register that he would be serving up "soup and steaks" made from a giant, four-foot long sea turtle caught by a local fisherman near Newport Beach. In 1929, he constructed a new building for the Golden Bear Cafe at 306 Ocean Avenue and the cafe became the place for meetings of the chamber of commerce and other local organizations.

By the early 1960s, the Golden Bear Cafe had become a nightclub, featuring live performances and folk musicians, such as David Crosby. Janis Joplin and other emerging artists performed at the Golden Bear. Jazz and blues harpist Junior Wells cut his album, "Live at the Golden Bear" at the Bear in 1968. Peter Tork washed dishes there just prior to joining the Monkees in the mid 1960s.

In the 1970s, under new ownership by Rick and Charles Babiraki, the Golden Bear featured performances by Linda Ronstadt, Patti Smith, Peter Gabriel, The Ramones, Neil Young, and dozens of major label acts. The Golden Bear was famous for booking an eclectic variety of poets, comedians and musicians, including Huey Lewis, Muddy Waters, Bob Dylan, Robin Williams, and Charles Bukowski.

Describing the Golden Bear as a "seafront music showroom", Billboard magazine reported Maria Muldaur set a record attendance of 1,991 at her performance at the Golden Bear in November, 1976. Billboard also reported the upcoming December performances for David Bromberg, Tom Waits, Rick Springfield, Funky Kings, Les McCann, and Kenny Rankin. B.B. King performed at the Golden Bear in 1978.

The Golden Bear closed in 1986, after the owners filed for protective bankruptcy in 1985. It was demolished in 1986 despite community efforts to save building. Robert Carvounas, author of "A History of the Golden Bear," notes, "Just mention the name 'Golden Bear' to a Huntington Beach local and the utterance is usually met with a knowing smile and regretful tilt of the head. Almost everybody— young and old— still remembers the once great landmark."

Sources
Carvounas, Robert J.. A History of the Golden Bear, Huntington Beach. Edition 1. 2009. ISBN-10: 0615266010 ISBN-13: 978-0615266015

Historic Context and Survey Report. City of Huntington Beach. . Accessed April 23, 2018. www.huntingtonbeachca.gov. Galvin Preservation Associates Inc. 231 California Street El Segundo, CA 90245

Carpio, Anthony. "Memories of Huntington Beach nightclub echo in new marker." Los Angeles Times(Los Angeles)December 05, 2014. . http://www.latimes.com/local/orangecounty/la-me-1206-hbclub-20141206-story.html

"Maria Muldaur in Golden Bear Mark." Billboard. BillboardDecember 25, 1976. . https://books.google.com/books?id=xCQEAAAAMBAJ&pg=PT37&dq=%22golden+bear%22+%22huntington+beach%22&h...

Urashima, Mary. Historic Walking Tour: The irreplaceable Golden Bear Cafe and nightclub. Historic Huntington Beach. May 06, 2012. Accessed April 23, 2018. https://historichuntingtonbeach.blogspot.com/2012/05/historic-walking-tour-27-golden-bear.html.