Mad Ann Bailey's Gravesite
Introduction
"Mad" Ann Bailey (1742-Nov. 22,1825) was a famous frontier scout and messenger during the American Revolutionary War and the Northwest Indian War. The name "Mad Ann" was given her for her acts of bravery and heroism that were considered somewhat eccentric for a woman. Mad Anne Bailey was most known for her 100 mile ride from Fort Lee, near present day Charleston, WV, to Fort Savannah, near Lewisburg, Va, and brought back much needed gun powder and is credited for saving Fort Lee.
Images
Gravesite of Mad Ann Bailey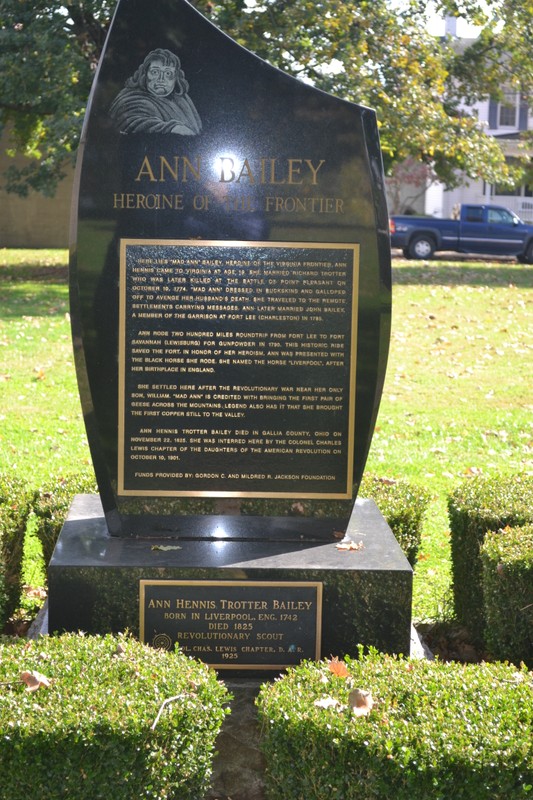 Mural depicting Mad Anne Bailey - Located on Point Pleasant, WV Floodwall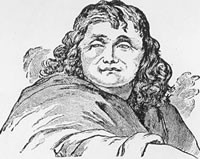 Backstory and Context
Ann Hennis Trotter Bailey was born in Liverpool, England in 1742. She arrived in the Shenandoah Valley in Virginia at about the age of 19 after the death of both her parents in England. Ann married Richard Trotter, a local settler, in 1765. Richard Trotter enlisted in the militia to fight the Indians of the western border in 1774. Richard Trotter was killed on Oct. 10, 1774 at the battle of Point Pleasant against the forces of Shawnee leader Cornstalk. The Battle of Point Pleasant is known by some as the first battle of the American Revolution.
After learning of her husbands death, Ann left her 7 year old son, William, with a close neighbor , Mrs Moses Mann, and joined the militia. Ann wore buckskins while carrying rifles and similar equipment needed for scouting and courier work.
On one of her many rides as courier between Fort Savannah, near Lewisburg, Va, and Fort Randolph, near present day Point Pleasant, WV, Ann was being chased by a group of of Shawnee Indians. As she was about to be caught, she jumped off her horse and hid in a log. The Indians looked everywhere for her and even stopped to rest on the log she was hiding in, they could not find her anywhere. The Indians took her horse and during the night Ann snuck into the Indians camp and stole her horse back. When she was far enough away she began to scream at the top of her lungs and the Indians thought she was possessed. After that event the Indians feared her and only watched her from afar.
John Bailey married Ann in 1785 even though she had the name "Mad Ann" and acted different than the women of the time. In 1788 John and Ann moved to the Clendenin's Settlement in the Great Kanawha Valley, near present day Charleston, WV. as John was a "Ranger", one of the most legendary groups of frontier scouts. Ann worked for the settlers as well and rode around warning them of impeding Indian raids. In 1791 the Indians were planning an attack on Fort Lee and the militia didn't have enough powder to successfully fight the Indians. Ann made her famous ride from Fort Lee to Fort Savannah and back delivering the much needed gun powder. The ride was over 100 miles on way and very dangerous, which she made both ways without stopping.
After John Bailey died in 1802, Ann continued to messenger supplies for settlers all over. In 1818 she reluctantly moved with her son to Gallia County, Ohio.
Ann died on November 22, 1825 and was buried in Gallia County, however her remains later were moved to Point Pleasant, WV to the Tu-Endie-Wei State Park. The museum there shows several of her memorabilia. A stainless steel statue is alongside a mural of her life is depicted on the Point Pleasant flood wall, which is next to the Tu-Endie-Wei State Park.

Sources
"Anne Bailey." Wikipedia. Wikimedia Foundation, 26 Oct. 2014. Web. 29 Oct. 2014. "National Women's History Museum." Education & Resources. N.p., n.d. Web. 28 Oct. 2014. "Mad" Anne Bailey." "Mad" Anne Bailey. N.p., n.d. Web. 29 Oct. 2014. "Ye Journal of Mad Anne Bailey American Frontier Heroine." Ye Journal of Mad Anne Bailey American Frontier Heroine. N.p., n.d. Web. 29 Oct. 2014.
Additional Information