Tower Grove House
Introduction
This 300-acre urban park and botanical garden sits on land that belonged to businessman and philanthropist Henry Shaw. Shaw donated the land to build the park and botanical garden, as well as funds to care for its maintenance. The gardens and adjacent park contains Shaw's former estate, the Missouri Botanical Gardens, a dozen pavilions, a lily pond and numerous flower gardens, and several fountains and statues.
Images
Shaw inhabited the west wing of the house, which boasts ceilings over 12 feet high downstairs and over 15 feet high upstairs.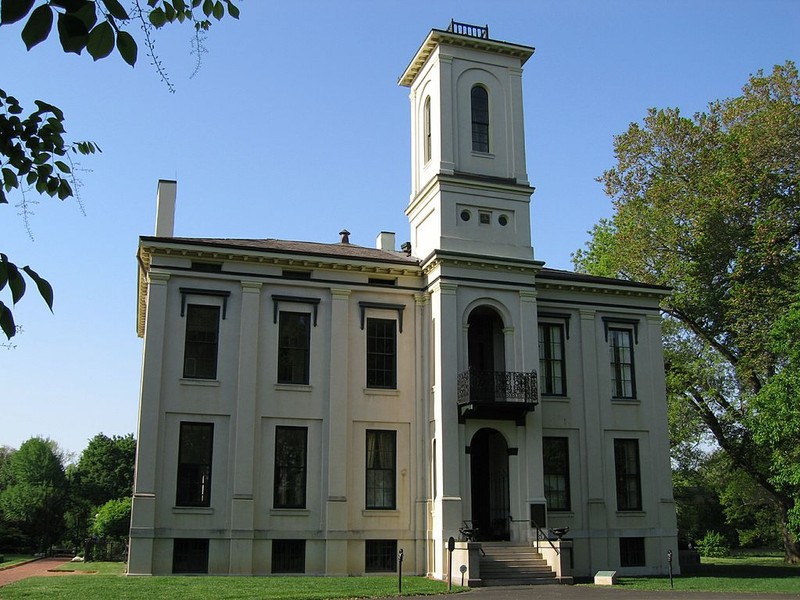 Backstory and Context
Henry Shaw arrived in St. Louis in 1819, when it was a small French village and trade center. His timing could not have been better, and he amassed a fortune as a merchant and landowner that mirrored the city's growth. He also made considerable revenue by selling equipment to pioneers who departed from St. Louis along various western trails. Shaw retired at the age of 40 and traveled extensively. He also pursued a passion in botany, a hobby that led to the establishment of the nearby botanical gardens. The gardens were part of his estate which encompassed the present-day park. In 1859, Shaw donated these lands, the gardens, and a considerable fortune for the construction of pavilions and other public spaces throughout Tower Grove Park. He also donated money to create a hospital, schools, and donated funds that led to the creation of the Missouri Historical Society. He also supported the endowments of several area colleges.
After 100 years of use as a private home, school, dormitory, and office building, the house underwent meticulous renovation. Furniture and materials once belonging to Shaw were located and returned. It opened to the public in 1953. Tower Grove House was rededicated on October 29, 2005 after another period of extensive restoration. The house has been restored to reflect Shaw's original country home. Many of the 19th century furnishings belonged to Shaw; others are of the same era.
Today, staff and volunteers encourage visitors to take a step back in time and experience the country home of Henry Shaw. Artifacts and furniture that belonged to Shaw are on display. Timelines help visitors discover how Tower Grove House was used after 1889. Voices from the past tell stories of those who helped build the Missouri Botanical Garden.
Additional Information