Evel Knievel Museum
Introduction
Located next to a historic building on the former Kansas State Fair complex, this museum is home to the world's largest collection of historic memorabilia, jump bikes, and performance leathers of daredevil Evel Knievel. The museum offers interactive exhibits where one can feel what it was like to fly through the air on his motorcycle, jumping over Greyhound buses, sharks, or seemingly whatever else he could dream up. The museum was built in 2016 by the adjacent motorcycle dealership's owner, Mike Patterson.
Images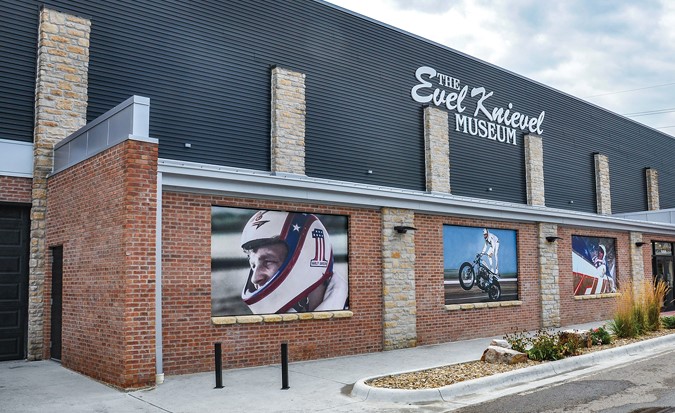 2013 book on collecting Evel Knievel stunt toys (Sluice Publishing)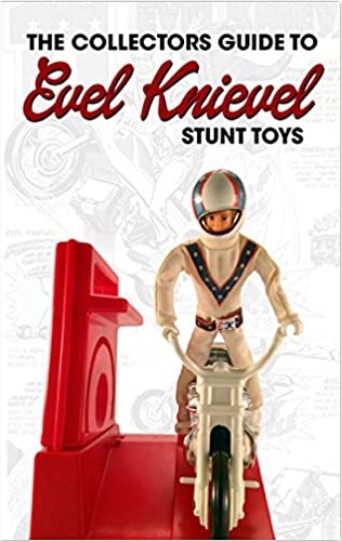 Backstory and Context
Evel Knievel was born in Butte, Montana on October 17, 1938 as Robert Craig Knievel. He had a number of professions over the years, although some may be his own tall tales (swindler, safe cracker, holdup man). He got in trouble for popping a wheelie on mining equipment in his home town. Knievel once owned a Honda motorcycle dealership where he offered a $100 discount to customers who could beat him in arm wrestling.
The world-renowned motorcycle stunt daredevil defied death countless times and always survived, even if he broke a bone - or a lot of bones. He called it quits after a 1976 stunt - jumping over a tank of sharks - caused major injuries, but couldn't resist a few more smaller stunts with his only son, Robbie, who followed his dad into the daredevil business. Toys with an Evel Knievel theme grossed $300 million in the 1970s and 1980s. Two movies about his life have been made and a limited television series about Knievel was about to be produced in 2020 before the pandemic halted work.
The end came quietly one day at the age of 69. Evel, who suffered from pulmonary fibrosis in his later years, had trouble breathing and an ambulance was called to his condominium in Clearwater, Florida. The man who had defied death so many times before passed away on November 30, 2007 before the ambulance could reach a hospital. He left behind two ex-wives, four children, ten grandchildren, and a great-grandchild.
Sources
CBS Interactive Inc.. Daredevil Evel Knievel Dead at 69, CBS News. November 30th 2007. Accessed August 13th 2020. https://www.cbsnews.com/news/daredevil-evel-knievel-dead-at-69/.
Chilson, Morgan. "For Evel Knievel Museum, Why Topeka? ." Topeka Capital-Journal (Topeka, KS) May 3rd 2016. cjonline ed.
Sluice Publishing. Collectors Guide to Evel Knievel Stunt Toys. Edition Paperback, 1st edition. Sluice Publishing, 2013.
Visit Topeka Partnership. Evel Knievel Museum, Visit Topeka. January 1st 2020. Accessed August 13th 2020. https://visit.topekapartnership.com/things-to-do/attractions/evel-knievel-museum/.
Image Sources
https://www.amazon.com/Collectors-Guide-Knievel-Stunt-Cycle/dp/B00O4OVR9Q/

Additional Information