Museum of Neon Art
Introduction
Founded in 1931, the Museum of Neon Art encourages learning, curiosity and expression through the preservation, collection and interpretation of neon, electric and kinetic art. Neon is a gateway between scientific principles and artistic expression. Neon illumination integrates electrical technology, creative design, and fundamental concepts of physics and chemistry. The Museum of Neon Art is the only museum in the world devoted exclusively to art in electric media, exhibiting electric and kinetic fine art, and outstanding examples of historic neon signs, for over three decades. The collection includes neon signs from the Brown Derby and Grauman's Chinese Theatre.
Images
Examples of signs in the collection. Credit: Tripadvisor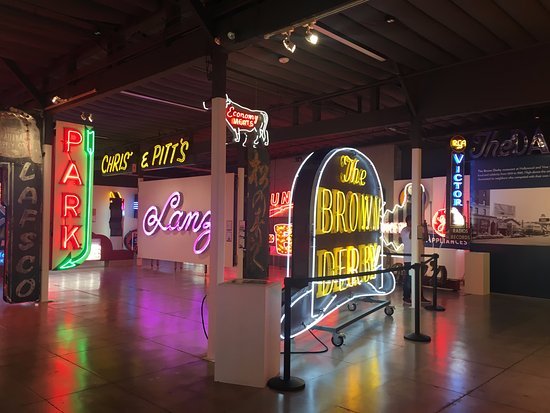 Examples of signs in the collection. Credit: Edomu.net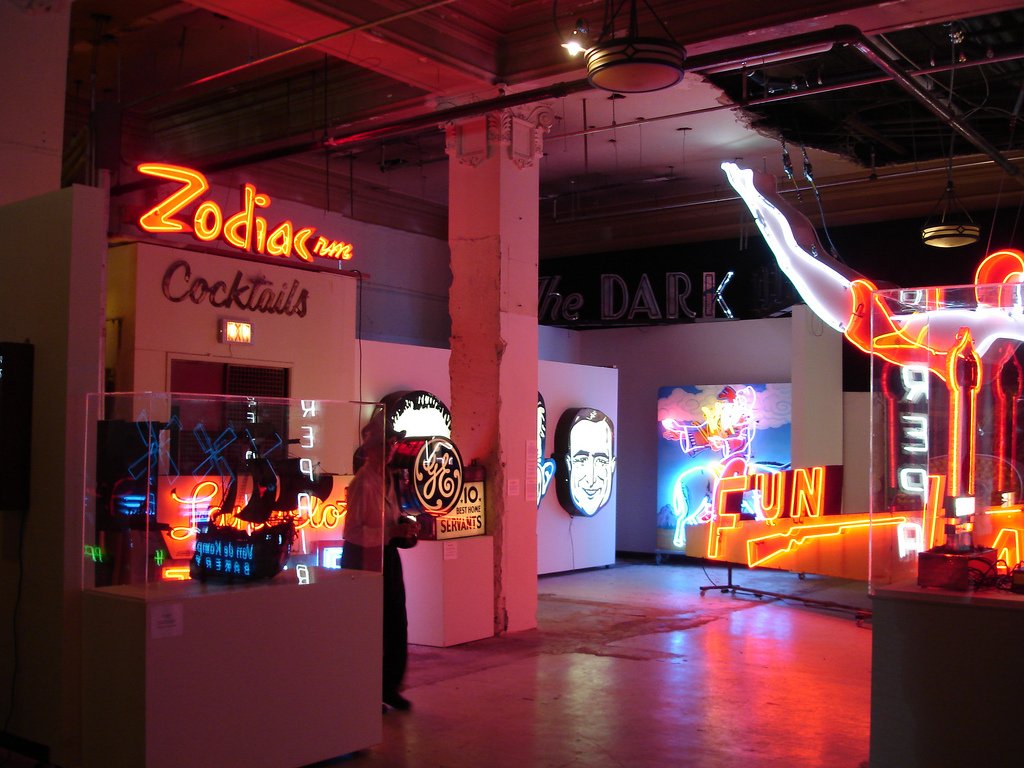 Backstory and Context
MONA was founded as a 501(c)(3) non-profit art museum in 1981, by artists Lili Lakich and Richard Jenkins in downtown Los Angeles. Their intent was to create an awareness for historic neon sign preservation and to showcase this electrifying contemporary art form. After several relocations, (Universal City Walk, Grand Hope Park and the Historic Core), the museum successfully negotiated a permanent home in the city of Glendale where it serves as an anchor to the southern end of the Arts and Entertainment Corridor.
Throughout its 30+ year history, MONA has fostered an awareness of historic neon signage through its LUMENS project with the City of L.A. and its popular bus tour, the Neon Cruise. MONA has witnessed the rise and fall of neon used by the sign industry and the current resurgence of neon used by creative artists and commercial designers today. The new MONA facility in Glendale has a classroom on the premises where visitors can watch skilled neon craftspeople fabricating and processing the neon tube and take hands-on classes to learn this fascinating art form.
The exhibitions are electric and light-based arts illuminating the past, present, and future through permanent and rotating exhibitions. The museum educates with new fully immersive, standards-aligned learning programs teaching science through art. With the act of preservation, over thirty years of successful outreach programs raising awareness of the cultural and economic value of historic signage. The MONA serves Glendale and Southern California communities through inclusive on- and off-site programming.
The Neon Cruise was developed by MONA beginning in 1985. The narrated tour points out neon's aesthetic dimensions, placing them firmly within the context of 20th century Los Angeles cultural history. From the classic movie marquees of downtown Los Angeles' theater district to the glittering lights of Hollywood and the glowing pagodas of Chinatown, you will see outstanding examples of contemporary neon art as well as innovative electrical advertising.

Sources
About. MONA. Accessed January 18, 2018. http://www.neonmona.org/about/.

Cooper, Arnie. Neon Museum Casts Its Otherworldly Glow. The Wallstreet Journal. September 03, 2008. Accessed January 18, 2018. https://www.wsj.com/articles/SB122039501175292599.

Womack, Catherine. After Decades of Decline, L.A.'s Neon Light Industry Is Experiencing a Resurgence. LA Weekly. May 09, 2016. Accessed January 18, 2018. http://www.laweekly.com/arts/after-decades-of-decline-las-neon-light-industry-is-experiencing-a-resu....


Additional Information