Ben Epps' Garage (1907-1937)
Introduction
From 1907 to his death in 1937, this building housed the garage where Ben Epps designed and built the first aircraft to fly in the state of Georgia. This shop was also used by Epps for his vehicle repair and electrical contracting businesses. The building is now the site of The Woodford, an Athens bar.
Images
A 1907 photograph of Ben Epps with his first airplane outside of his garage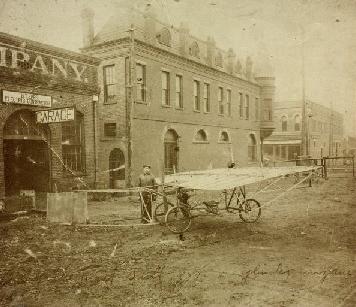 A 2018 recreation of the 1907 photograph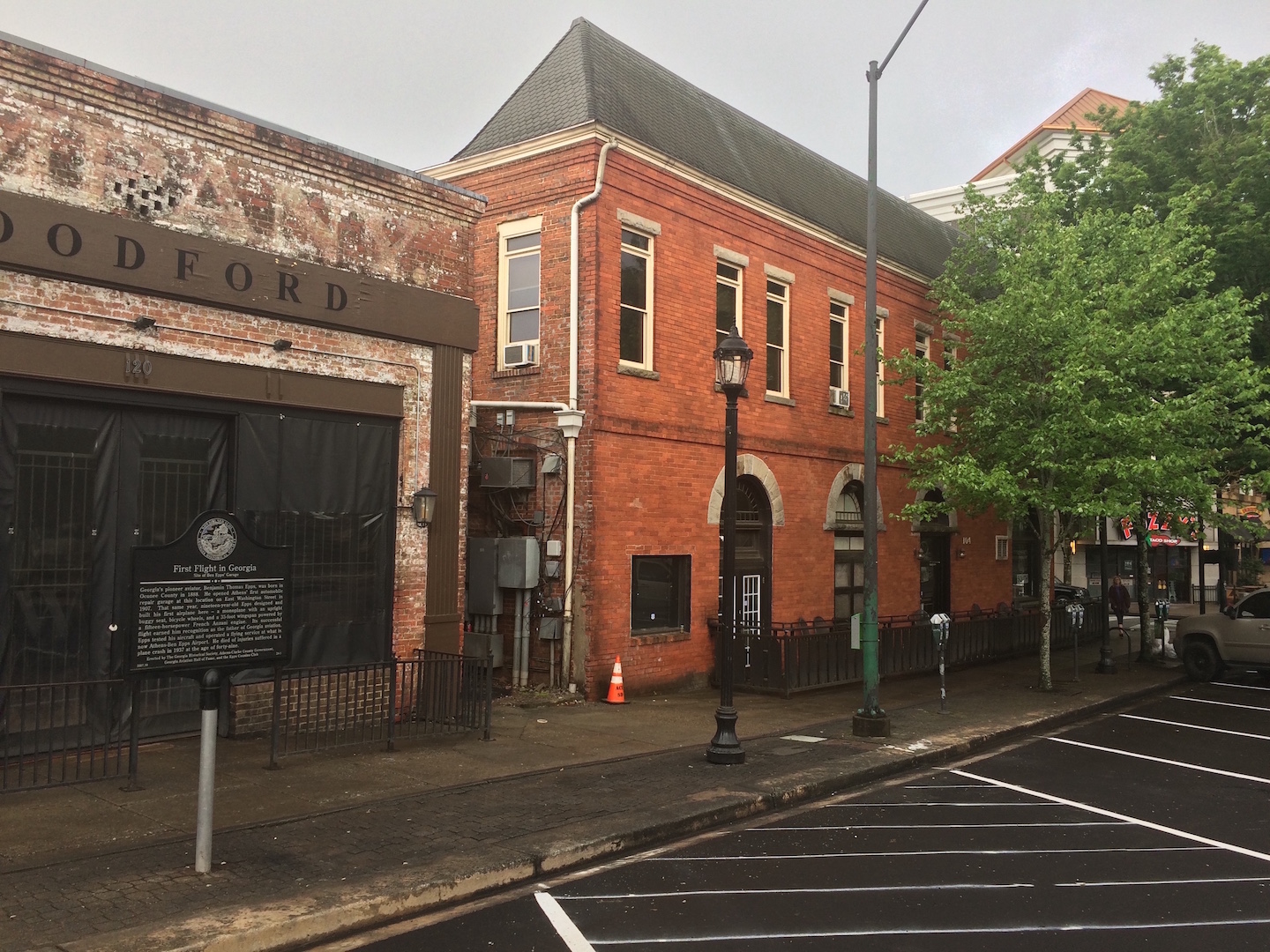 Easternmost portion of Epps' garage on East Washington Street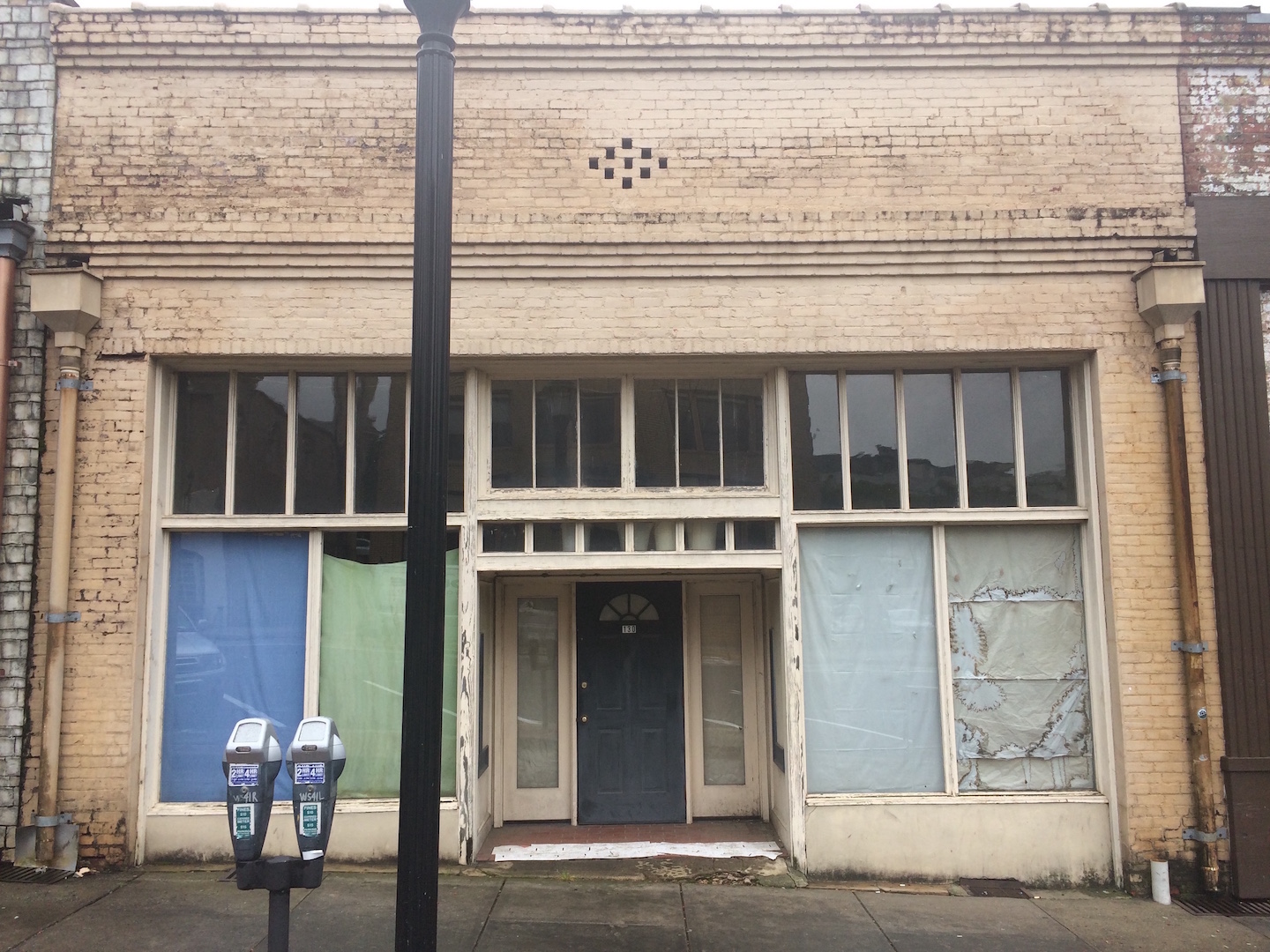 Westernmost portion of Epps' garage on East Washington Street, is now a bar named The Woodford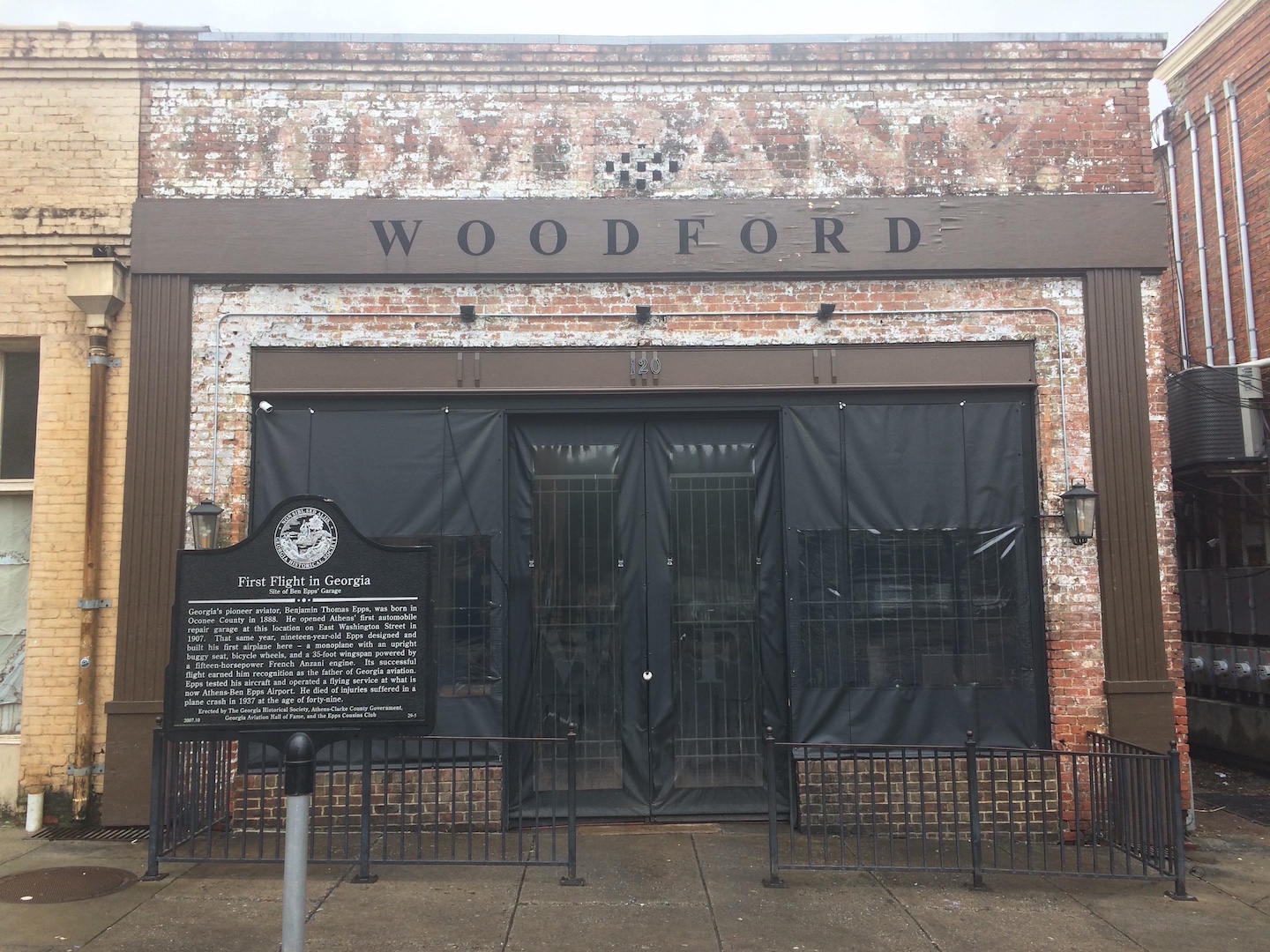 Georgia Historical Marker dedicated to his first flight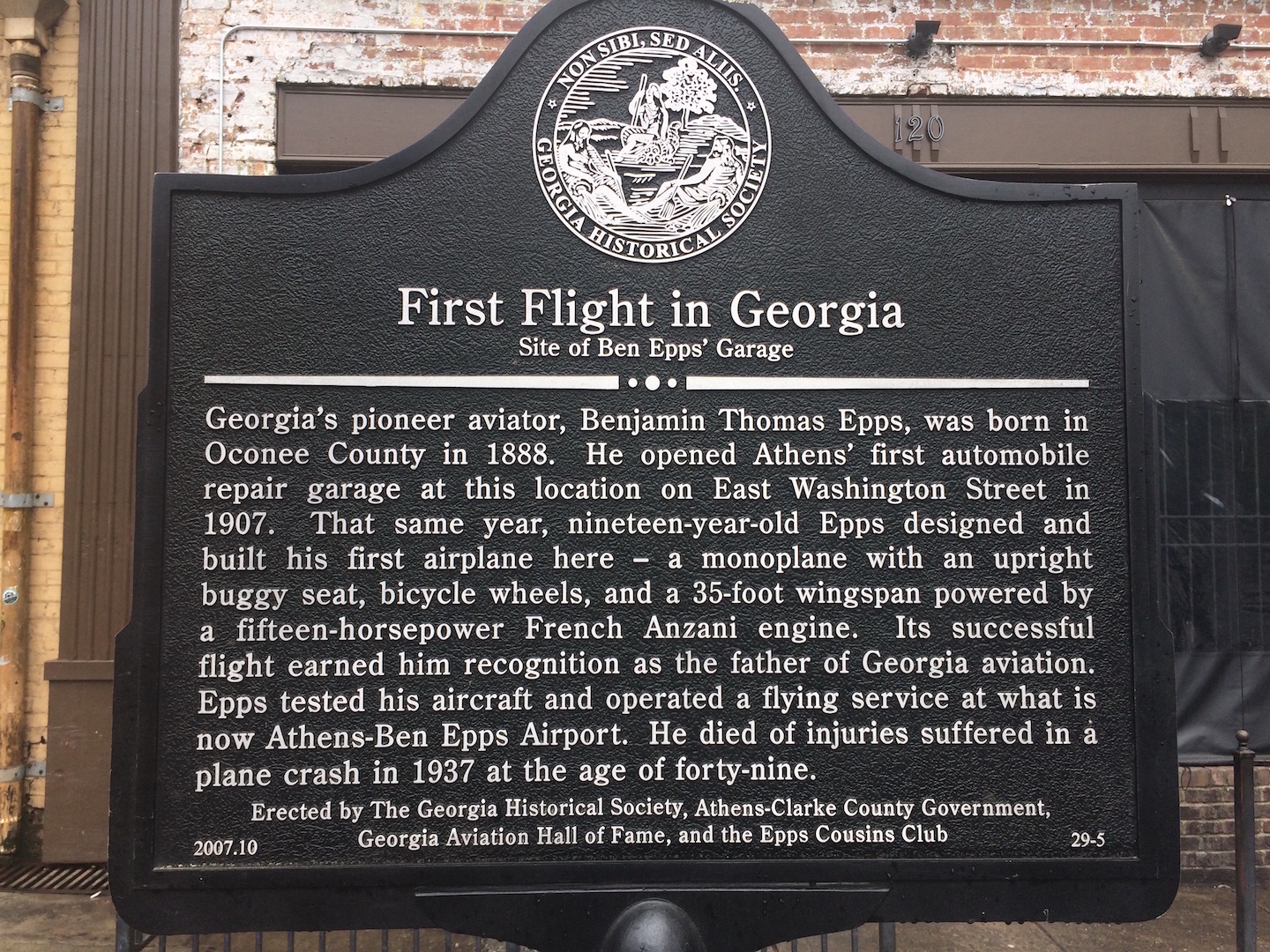 Backstory and Context
Located at 120 East Washington Street, Ben Epps' shop lies at the heart of downtown Athens, GA. The now-faded brick façade was built in 1907, with a wide garage door yawning into the dirt street to facilitate the loading and unloading of bicycles and eventually even motorized vehicles.1 Ben Epps was born on February 20, 1888 in Oconee County and raised in Athens, Georgia. He attended Georgia Tech before moving back to Athens. Ben Epps was an early adopter of many nascent modes of transportation and technology. He dedicated his time to repairing bicycles, motorcycles, automobiles, and starting an electrical contracting business all under the same roof.2 Ben Epps dropped out of school to eke a living by working on some of the most advanced technologies of his time, as his true passion was always the pinnacle achievement of modern transportation—flight.
Ben Epps is pictured in the 1907 photograph in front of his shop with his first plane. East Washington Street happens to be the very place that Epps attempted his first and second flights. A January 3, 1910 article from the Atlanta Georgian and News describes the scene, writing, "…Pedestrians were astonished to see a white-winged, birdlike craft gliding down Washington St. The machine is the property of Ben Epp[s]."3 A plaque standing in front of his storefront is dedicated to the site where Epps built his first airplane, describing it as, "a monoplane with an upright buggy seat, bicycle wheels, and a 35-foot wingspan powered by a fifteen horsepower French Anzani engine."4 Epps would go on to complete his first successful flight in Lynwood Park in Athens, Georgia.5
Across the street from the location of his garage is a statue of Ben Epps holding a propeller blade in his hand. At his feet are illustrations and descriptions of various aircraft he invented and built throughout his lifetime. Epps went on to form the Rolfe-Epps Flying Service in 1919, offering flights and lessons.6 Epps died in a plane accident in 1937 at the age of 49. He is the namesake for Epps Bridge Road and the Athens Ben Epps Airport.
Sources
1Hudson, Paul Stephen. "Ben Epps (1888-1937)." New Georgia Encyclopedia (Project). Athens, GA: Georgia Humanities Council and the University of Georgia Press, 2002. Accessed March 24, 2018. http://www.georgiaencyclopedia.org/articles/business-economy/ben-epps-1888-1937.
2Aldridge, Dan. "The Birth of Flight in Georgia." Air & Space Museum, April 2017. Accessed March 24, 2018. https://www.airspacemag.com/history-of-flight/birth-date-of-georgia-aviation-180962393/.
3A.P. "Monoplane Is Built by Georgia Aviator." Atlanta Georgian and News(Atlanta, Georgia), January 03, 1910, Volume VIII ed., No. 130 sec.
4Georgia Historical Society, Athens-Clark County Government, Georgia Aviation Hall of Fame, and Epps Cousins Club, eds. First Flight in Georgia. October 2007. Site of Ben Epps' Garage, 133 East Washington Street, Athens, Ga.
5A.P. "Georgians Make Flight in a New Aeroplane." Atlanta Georgian and News(Atlanta, Georgia), August 30, 1909, Volume VIII ed., No. 23 sec.
6Epps, Pat. "Ben T. Epps." Smithsonian National Air and Space Museum, 1 Line 20, 34 Panel, no. 1 Column. Accessed March 28, 2018.
Additional Information