Aladdin Hotel
Introduction
When it opened in 1925, the Aladdin Hotel was the tallest building in Kansas City. The 16-story building was designed by architect Phillip T. Drotts in the Italian Romanesque style, with architectural highlights that included a white limestone facade on the first through third floors with arches and terra cotta detailing, ten-story brick pilasters topped with life-size terra cotta female figures, sets of five arched, recessed windows on the 16th floor, and a pyramidal roof. The Aladdin is architecturally significant but also serves as a reminder of the city's prosperity during the early 20th century when grand hotels helped attract major conventions, a critical part of the local economy, and a source of civic pride. As of August 2022, the hotel is closed but its current owners acquired it in December 2021 and plan to redevelop the historic hotel. The Aladdin is listed on the National Register of Historic Places as part of the Downtown Hotels in Kansas City, Missouri district, which consists of seven hotels and numerous other structures.
Images
A fine example of Italianate architecture, the Aladdin Hotel was built in 1925 by the Armour Building Company. It boasted a number of amenities including an enclosed rooftop garden.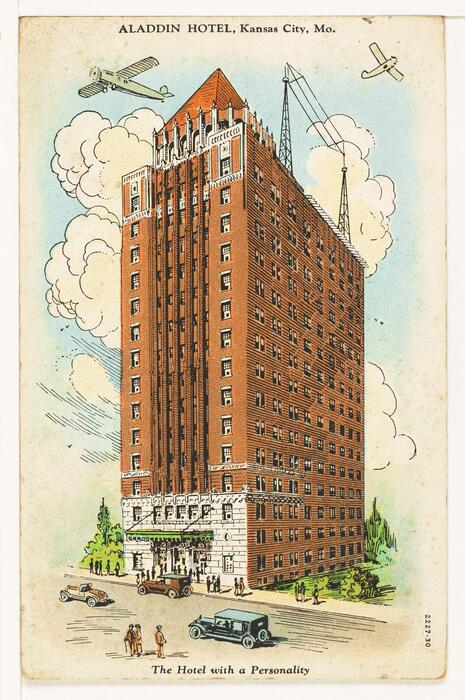 Backstory and Context
Kansas City has long been a stopping point given its location at the confluence of the Missouri and Kansas Rivers. The Santa Fe trail, which was a major transportation route in the 1800s, passed through the city as well. As such, hotels were needed to provide temporary lodging to travelers. The number of hotels rose over time and by 1922, there were 86 in the city. Several more, including the Aladdin, were built in the remainder of the 1920s.
By then, the city was in direct competition with large east coast cities in attracting conventions. Hotel developers spent tens of millions of dollars to provide the best accommodations and amenities including air conditioning, central public address and radio, large meeting rooms, cocktail lounges, and restaurants. Aesthetics were just as important too. Well-known architects were hired to design the hotels in a variety of architectural styles. As a result of these efforts, the city landed a number of major conventions, including the Republican National Convention in 1929. The city also chose to build its municipal auditorium in the area in 1935 because the seven hotels were located close to each other.
The Armour Building Company, which was headed by insurance executive and builder C.O. Jones and his partner W.B. Weaver, built the Aladdin Hotel in 1925. It included an enclosed roof garden and retail spaces on the first floor along the north wall. In a contest for new buildings sponsored by the Business District League in 1925, the hotel won third place. A number of celebrities stayed at the hotel including baseball player Mickey Mantle and actress Greta Garbo (mob bosses apparently stayed here as well). The Aladdin was remodeled in 1980 and then again 2006. The building closed in the Spring of 2020, but new ownership has plans to reopen the building.
Sources
Friestad, Thomas. "Aladdin Hotel owners list historic property for June auction." Kansas City Business Journal. May 27, 2021. https://www.bizjournals.com/kansascity/news/2021/05/27/aladdin-hotel-auction-hospitality-historic-sale.html.
"If These Walls Could Talk." Visit KC. Accessed August 30, 2022. https://www.visitkc.com/visitors/where-stay/if-these-walls-could-talk.
"New Ownership Acquires Kansas City's Aladdin Hotel." Meet. December 17, 2021. https://meetmags.com/new-ownership-aladdin-hotel.
Ugoccioni, Ellen & Piland, Sherry. "Downtown Hotels in Kansas City, Missouri." National Park Service - National Register of Historic Places Nomination Form. August 8, 1983. https://mostateparks.com/sites/mostateparks/files/Downtown%20Hotels%20in%20KC%20MO.pdf.
Image Sources
Kansas City Public Library: https://kchistory.org/image/aladdin-hotel-0

Additional Information