David Vega Field
Introduction
En Español tambien. David A. Vega was born in 1927 to José and Esperanza Alvarado Vega. He was raised in Argentine District of Kansas City, Kansas. His father's family immigrated from Michoacán, Mexico and settled in Argentine in the early years of the Mexican Revolution, 1910—1921. David served in WWII. After the war he prepared himself for work as an auto mechanic at Stevinson Auto & Electrical School while working for the Railways Ice and Service Company loading ice in refrigerator cars. After working in the Quad Cities area as a mechanic he took over the lease of the Texaco Service Station on 26th and Strong Avenue. He became a successful businessman and community activist. On April 4th, 1991, by Resolution 37325, issued by the City of Kansas City, Kansas government, the field that stretches between Metropolitan Avenue and Strong Avenue on 24th Street was named Vega Field in honor of David A Vega, Sr. Vega Field was renovated by Villa Argentina in the year 2000.
Images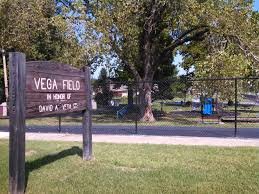 Backstory and Context
Spanish Translation/Traducción en Español
David Vega nació en el 1927 cuyos padres fueron José y Esperanza Alvarado Vega. Se crió en el distrito de Argentine en Kansas City, Kansas. La familia de su padre emigró de Michoacán, México y se asentaron en Argentine en los primeros años de la Revolución Mexicana, 1910-1921. David se enlistó y participó en la segunda guerra mundial. Después de la guerra se preparó para trabajar como mecánico de automóviles en la escuela de Stevinson Auto & Electrical School mientras trabaja para Railways Ice Y Service Company cargando hielo a los vagones de refrigerador. Después de haber trabajado en el área de Quad Cities como mecánico el tomó riendas del contrato de arrendamiento de la estación de gasolina de Texaco en la Avenida Strong y la Calle 26. Él se convirtió en un negociante exitoso y activista comunitario. El 4 de Abril del 1991, por causa de la Resolución 37325, emitido por la Ciudad de Kansas, gobierno de Kansas, el campo que se extiende entre la avenida Metropolitana y la Avenida Strong en la Calle 24 fue llamado Campo de Vega en honor a David A. Vega el padre. El Campo Vega fue renovado por la Villa Argentina en el 2000.