Sacred Heart Catholic Church
Introduction
The Sacred Heart Catholic Church is a huge, Romanesque wonder in the middle of downtown Tampa. Surrounded by glass and concrete office buildings, it has been standing in the same spot since the early 20th century, serving the Catholic religious needs of the Tampa area. Historical tours of the city of Tampa often go to the Sacred Heart Church.
Images
Sacred Heart as it looks today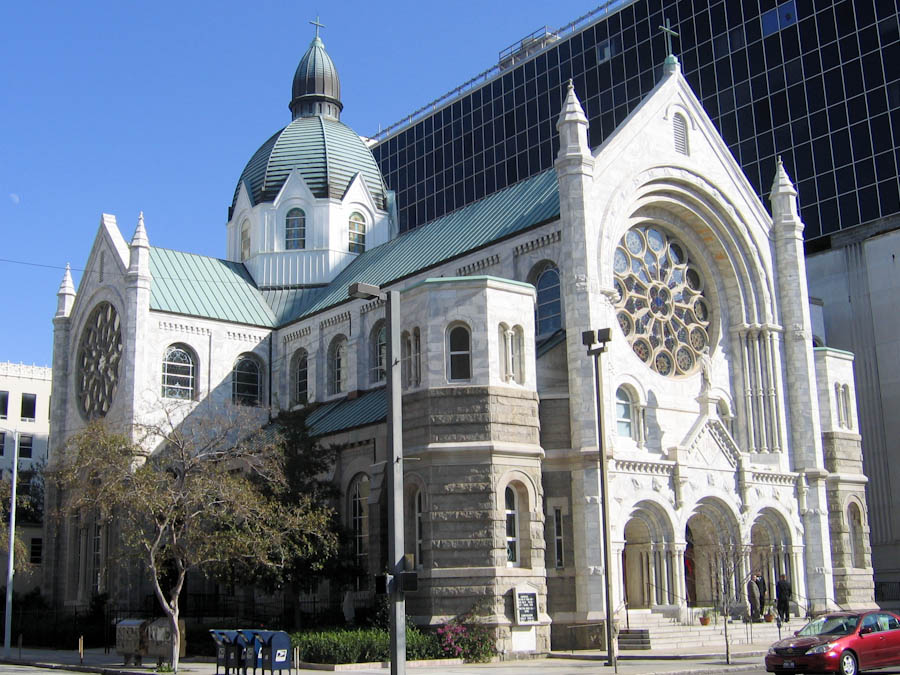 Interior as it looks today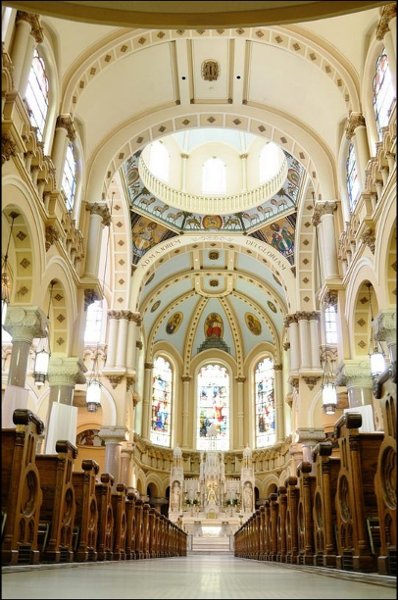 Sacred Heart interior as seen in 1900 postcard
Sacred Heart in 1900 as seen in postcard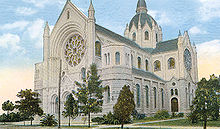 Backstory and Context
Tampa has a long Catholic history that started when the Spanish arrived in the Tampa Bay area, but the first Catholic parish was set up in Hillsborough County in the 19th century. In 1859, a small church, named St, Louis Parish after King Louis IX of France, was built in the spot that the Sacred Heart Church stands today. The little church's early days were quite rough. A yellow fever epidemic in the late 1880s killed three pastors in one year, along with a good portion of the population of Tampa. After that the Jesuits, the group that had first brought Catholicism to Florida's shore as missionaries in the 16th century, took over the running of the church. In 1905, due to the economic boom that Tampa was experiencing, the little St. Louis Parish church was demolished to make way for the much larger, granite and marble structure known as the Sacred Heart Church.

The Sacred Heart Church is now under the care of the Franciscan Order, who took over the church in 2005. The Romanesque-style architecture of the church's exterior is exquisite in and of itself, but the granite arches, oak pews, and seventy beautiful stained glass windows of the interior turn it into a marvel, blending religion with art. The church continues to serve the religious needs of the community as it did when it was built in the 1900s. Mass is still done within its walls, as well baptisms, the eucharist, and other sacraments. They also youth and adult groups, and a choir. There is also a gift shop inside the church, and historical tours are led by period costumed volunteer docents during the holiday season.
Sources
"History." Sacred Heart Catholic Church. Accessed July 1, 2106. http://sacredheartfla.org/about-us/history/ Morelli, Keith. "Historic Tour of Tampa's Sacred Heart Catholic Church Draws Hundreds." Accessed July 1, 2016. http://www.tbo.com/events-tampa-bay/historic-tour-of-tampas-sacred-heart-catholic-church-draws-hundreds-20151227/
Additional Information