Temple Beth Israel
Introduction
Congregation Beth Israel (CBI) is among the oldest Jewish communities in Connecticut. It began as an Orthodox congregation and is now one of the biggest Reform Jewish congregations in the region. Beth Israel formed during the 19th century and built a prominent synagogue in Hartford in 1876. The congregation is a founding member of the Union of American Hebrew Congregations, now known as the Union for Reform Judaism. During the 1930s, the community relocated to West Hartford and began conducting worship in a new synagogue with a striking Byzantine dome. Designed by Charles R. Greco and built from 1933 to 1936, Temple Beth Israel marks the transition of this Jewish community from the city center out to the suburbs. CBI has continued expanding over the decades and is now a spiritual home for over 700 families.
Images
Temple Beth Israel was built in West Hartford during the 1930s when the congregation relocated to the suburbs.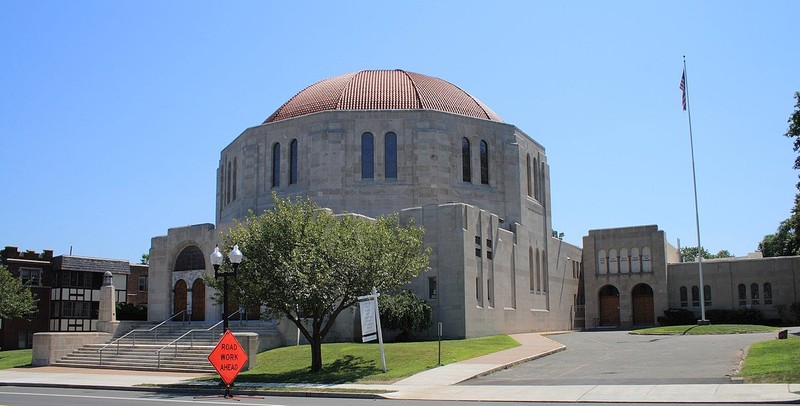 The congregation's Charter Oak synagogue in Hartford, built in 1876, took design inspiration from synagogues in Berlin and New York City. In turn, it influenced the design of later Connecticut synagogues.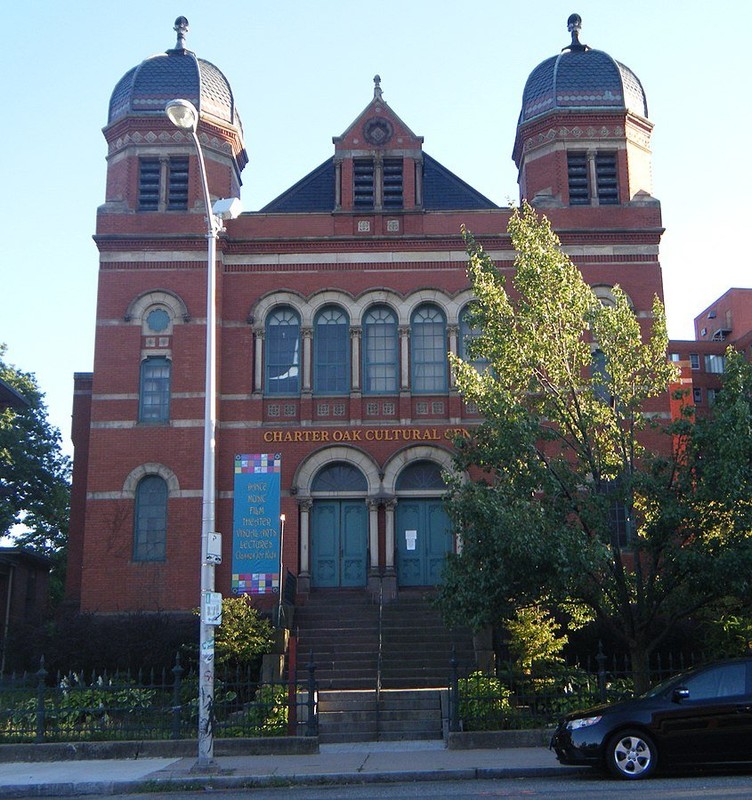 Backstory and Context
The beginning of Congregation Beth Israel (CBI)
1843 is a significant year in the history of Judaism in Connecticut. Prior to this time, Jews were not permitted to worship publicly or build synagogues. A small but active group of Jewish immigrants petitioned the Connecticut General Assembly to change this. The Assembly declined to alter the Connecticut Constitution, but it did decree that Jews should have freedom of worship, including the right to gather and form religious societies. This decision marked the beginning of Beth Israel as a small group of Jews in Hartford began to worship together.
CBI members were German Jews. They and their families immigrated to the United States from Germany during the mid-19th century. Connecticut also became home to a significant Eastern European Jewish population, due to the large numbers of Eastern European immigrants to the US between 1880 and 1924. During this period, around 2.5 million Eastern European Jews moved to the US, a much larger number than the approximately 250,000 German Jews who had immigrated slightly earlier and established congregations such as Beth Israel. Thanks largely to Eastern European immigration, Connecticut's Jewish population rose from almost 1500 in 1877 to around 91,500 in 1927 (Ransom, p. 8).
The community's expansion
During the 1840s and 1850s, CBI undertook many social, educational, and philanthropic initiatives. A religious school opened in 1849 and within two years served 25 children. The Ararat Lodge of B'nai Brith and the Deborah Society were established in 1851 and 1852 respectively. Both groups carried out charitable work. For example, members of the Deborah Society, a community of Connecticut women, visited the sick and helped them access doctors, raised money for widows, collected donations of food and clothing, sewed burial shrouds, and donated to the relief efforts for the San Francisco earthquake.
In 1854, a bequest of $5000 from shipping merchant Judah Touro allowed CBI to purchase and renovate a former church to create a designated synagogue in Hartford. Known as Touro Hall, this structure served the community from 1856 until 1875, when it was damaged by fire. Touro made numerous other philanthropic donations throughout his life and in his will, contributing to synagogues, hospitals, and libraries. Around this time, the congregation also began to make changes to Orthodox traditions and adopt Reform practices, such as the installation of a choir. Isaac Mayer became the community's first rabbi in 1859 and is remembered as a "moderate reformer."
Disagreements between Orthodox and Reform members of CBI
Tensions emerged during the 1860s between Orthodox and Reform groups. This led to 34 CBI members leaving the congregation to found their own Orthodox synagogue,
Adas Yisroule. However, several of these members returned to CBI in 1877. Even after their departure, the congregation continued to disagree about the extent to which new reforms should be adopted. Rabbi M.S. Wiener, for instance, strongly supported reform, including the expensive acquisition of a new organ. Amidst disapproval from CBI's remaining traditionalists, Wiener only stayed for two years.

At this point, however, changes were already well underway, and Reform practice would eventually take hold at Beth Israel. 1870 saw the dedication of the congregation's new organ, and 1874 the arrival of ardent reformer Dr. Solomon Deutsch as the community's new rabbi. He and eleven other rabbis had written the "Philadelphia Platform," a text on radical reform. In his previous congregations, he had instilled new Reform practices, to the delight of some and distaste of others. Deutsch was concerned about young Jews abandoning the Orthodox faith of their parents and converting to other traditions such as Unitarianism. Without reform, he feared that American Judaism could not hold onto its members.

As CBI's interactive timeline explains, Deutsch
"advocated officiating at interfaith marriages; he instituted changes in worship services and prayer books; changes in mourning practices; and one of the most radical changes of the time---allowing men to worship without a head covering. This last change was perceived by the traditionalists among the Beth Israel membership as an irrevocable break with Jewish tradition, which tipped the balance in favor of assimilation over continuity with the Jewish past. His tenure at Beth Israel proved to be a stormy one, but by hiring Deutsch, the Board took a decisive and irrevocable step toward Reform Judaism."

(Zande et al., "Shaping Who We Are," 1874).
Later in the decade, another breakaway group, consisting of 22 members who wanted more radical reform, would leave Beth Israel to form a new congregation: Ohaba Shalom. The new congregation was short-lived, however, and its members rejoined Beth Israel in 1880.

Charter Oak Temple, 1876

As CBI continued to grow, its leaders decided to build a new synagogue, known as the Charter Oak Temple. While previously they had worshiped in various homes and workplaces, and then in a renovated church, the decision to commission a new, purpose-built synagogue gave the congregation full creative and architectural freedom over its design. Members' German heritage influenced the new temple's design. In particular, Berlin's New Synagogue on Oranienburgerstrasse, built in 1859 and consecrated in 1866, provided inspiration both for Temple Emanu-El in New York City and Temple Beth Israel (Charter Oak) in Hartford.
As David Ransom explains, the Charter Oak synagogue both reflected Judaism's traditions as well as "current fashionable practice of the times," striking a balance between respectability and distinctiveness (p. 6). While most Christian churches of the late 19th century exhibited Gothic Revival architecture, Jewish congregations tended to prefer other styles such as Romanesque Revival and often incorporated elements from Byzantine design or the Islamic architecture of North Africa and Iberia. CBI's Charter Oak Temple helped set architectural precedent for other Connecticut synagogues: "The basic design for Connecticut urban synagogues established by Beth Israel, evoking Oranienburgerstrasse and Emanu-El, is the norm against which subsequent urban Connecticut synagogues are discussed" (p. 7).
Later Connecticut synagogues generally followed the architectural norms and patterns of Beth Israel. One such example is Hartford's Ados Israel Synagogue, built in 1898 by an Eastern European Orthodox congregation. Unfortunately, this synagogue no longer survives.
The Beth Israel temple on Charter Oak is now a community center.
The move to West Hartford: Temple Beth Israel (built 1933-1936)
During the 1930s, CBI moved from Hartford to West Hartford, resulting in the construction of this distinctive, domed synagogue on Farmington Avenue. Its large Byzantine dome, though common elsewhere, was quite rare among Jewish buildings in Connecticut despite the general appreciation for Byzantine design elements. Made from limestone, the synagogue is a 12-sided polygon, representing the 12 tribes of Israel. It was designed by Charles Greco.
The move to West Hartford reflects the transition of Hartford's Jewish communities from downtown to the suburbs. This trend would only increase over time, particularly in the aftermath of WWII, when numerous Jewish families and communities left the city center.
Sources
Image credit 1: https://commons.wikimedia.org/wiki/File:Temple_Beth_Israel_in_West_Hartford,_August_21,_2008.jpg

Image credit 2: https://commons.wikimedia.org/wiki/File:Temple_Beth_Israel_Hartford_CT.JPG

"Heritage and History." Congregation Beth Israel. Accessed December 05, 2018. https://cbict.org/heritage-and-history/.

Ransom, David. "Historic Synagogues of Connecticut.' National Register of Historic Places, Multiple Property Documentation Form, U.S. Dept. of the Interior, NPS. 1995. Accessed November 10, 2018. https://npgallery.nps.gov/NRHP/GetAsset/NRHP/64500078_text.

Zande, Jane, et al. "Shaping Who We Are. Congregation Beth Israel." Accessed December 14, 2018. https://www.recollection.org/collections/view/13205.


Additional Information