Anshei Israel Synagogue
Introduction
Built in 1936, this synagogue housed an Orthodox Jewish congregation. Its founding members included fifteen families originally from Poland and Russia. The synagogue is in a rural part of Connecticut, serving the Jewish residents of Lisbon and surrounding towns: Plainfield, Prescott, Griswold, and Jewett City. Anshei Israel remained in use for several decades until it closed in the 1980s as the Jewish population in the area decreased. Lisbon Historical Society now operates the building.
Images
This small clapboarded synagogue was constructed in 1936.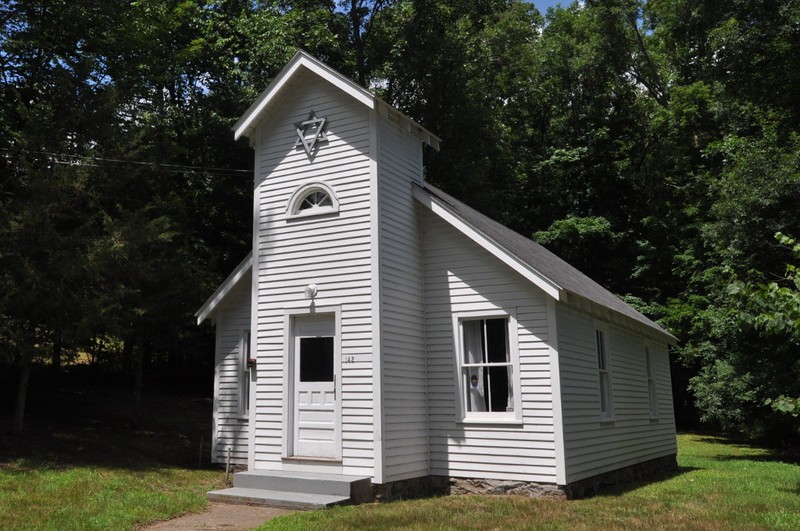 Backstory and Context
A rural Jewish congregation

Anshei Israel Synagogue is a small, simple building covered in white clapboard with a gable roof and tower. Surrounded by trees, the synagogue enjoys a beautiful, if somewhat remote, location. It sits on a plot of land that was given by local farmer and congregation member Harry Rothenberg.
The closest population centers are Lisbon, (current populated estimate: 4300; population in 1940: 1100), and Jewett City (current population: 3500; population in 1940: 3700). The synagogue's rural setting is unusual among historic Connecticut synagogues, which were typically founded in cities such as Hartford or New Haven. The setting had some effects on the community's practices. Although traditionally, congregants would have preferred to walk to services, their dispersion through the countryside made walking impractical. They therefore rode part of the way and walked the rest.
David Ransom, who researched Anshei Israel Synagogue for its inclusion in the National Register of Historic Places, summed up its significance as follows:
"Anshei Israel Synagogue is significant architecturally because it is a good example of a small country Jewish house of worship. The architecture is the epitome of simplicity, but, due to its tall projecting tower, undeniably in the Colonial Revival tradition. At present, the building is sound and in a good state of preservation, but unused. Nestled close to the road among trees and encroaching underbrush, it is visually distinguished by its setting, which is unique among historic Connecticut synagogues" (p. 137).
Sources
Potter, Chuck. "Jewish Survival, Colonial Revival In Lisbon." The Day. April 29, 2006. Accessed January 06, 2019. https://www.theday.com/article/20060429/DAYARC/304299986/0/SEARCH.

Ransom, David. Historic Synagogues of Connecticut: Anshei Israel Synagogue. NRHP Registration Form. September 03, 1994. Accessed January 06, 2019. https://npgallery.nps.gov/NRHP/GetAsset/NRHP/95000861_text.

Population data on Lisbon and Jewett City: https://connecticuthistory.org/over-time-lisbons-historical-population/; and https://population.us/ct/jewett-city/.

Image credit: https://commons.wikimedia.org/wiki/File:LisbonCT_AnsheiIsraelSynagogue.jpg



Additional Information