Arch Street Friends Meeting House
Introduction
The Quaker meeting house was built between 1803 and 1805. The simplicity and classic beauty of the building reflect the Society of Friends (also known as the Quakers) and their values of thrift, humility, charitable work, and the rejection of materialism. The meeting house is open for tours and is still used as a center for worship. It hosts the Philadelphia Yearly Meetings of Friends, a general conference that also serves as the central organizing body for the Quakers. The meetinghouse was built upon a Quaker burial ground. One of the earliest symbols of the Quaker belief in equality, the Society of Friends allowed non-members, Native Americans, and African Americans to be buried here.
Images
The Arch Street Meeting House is a National Historic Landmark and still in use. Photo by Beyond My Ken on Wikimedia Commons (CC BY-SA 4.0)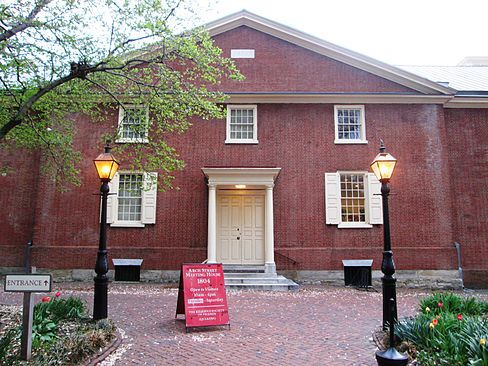 The historic West Room which is still furnished as it was in 1811. Photo by Smallbones on Wikimedia Commons (public domain).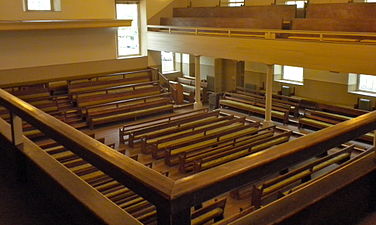 Backstory and Context
This Flemish bond brick building dates to the early nineteenth century. William Penn had donated the land for a Friends burial ground in the 1600s; worship services took place in private homes until the construction of this building between 1803 and 1805, with an addition completed in 1811. The architect was most likely Owen Biddle.
Visitors can feel how the structure of the building has changed little as they walk through the simple and efficient meeting house. The walls, ceiling, floors, and most of the windows are original to the building. The meeting house contains what is possibly the largest collection of crown glass windowpanes of any building in Philadelphia. In 1854, two cupolas were added to the structure for ventilation.
Visitors can also view dioramas and exhibits of Quaker history. Attentive tourists will notice how the building is symmetrically balanced, a three-part structure with a center pavilion containing the lobby flanked on each side by large meeting rooms. The east wing is home to the men's meeting room and the west wing contains the women's meeting room.
The meeting house is on the National Register of Historic Places, recognized in 1971, and is also a National Historic Landmark. It is still used as a location for worship services and is the site of the Philadelphia Yearly Meeting of the Religious Society of Friends.
Sources
Pennsylvania Register of Historic Sites and Landmarks. Arch Street Friends Meeting House, National Register of Historic Places Inventory -- Nomination Form, National Archives. January 11, 1971. Accessed March 18th 2021. https://catalog.archives.gov/id/71997016.
Image Sources
https://commons.wikimedia.org/wiki/File:Arch_Street_Meetinghouse_from_front.jpg

https://commons.wikimedia.org/wiki/File:Arch_St_Meeting_interior.JPG

Additional Information