Joseph W. Podmore Building
Introduction
This historic downtown Honolulu building was constructed in 1902 by English sailor and merchant Joseph W. Podmore. Podmore did business in Honolulu during the early 1900s and built this structure for the purpose of renting it to retailers and professionals. The structure is one of the few surviving stone-cut buildings in Hawaii and is made of local lava (basalt) rock. Portuguese immigrant stone masons that cut the lava rock to create the building, which later served as the headquarters of the Hawaiian Board of Missions. The building also served as a center of commerce and transportation as a variety of businesses from DHL to local retailers.
Images
Joseph W. Podmore Building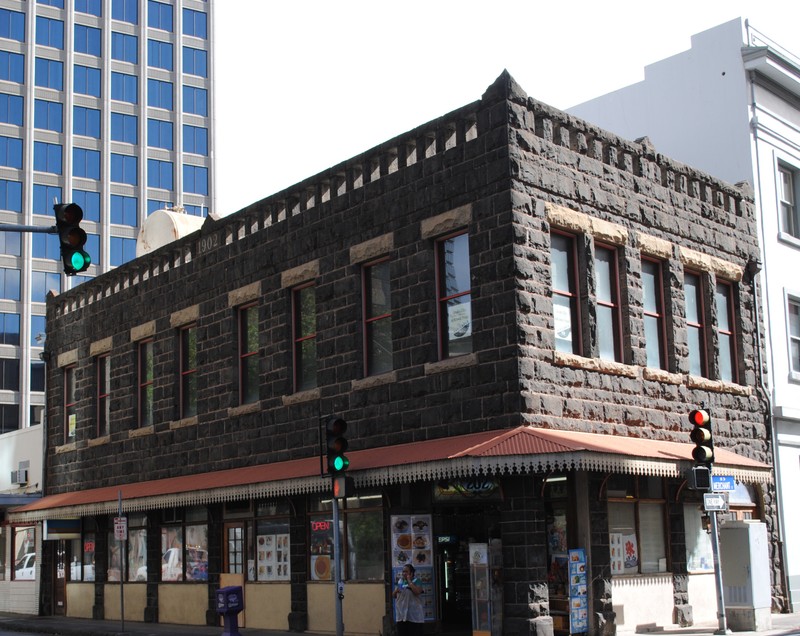 Backstory and Context
The Podmore Building (1902) is one of the few surviving cut stone buildings that utilized native lava stone, unique to Hawaii. Moreover, the masonry work demonstrates how builders of the era often relied on Hawaiian basalt from five nearby, Oahu quarries, deemed favorable for its durability. And, like many Hawaiian stories, there's a tie to immigration as Portuguese stonemasons had a big hand in much of the stonework performed at the quarry. As well, the building (which lies on merchant street) stands as a monument to a time when Honolulu experienced growth largely tied to merchants sailing to the islands; small merchants built stores near shores and busy wharves.
As is the case with many early entrepreneurs on the island, Podmore arrived at Hawaii as an immigrant; specifically, he was an English sailor. He settled in Oahu and took a job as a clerk for four years (1886 - 90) and then opened a firm that served as an agent for the Anglo-American Crockery & Glass Co of San Francisco, handling insurance, shipping, and other functions. He also earned money investing in real estate in the early 1900s.
On February 26, 1902, Peter Cushman Jones, Ltd. leased the vacant lot where the building stands to Joseph W. Podmore, with the condition he would financed the construction of a permanent structure. Photographs of the period show the builders used wooden hoists and scaffolds to lift the massive lava stones (basalt) mined from nearby quarries into place. Though many found the lava stones durable, some stones exploded if they caught on fire and had to be soaked with water. Hence, the reliance upon the basalt did not last for many years.
Given Podmore's desire to invest in real estate, it is not surprising that he built the storefront to rent (or lease); he did not reside or work there. Occupants of the building range from stores and sales to printers, painters, lawyers, and doctors. However, Podmore sold the building in 1907 to P.C. Jones who donated it to the Hawaiian Board of Missions, who used it as its headquarters from 1907 to 1916. The board published "The Friend," a notable monthly publication reporting on the missionary work of the Board throughout the Pacific, as well as local political and social issues including promoting temperance and racial equality, all of which comprise a significant portion of Hawaii's early twentieth-century history.
After 1924 the building changed hands numerous times. One of its principal occupants included DHL Air Cargo. As of 2018, real-estate listings still show it as space available for use by retailers and professionals.
Sources
Breton, Richard. "Nomination Form: Joseph W. Podmore Building." National Register of Historic Places. nps.gov. March 24, 1983. https://npgallery.nps.gov/GetAsset/3ac619f2-4743-42ce-866d-491f64335b15
Daws, Gavan. "Honolulu in the 19th Century: Notes on the Emergence of Urban Society in Hawaii." The Journal of Pacific History 2 (1967): 77-96. http://www.jstor.org/stable/25167896.
Sandler, Rob, Julie Mehta, and Frank S. Haines. Architecture in Hawaii: A Chronological Survey. Honolulu: Mutual Publishing, 2008.
Takaki, Ronald. A Different Mirror: A History of Multicultural America. New York: Back Bay Books, 2008, 1993.

Photo Source

Joseph W. Podmore Building: Ian Clagstone at https://historichawaii.org/2014/02/19/joseph-w-podmore-building/

Additional Information