The Wanamaker Building and Organ
Introduction
Now occupied by Macy's City Center and office space, the Wanamaker Building, completed in 1911, housed Wanamaker's Department Store. It sits on the site of the former Pennsylvania Railroad Station in which John Wanamaker placed his first department store, then known as Wanamaker's Grand Depot. Wanamaker's, was known for two things, other than selling an extensive selection of goods, and they were the organ and the eagle. The Wanamaker Building has had a few different owners over the years, but the organ and eagle have endured and are still there to this day. The building was designated a National Historic Landmark in 1978 as was its iconic organ in 1980.
Images
A full view of the Wanamaker Building prior to being enclosed by larger buildings in Philadelphia's City Center.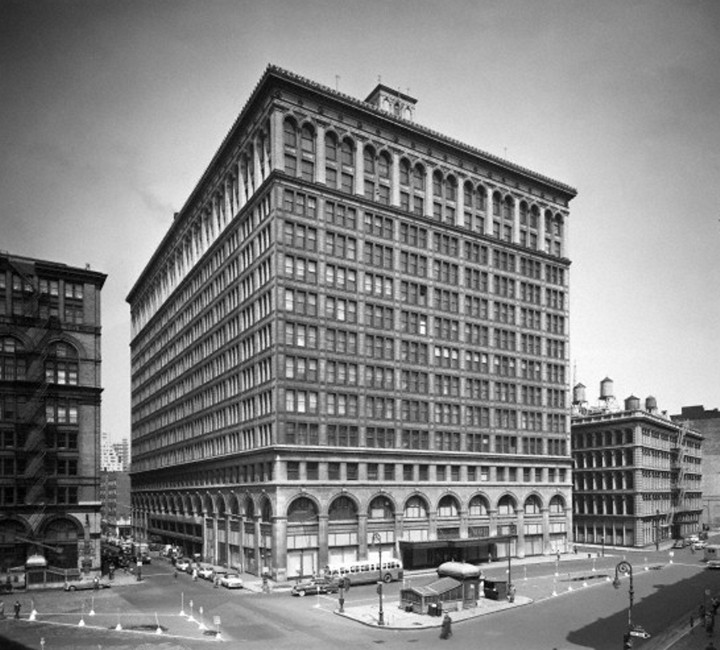 Wanamaker's as it transitioned from the Grand Depot to a 12-story department store.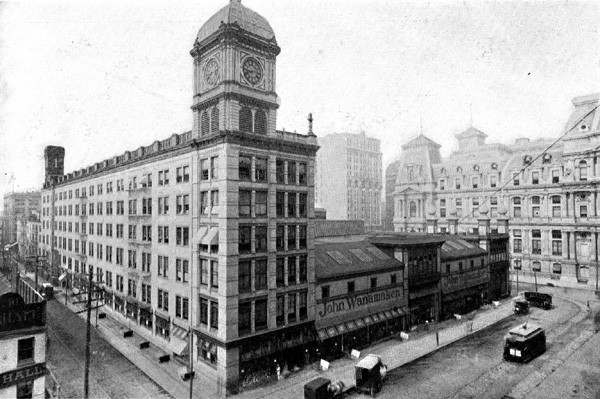 Wanamaker's was also known for its Crystal Tea Room, the first restaurant within a department store. It graced the building's ninth floor for years.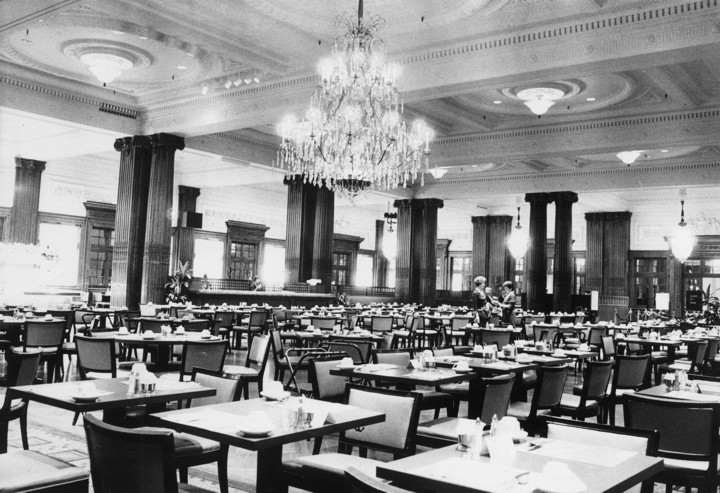 Wanamaker's/Macy's Grand Court with the pipes from its famous organ on full display.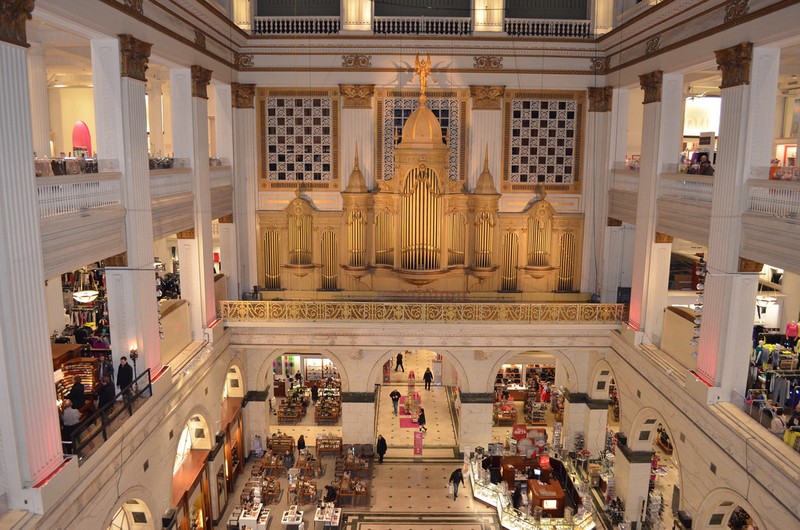 The organ's playing platform with six keyboards and over 420 stops. (Photo from Bibliolore, reproduced under Fair Use) These, combined with its 28,500 pipes, make it the largest operational organ on the globe.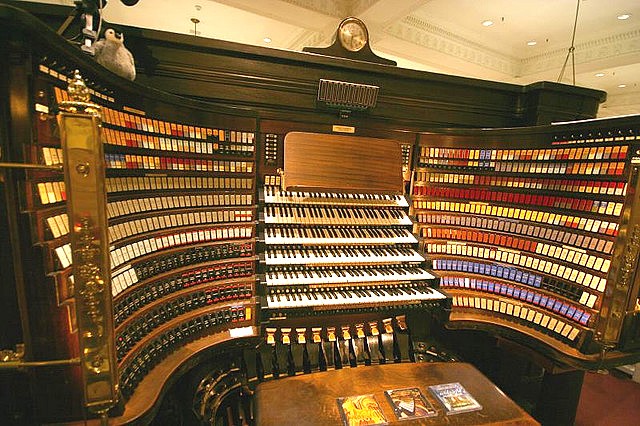 The 2,500-pound bronze eagle still oversees the Grand Court and is a popular meeting place for shoppers and tourists alike. (Photo by M. McClellan for GPTMC, reproduced under Fair Use)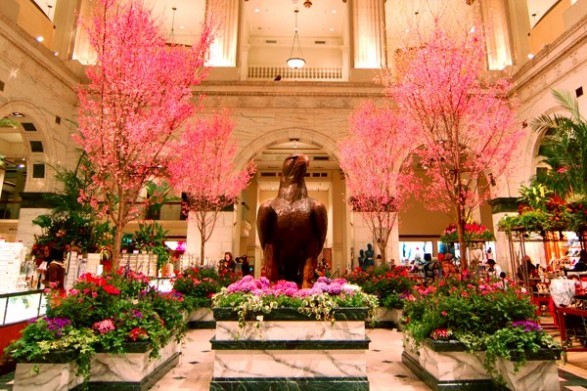 Backstory and Context
John Wanamaker and his brother-in-law, Nathan Brown, went into business together and opened a men's and boy's clothing store, Oak Hill, in 1861. When Brown died in 1868, Wanamaker moved on his expansion ideas. Inspired by the large stores he encountered in London and Paris, he purchased an abandoned railway station and converted it into a new clothing store just in time for the city's Centennial Exposition in 1876. He expanded the store to include women's clothing and dry goods in 1877, thus creating Philadelphia's first department store. Wanamaker's then embarked on a series of firsts; the first department store to use price tags as opposed to haggling, electrical lighting (1878), a telephone (1879), and pneumatic tubes to transport papers and cash (1880). 
Wanamaker, facing competition from other department stores, decided to expand yet again. He gradually replaced his Grand Depot with the current Wanamaker Building from 1904-1911. It was designed in the Florentine style by Daniel Burnham and dedicated by President William Taft. The heart of the store was, and still is, its multi-floored Grand Court, that featured a 2,500 lb bronze eagle and a massive organ. Both had served with distinction at the 1904 World's Fair in St. Louis and were later acquired and shipped to Philadelphia at the behest of Wannamaker and his son, Rodman. The eagle was designed by August Gaul and quickly became the mascot of, not only the Philadelphia store, but the entire chain. Shoppers can still be heard saying to one another, "meet me at the eagle."
The organ, built by the Los Angeles Art Organ Company, consisted of over 10,000 pipes, came to Wanamaker's via 13 rail cars and took two years to install. However, given the immense size of the Grand Court, it was deemed insufficient for the space and went through a series of expansions. By 1930 it had grown to 28,500 pipes and 461 stops making it the largest operating organ on the globe, a distinction it still holds. The organ is still played twice a day, every day except Sundays and is featured in Macy's Holiday Pageant of Lights Christmas Show which began in 1956.
As for Wanamaker's, as the years progressed, it faced steep competition from other department stores and, eventually, suburban malls. The 15-store chain was then sold to Woodward and Lothrop in 1986. The store was gradually reduced to its current size of three floors and the name on the front went from Hecht's to Strawbridge's to Lord and Taylor and finally to Macy's in 2006. Renovations to the building were completed in 1991 which added an atrium starting at the ninth floor, a conference center with two 400-seat auditoriums, and a three-floor parking garage in the basement. The floors above the third have long ago been converted to office space. However, the organ and eagle remain.      
Sources
Shadowbat. "Tis the Season -- For Wanamaker's." Hidden City Philadelphia. December 20, 2013. Accessed January 3, 2017. http://hiddencityphila.org/2013/12/tis-the-season-for-wanamakers/
"Wanamaker Building." Atlas Obscura. Accessed January 3, 2017. http://www.atlasobscura.com/places/wanamaker-building
Michel, Claire. "Wanamaker's Department Store: Philadelphia's Largest Department Store [archived Web page]." Philadelphia Place. Archived June 11, 2016. Internet Archive. Accessed January 3, 2017. https://web.archive.org/web/20160611021444/http://www.philaplace.org/story/1595/
"Facts and Figures About the Wanamaker Organ." Friends of the Wanamaker Organ. 2011. Accessed January 3, 2017.http://www.wanamakerorgan.com/about.php  
Image Sources
https://bibliolore.org/2011/03/29/the-wanamaker-organ/

http://www.kathleenwarnock.com/too-many-hats-a-blog/wanamakers-pursuitfrom-philadelphia-to-paris

Additional Information