Sam Houston Monument
Introduction
Standing just inside the entrance to Hermann Park in the great city of Houston is a statue dedicated to the city's namesake. The monument's webpage describes the statue, "The general points from atop his horse, Saracen, toward the plains next to the San Jacinto River where he ultimately defeated the army of Mexican General Antonio Lopez de Santa Anna, winning independence for Texas." This description paints a picture of how Sam Houston must have been viewed during this part of his life – a larger-than-life man towering over others as their leader, ready to go win freedom and independence for Texas.
Images
Front view of the Sam Houston Monument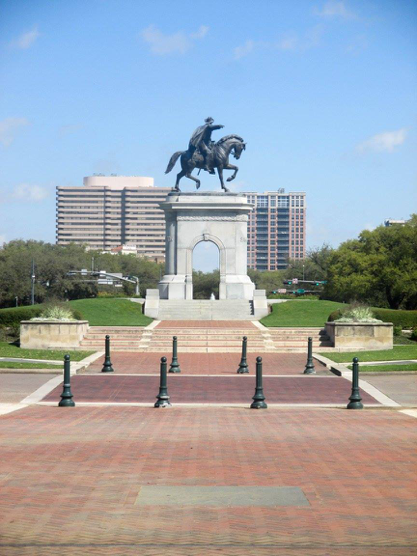 Angled view of the Sam Houston Monument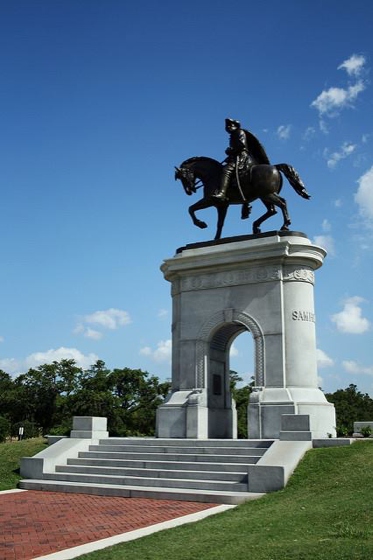 Backstory and Context
Born on March 2, 1793, near Lexington, Virginia, Sam Houston spent his life creating quite the resume for himself. First of all, when his family moved to eastern Tennessee in his early life, Houston grew close to the neighboring Cherokee Indians rather than invest in his own culture and society. While his mother encouraged him to find a job, Houston instead chose to learn the ways of the Cherokees, to the point that he even learned their language. Eventually Houston joined the military, earning considerable respect and praise for his valor in the War of 1812. Not only did he gain recognition, but also a relationship with a man named Andrew Jackson who would later be an important figure in his life.
Right away Houston viewed Jackson as a mentor, taking his advice to return to Tennessee and pursue a career in politics. However, before entering into national politics, Houston stayed on the local path by studying law and then proceeding to be elected as district attorney in Nashville. Eventually in 1823 Houston was elected to Congress, serving a total of two terms, after which he was elected governor of Tennessee. Later in 1829, after a failed marriage and unpleasant rumors regarding his drinking problems, Houston left Tennessee and traveled to Arkansas, reestablishing his connection with the Cherokee Indians. He quickly married a Cherokee woman named Tiana Rodgers and then proceeded to represent the Cherokee nation and other Native Americans in Washington D.C. in the Bureau of Indian Affairs.
Only two years after becoming a representative for Native Americans, Houston moved again to Texas, at which time belonged to Mexico. It was here in Texas where he would go on to truly shine as a military leader and earn the multiple monuments dedicated to him. Leading a voluntary army for Texas in the revolutionary fight for her independence, Houston fought against incredible odds, being that he was greatly outnumbered by the Mexican forces. Not only was he outnumbered, but Houston also was fighting directly against the general Antonio Lopez de Santa Anna, one of the greatest Mexican generals of the time. Despite these odds, on April 21, 1836, when Santa Anna split his forces Houston saw his chance and attacked at San Jacinto. This decisive victory secured independence for Texas.[1]
This is the battle that earned Houston the monument guarding the entrance to Hermann Park. The statue displays Houston atop his horse, pointing toward the plains next to the San Jacinto river where he ultimately defeated Santa Anna and the Mexican army along with him.
The statue of Sam Houston was created by a man named Enrico Filiberto Cerracchio. According to Kendall Curlee, "Cerracchio was born in Castel Vetro Val Furtore, Italy on March 14, 1880." Cerracchio spent his time at the Institute Avellino in Italy studying both academic subjects as well as sculpture. Once he graduated in 1898, he continued to pursue sculpture by studying under Rafael Belliazzi. However, this only lasted two years as he left Italy in 1900 to settle in Houston, Texas, becoming a citizen 5 years later. Here Cerracchio spent forty years sculpting commemorative monuments and busts-the Sam Houston monument easily being the most renowned of his works.[2]
The statue was officially unveiled on August 16, 1925, standing on a granite arch constructed by a man named Frank Teich. Teich was born in Germany on September 22, 1856. He began his artistic lifestyle at the young age of eight when he started painting. Although it is not known for sure, Teich most likely worked on the German national monument, The Watch on the Rhine. Throughout his time learning and mastering his craft, Teich studied under German sculptor Johannes Schilling, the Franciscan Brothers, and Gustav Wilke. Teich accumulated credit for several recognized structures including superintending the cutting and inspection of the granite used in the state capitol building in Austin, the altar in St. Mary's Church in San Antonio, the bronze statue of René Robert Cavelier, Sieur de La Salle in Navasota, and of course, the Sam Houston monument in Houston. Teich died on January 27, 1939, the husband to Elvina Lang and father of three daughters. He has since been called the father of the granite industry of Texas.[3]
[1] "Sam Houston Biography." Biography, accessed March 6, 2018,
Sources
Curlee, Kendall. "Cerracchio, Enrico Filiberto."
Handbook of Texas Online, June 12, 2010. Accessed March 7, 2018.
https://tshaonline.org/handbook/online/articles/fce01
"Sam Houston Biography." Biography, November 7, 2016. Accessed March 6, 2018.
https://www.biography.com/people/sam-houston-9344806
"Sam Houston Monument." Houston Parks and Recreation Department, Accessed March 5, 2018.
http://www.houstontx.gov/parks/artinparks/samhoustonmonument.html
"Teich, Frank." Handbook of Texas Online, June 15, 2010. Accessed March 7, 2018.
https://tshaonline.org/handbook/online/articles/fte05
Additional Information