Stonewall Jackson Monument
Introduction
On October 11, 1919, the Stonewall Jackson Monument was unveiled to a crowd of thousands addressed by Robert E. Lee, III. This was not Richmond's first memorial to the late Confederate leader, however. In June 1863, one month after Jackson's passing, the South's British allies created the Jackson Monumental Fund for the purpose of raising funds to erect a Jackson memorial in Richmond. In 1875, the British Fund presented Virginia with a bronze statue of Jackson, which was placed in Richmond's Capitol Square. Virginia still remained politically divided in the decade following the war, so Governor James L. Kemper used the statue as an attempt to unify the state, promoting the Lost Cause ideology that Jackson's honorable virtues should be admired by all for the sake of the Commonwealth. Thirty-six years later, the United Daughters of the Confederacy and a group of remaining Confederate veterans formed the Jackson Monumental Corporation in 1911 with the intent on creating a grand equestrian monument of Jackson for Monument Avenue. Designed by local sculptor Frederick William Sievers, the Stonewall Jackson Monument was unveiled on October 11, 1919 to a large crowd addressed once again by Robert E. Lee, III. Along with the other Confederate statues on Monument Avenue, the Jackson Monument has been scrutinized in recent years for its promotion of racism and the Lost Cause ideology. In July 2020, Richmond Mayor Levar Stoney ordered the removal of the Confederate statues along Monument Avenue, including the Stonewall Jackson Monument. Only the pedestal remains.
Images
The Stonewall Jackson Monument features a granite base and a bronze equestrian sculpture.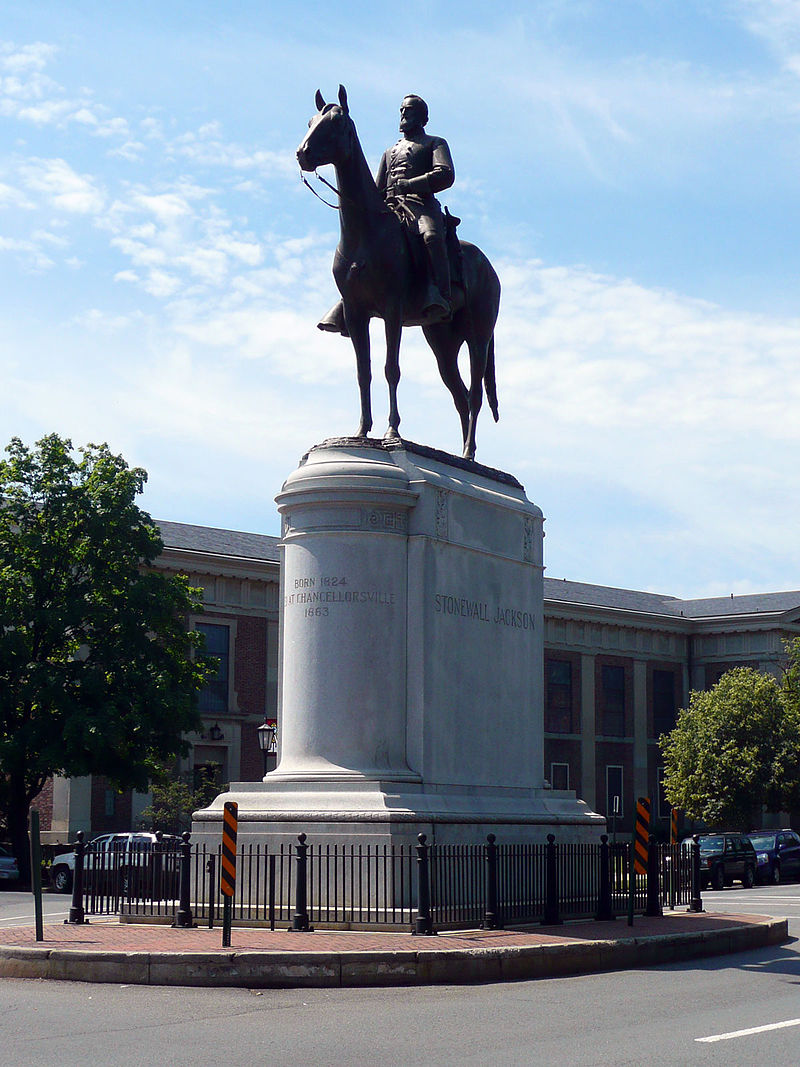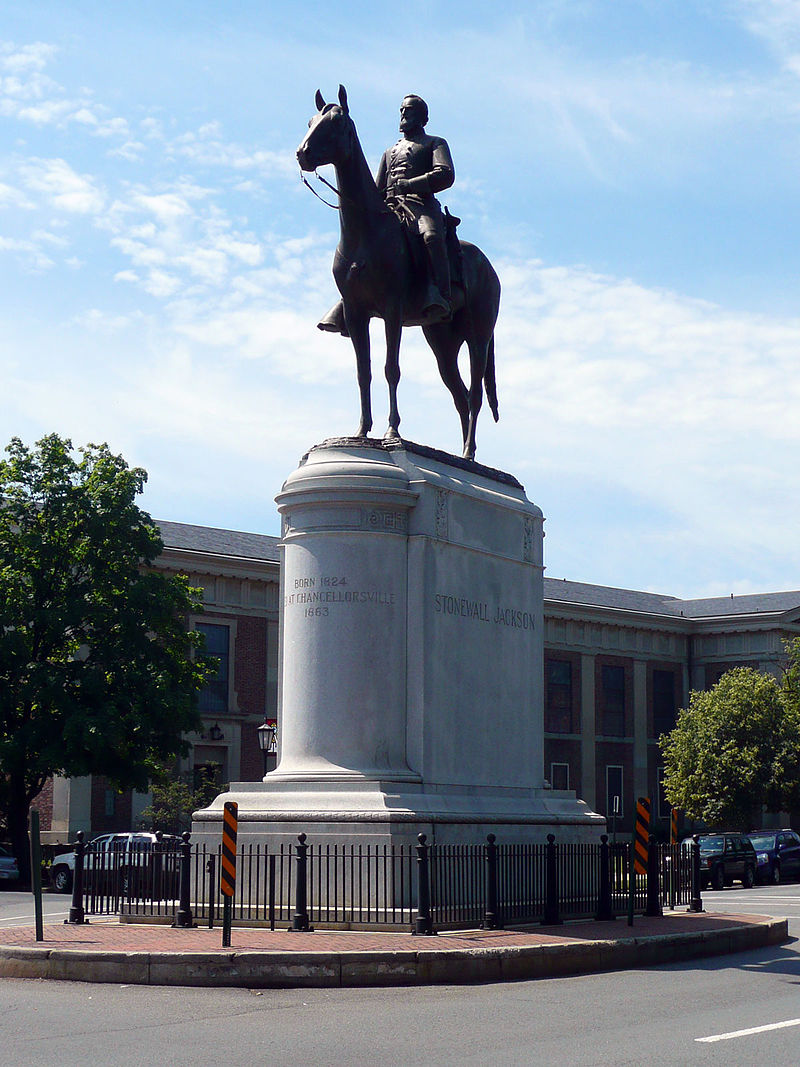 Stonewall Jackson in his Confederate Army uniform.
Jackson as an instructor at VMI, circa 1855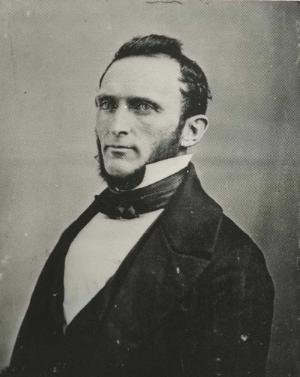 Julia Laura Jackson in 1881, the only surviving child of Stonewall and Mary Anna Jackson.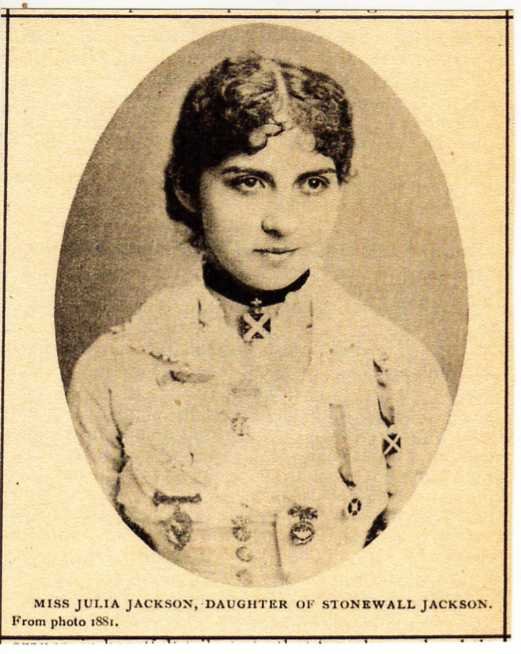 Mary Anna and Julia Laura Jackson.
Historic postcard of the Stonewall Jackson Monument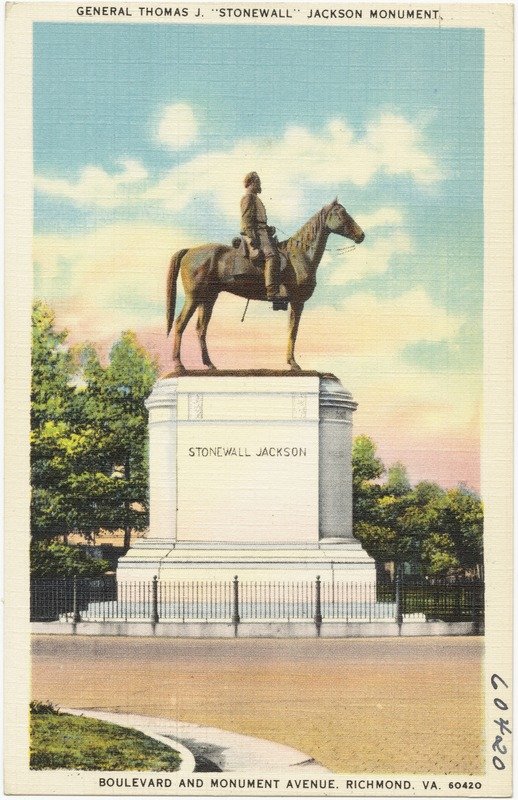 Stonewall Jackson during the Mexican-American War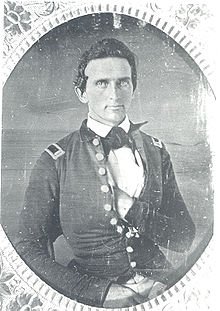 A crowd watches the removal of the Jackson statue in July 2020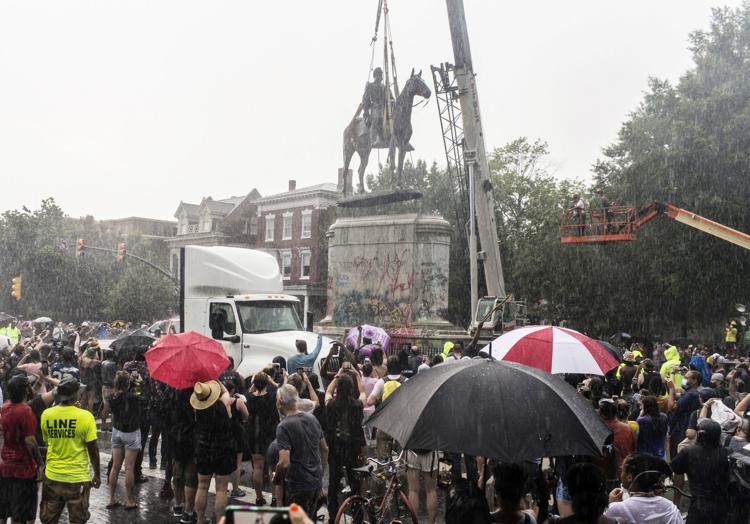 Backstory and Context
Thomas Jonathan "Stonewall" Jackson was born on January 21, 1824 to Jonathan and Julia Beckwith Jackson in Clarksburg, VA (now West Virginia.) The Jacksons were a prominent frontier family; Thomas' father was an attorney and his great-grandfather served as a captain in the American Revolutionary War. In March 1826, the two-year-old Jackson lost his father and older sister to typhoid fever. On the following day, his mother gave birth to a girl named Laura Ann. The Jacksons were then thrust into financial difficulties, as Julia boldly refused any charity or assistance. In 1830, she married attorney Blake Woodson and died one year later from complications during childbirth, orphaning her three oldest children. Jackson spent the remainder of his formative years living with his uncle Cummins E. Jackson, who owned a grist mill known as Jackson's Mill near present-day Weston, WV. While living with Cummins and working on his farm, who was a very strict disciplinarian, it is believed that Jackson developed his distinct work ethic and sense of duty.
Acquiring a formal education on the frontier during the early-19th century was difficult at best, but Jackson sought out opportunities to learn and managed to secure an appointment to the United States Military Academy at West Point, New York in 1842. His lack of formal education caused him to enter into the academy at the bottom of his class; but through his characteristic determination and drive, Jackson quickly rose in ranking and eventually graduated 17th of 59 students in 1846. At that time, the United States found itself in the middle of the Mexican-American War. Jackson was assigned to the 1st U.S. Artillery and distinguished himself throughout the war, rising to brevet major. Jackson was then assigned duty against the Seminoles in Florida but resigned from the U.S. Army shortly thereafter and accepted a teaching position in 1851 at the Virginia Military Institute in Lexington, Virginia.
At VMI, Jackson served as Professor Natural and Experimental Philosophy (similar to modern physics) and Instructor of Artillery. His strict and regimented nature did not cultivate him a good reputation among students, who were all expected to memorize his class lectures and tests. Despite his unpopularity, Jackson remained at VMI until the outbreak of the Civil War. Jackson married twice during his decade spent at VMI: first to Elinor Junkin on August 4, 1853, who died from childbirth complications a year later, then he married Marry Anna Morrison on July 16, 1858. Jackson and Mary Anna produced one surviving child, Julia Laura, who was born on November 23, 1862 and reportedly met her father only once.
Jackson came from a slave-holding family and owned as many as six slaves himself while living in Lexington. His relationship with slavery and with African Americans was complex. He and many other Southerners used the presence of slavery in the Bible as justification that slavery was God's will. Jackson was deeply religious, raised as a Calvinistic Presbyterian, though he explored other denominations at times in his life. In 1855 he began a Sunday School in his home to teach African Americans to read and write so that they could study the Bible. This was in violation of Virginia state law, but the school was well attended. For these reasons, Jackson is the only Confederate general who is memorialized in an African American church. In 1906, a memorial window in the Fifth Avenue Presbyterian Church of Roanoke, Virginia was dedicated to Stonewall for his generosity and compassion. Jackson may have been motivated by purely religious reasons for teaching his Sunday School, but historians such as Kevin Levin have argued that the 1831 slave rebellion led by Nat Turner prompted Southern whites to take a hand in the religious education of Blacks. Because Turner claimed to be "God's instrument in the holy retribution against slavery," white Southern evangelicals transformed the concept of slavery into a divinely ordained institution. By 1860, half a million Southern Blacks were official members of a church.
In 1859, Jackson led a corps of cadets from VMI to Charles Town, Virginia (now West Virginia) to act as security for the hanging of John Brown after the latter's failed attempt to seize the federal arsenal at Harpers Ferry. Witnessing the execution of John Brown and the repercussions from his failed coup undoubtedly influenced Jackson's political views; for, despite being a slave owner and a Southern Democrat, Jackson opposed secession. Following the events at Fort Sumter, South Carolina in April 1861, Jackson came to see secession as the only viable option for the Southern states.
After Virginia seceded from the United States on April 17, 1861, Jackson joined the Confederate Army and became a drill master for new recruits. He soon received an appointment of brigadier general and took control of Harpers Ferry. Jackson's unit consisted of the 2nd, 4th, 5th, 27th, and 33rd Virginia Infantry regiments (the famed "Stonewall" Brigade). During the First Battle of Manassas on July 21, 1861, Jackson received his famous nickname of "Stonewall." While providing reinforcements for Brigadier General Barnard Elliot Bee, Jr. at Henry House Hill, Jackson held back his men from immediately engaging in battle to which Bee allegedly shouted, "Look, men, there is Jackson standing like a stone wall." What Bee intended by the statement will never be known, but Jackson led his men to victory that day despite suffering the most casualties of all Southern brigades. From that day, Jackson became known as Stonewall and his unit took up the mantle of the Stonewall Brigade.
Because of his success at First Manassas, Jackson received a promotion to major general in the Confederate Provisional Army, which consisted of untrained volunteers. Commanding the military district in Virginia's Shenandoah Valley, Jackson initiated his Shenandoah Valley Campaign in 1862 to protect Richmond from invading Union forces. From February to June, Jackson successfully repelled Union forces at the Battles of Kernstown, McDowell, Front Royal, Winchester, Cross Keys, and Port Republic. From these engagements, Jackson rose to the rank of lieutenant general and became something of a Southern hero. After his Shenandoah Valley Campaign, Jackson also led his troops during the Peninsula Campaign, engaging in the Seven Days' Battles, then onto the Second Battle of Manassas, Battle of Antietam, Battle of Fredericksburg, and the Battle of Chancellorsville. On May 2, 1863, Jackson distinguished himself during Chancellorsville with his decisive attack upon the Union army's right flank.
The Battle of Chancellorsville ended with nightfall, and as Jackson and his staff returned to camp under the cover of darkness, the officers were mistaken for Union cavalry and fired upon by their own men. Struck twice in the left arm and once through his right hand, Jackson had his left arm amputated the following day. The field doctors attending to Jackson expected a full recovery, but pneumonia quickly set in and Thomas Jonathan "Stonewall" Jackson passed away eight days later on May 10. Jackson's famous last words reflected his deep piety: "Let us cross over the river and rest under the shade of the trees." Lee never found a suitable replacement for Jackson in the Confederate Army, and military historians believe that Lee could have won at Gettysburg had Jackson survived.
Jackson's death was felt not only through the South but across Great Britain, as well. Many conservative British sympathized with the Confederate cause, viewing the religiously devout Jackson as the exemplification of their lifestyle and culture. The British Jackson Monumental Fund was organized within a month of Jackson's passing, and by 1865 the Fund raised the equivalent of $400,000 in today's dollar. Ten years later, the British Jackson Monumental Fund presented Virginia with a bronze statue of Jackson sculpted by John H. Foley. This bronze statue in Richmond's Capital Square became the city's first public Confederate monument, dedicated to a large crowd by Robert E. Lee, III. Thirty-six years would pass before mention of adding Jackson to Monument Avenue, during which time Confederate monuments became a popular trend in public art throughout the South. On November 29, 1911, the United Daughters of the Confederacy and a group of Confederate veterans formed the Jackson Monumental Corporation. The cornerstone for the monument was laid at the intersection of Monument Avenue and the Boulevard (renamed Arthur Ashe Boulevard in 2019) during the United Confederate Veterans' reunion on June 3, 1915. After much debate, local sculptor Frederick William Sievers was chosen by the Corporation to create the Stonewall Jackson Monument. 
Arguments plagued the completion and erection of the Stonewall Jackson Monument, such as the directional orientation of the statue and the inscription on the pedestal. It was determined by majority vote in April 1918 that Jackson should be oriented north to face his Union opponents and because the majority of his military operations occurred in the northwest corner of the state. Even the inscription on the pedestal, incorrectly stating that Jackson died during the Battle of Chancellorsville, caused an uproar among the interested parties. On October 11, 1919, the Stonewall Jackson Monument was unveiled to a large crowd addressed once again by Robert E. Lee, III. In his oration, Lee praised Jackson's military leadership and successes and portrayed the late lieutenant general as "Virginia's flawless knight," General Lee's "right arm," and insisted that the Confederacy would have been victorious had Jackson survived. Combined with elevation of his virtues, the Lost Cause came to idolize Jackson as the lost and honorable champion of the South.
While monuments to Confederate leaders often were often raised to much acclaim, they are today mired in controversy as symbols of racism and Lost Cause ideology. Beginning in 2017 following the Unite the Right rally and violence in Charlottesville, calls circulated for the reinterpretation or removal of Confederate statues in Richmond, including those on Monument Avenue. Yet Virginia state law prevented communities from removing Confederate monuments (categorized as war memorials). In 2020, following the death of George Floyd and continued national protests over systemic racism, the Confederate statues on Monument Avenue again came under scrutiny. The Stonewall Jackson Monument, along with other Confederate statues on the avenue, was vandalized. In March 2020, the Virginia General Assembly passed legislation allowing for communities to remove Confederate monuments.
On July 1, 2020, Richmond Mayor Levar Stoney used emergency powers to order the removal of Confederate statues on Monument Avenue. A crowd gathered to watch the statue's removal that afternoon. As onlooker Daniel Farren noted, "Anybody that takes the time to examine the history of Richmond and Monument Avenue would probably agree that these were put here to help to sell a segregated community. This should've happened a long time ago."[19] As of November, only the Robert E. Lee statue remains on Monument Avenue (pending litigation); only the pedestals for the Jackson Monument and others remain.
Sources
1. Boltz, Martha M. "Jackson's relation with slaves." The Washington Times. April 6, 2007. Accessed September 8, 2017. http://www.washingtontimes.com/news/2007/apr/6/20070406-103241-8494r/.
Bryan, Alix. "Great, great grandsons of Stonewall Jackson say monuments must go." WTVR News. August 17, 2017. Accessed September 8, 2017. http://wtvr.com/2017/08/17/great-great-grandsons-of-stonewall-jackson-say-monuments-must-go/.
2. "History." Stonewall Jackson House. Accessed February 21, 2017. http://www.stonewalljackson.org/history.html. 
3. "Monument Avenue Historic District." National Park Service. Accessed February 21, 2017. https://www.nps.gov/nr/travel/richmond/monumentavehd.html.
4. Rhapsody in Books. "Black History Month: Review of 'Stonewall Jackson's Black Sunday School' by Rickey E. Pittman." February 24, 2010. Accessed September 9, 2017. https://rhapsodyinbooks.wordpress.com/2010/02/24/Black-history-month-review-of-%E2%80%9Cstonewall-ja...
5. Robinson, Mary. "Richmond branch of NAACP calls for removal of Confederate statues." Richmond Times Dispatch. August 23, 2017. Accessed September 6, 2017. http://www.richmond.com/news/local/city-of-richmond/richmond-branch-of-naacp-calls-for-removal-of-Confederate-statues/article_ede067b8-a234-5bdf-89dd-e53c8f62bc5a.html.
6. Sedore, Timothy. An Illustrated Guide to Virginia's Confederate Monuments. Carbondale: Southern Illinois University Press, 2011. p. 143
7. Silva, Daniella. "Richmond Could Be Next Confederate Monument Battleground." NBC News. August 20, 2017. Accessed September 6, 2017. https://www.nbcnews.com/news/us-news/richmond-could-be-next-Confederate-monument-battleground-n79374....
8. "Stonewall Jackson Timeline." Virginia Military Institute. Accessed February 21, 2017. http://www.vmi.edu/archives/stonewall-jackson-resources/stonewall-jackson-timeline/.
9. "T.J. 'Stonewall' Jackson." Civil War Trust. Accessed February 21, 2017. http://www.civilwar.org/education/history/biographies/thomas-jackson.html?referrer=https://www.googl.... 
10. Wilson, Richard Guy. "Monument Avenue: A Unique American Boulevard." In Monuments to the Lost Cause: Women, Art, and the Landscapes of Southern Memory. Edited by Cynthia Mills and Pamela Simpson. Knoxville, TN: University of Tennessee Press, 2003. p. 100-115.
11. On Monument Avenue | "Killed at Chancellorsville"?: And Other Devils in the Details of the Stonewall Jackson Monument. The American Civil War Museum. June 19, 2019. https://acwm.org/blog/monument-avenue-killed-chancellorsville-and-other-devils-details-stonewall-jackson-monument.
12. On Monument Avenue | The Many Uses of a Stonewall. The American Civil War Museum. June 19, 2019. https://acwm.org/blog/monument-avenue-many-uses-stonewall.
13. "Stonewall" Jackson. Library of Congress. June 19, 2019. http://loc.gov/exhibits/civil-war-in-america/biographies/stonewall-jackson.html.
14. Piston, William Garrett. Thomas J. "Stonewall" Jackson (1824–1863). Encyclopedia Virginia. March 23, 2014. June 19, 2019. https://www.encyclopediavirginia.org/jackson_thomas_j_stonewall_1824-1863.
15. Larson, Jennifer L. Memories of Stonewall Jackson. Documenting the American South. June 19, 2019. https://docsouth.unc.edu/highlights/jackson.html.
16. 127-0174 Monument Avenue Historic District. Virginia Department of Historic Resources. April 1, 2019. June 19, 2019. https://www.dhr.virginia.gov/historic-registers/127-0174/.
17. Moody, Jr., James W. National Register of Historic Places Inventory - Nomination Form. Virginia Department of Historic Resources. February 26, 1970. June 19, 2019. https://www.dhr.virginia.gov/wp-content/uploads/2018/04/127-0174_Monument_Avenue_HD_1969_Nomination_final.pdf.
18. Levin, Kevin M. What Richmond Has Gotten Right About Interpreting Its Confederate History. Smithsonian Magazine. May 18, 2017. June 19, 2019. https://www.smithsonianmag.com/history/what-richmond-has-gotten-right-about-interpreting-its-Confederate-history-180963354/.
19. Robinson, Mark. "After more than 100 years on Monument Ave., the Stonewall Jackson statue has been removed." July 1, 2020. Richmond-Times Dispatch. Web. Accessed November 10, 2020. https://richmond.com/news/local/watch-after-more-than-100-years-on-monument-ave-the-stonewall-jackson-statue-has-been/article_4f139f30-c849-54d5-b768-de4ac5a02c22.html
20. "Stonewall Jackson statue, other Confederate monuments come down along Richmond's Monument Avenue." July 2, 2020. USA Today. Web. Accessed November 10, 2020. https://www.usatoday.com/story/news/nation/2020/07/02/stonewall-jackson-statue-richmond-removed-along-monument-avenue/5362549002/
21. Oliver, Ned. "'A huge step': General Assembly says local governments can remove Confederate monuments." March 8, 2020. Virginia Mercury. Web. Accessed November 10, 2020. https://www.virginiamercury.com/2020/03/08/a-huge-step-general-assembly-says-local-governments-can-vote-to-remove-confederate-monuments/
Image Sources
Daniel Sangjib, Richmond Times: https://richmond.com/news/local/watch-after-more-than-100-years-on-monument-ave-the-stonewall-jackson-statue-has-been/article_4f139f30-c849-54d5-b768-de4ac5a02c22.html

Additional Information