Montgomery Home
Introduction
The Montgomery Home is a one-story house that was built in the 1880s. It was built by Lyons stonemasons using locally quarried sandstone. The Montgomery Home continues to be a private residence, as it has been since it was originally built. This home is not open to the public, please view from the road.
Images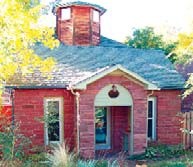 Backstory and Context
The Montgomery Home is a unique single-story sandstone building, combining features from several architectural styles. The home borrowed the extended entryway and the tall narrow windows of the Tudor Revival style. The builders also took inspiration from the Queen Anne style with the multiple gabled roofs and a conical roofline. The shape of the structure is similar to a simple foursquare house. When the home was first built in 1880 it only had two rooms, but the Montgomery family added on to the structure and constructed out-buildings as the family grew.1
As is evident by the name of the home, The Montgomery Home was built by the Montgomery family. Frank and William, two of five brothers, moved from the family farm in Pella, Iowa to Colorado. Frank worked in Central City as a freighter, and William worked in Central City and Black Hawk before moving to the St.Vrain Valley to homestead.2 Their oldest brother, Alexander joined a wagon train headed to Leadville, Colorado and then became a freighter. He drove oxen teams on a route between Leadville, Denver, Central City, and Jamestown. He moved to Lyons after he married Emma Peel Ferguson.
In 1867 another Montgomery Brother, Robert Bruce, moved west. It took him 41 days to reach the Little Thompson, and when he arrived he purchased a farm and raised livestock. In 1886 he purchased 80 acres of land east of Lyons. He not only grew grain and raised livestock, but he also maintained more than 400 apple trees. He shipped his apples into the midwestern and eastern parts of the United States.3 The Montgomery brothers owned significant portions of land in the St. Vrain Valley area.
The Montgomery Home has been used as a private residence ever since it was built.
Sources
Benedict, Diane Goode Birth of a Quarry Town: 1800s Lyons, Colorado 2002. 19
1Ibid
2Ibid. 18
3Ibid. 18. .