Dynamite Storage Building
Introduction
This small sandstone building was constructed in 1890. It was once used to store dynamite for the quarry workers. It was a part of the town's economic boom.
Images
Photo Courtesy of Charles Keim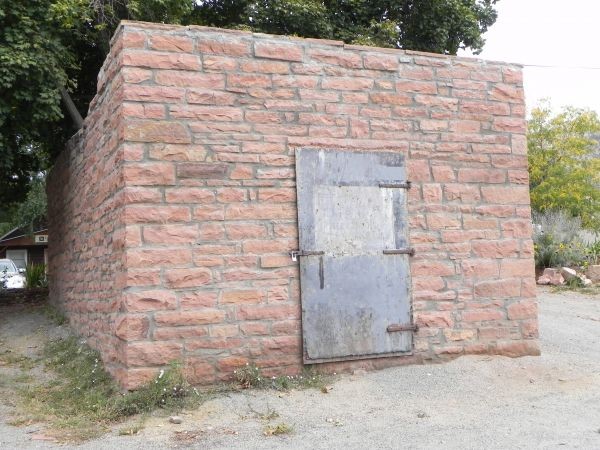 Historic photo of quarry workers using a drill to break apart sandstone. Photo courtesy of the Lyons Redstone Museum.
Historic photo of quarry workers. Photo courtesy of the Lyons Redstone Museum.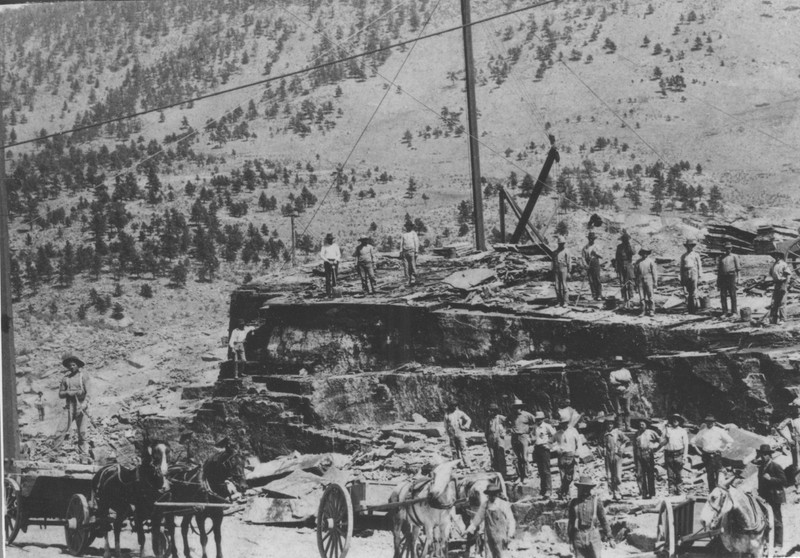 Backstory and Context
Lyons, Colorado was built around the quarries. Before Edward S. Lyon moved to the area, homesteaders had been working the land for nearly two decades. Some of these homesteaders quarried sandstone and sold it, however, there is no evidence that it was anything more than an occasional side operation.1 When Edward S. Lyon discovered limestone and red sandstone on his land, he realized that he had an opportunity. He, along with Griffith Evans and Hiram Sawyer, formed the Evans Townsite Company and the Lyons Rock and Lime Quarry Company.
Lyon came across one major issue -- the Colorado Central Railroad would not build a line into St. Vrain Valley. Lyon and Evans had to figure out a way to transport the stone all the way to Longmont. It took twenty double teams of men to move the product.2 The quarries boomed in 1885, when the Denver, Utah, and Pacific Railroad built a narrow-gauge line into town and up to the St. Vrain Quarries. Hugh Murphy had purchased the St. Vrain Quarry and was sending stone pavers to growing Midwestern cities.3 During the quarries heyday, sandstone and limestone were being shipped to the east coast. The stone was used for buildings, monuments, and sidewalks. Buildings at the University of Colorado at Boulder were constructed with Lyons sandstone as well. As the quarries became more lucrative, more families began moving to the area. Sandstone and limestone had become vital parts of the economy.
The Dynamite Storage Building is an artifact from that era. Quarry workers used dynamite to blast through the canyon and break apart oversized boulders. Once they reached the sandstone, they used tools such as drills and 'plug and feathers' to break the slabs of stone into the desired sizes. Most of the men who lived in Lyons during the 1890s worked in the quarry. The storage building would have helped keep the dynamite dry and away from possible ignition.
Sources
1Pace, Alfred C. A History of the Lyons Sandstone Quarries. Edition 1. 1.
2Ibid. 3-4
3Ibid. 5