Austin Women's Center (1970-1982)
Introduction
In 1970, the feminist Austin Women's Organization opened the Austin Women's Center at 711 San Antonio Street. The Center was located across the street from the Austin Woman's Club was referred to as "Everywoman's Center" to reflect the inclusive orientation of the founders who sought to better understand the experiences of diverse women as they explored how social norms affected women. The Women's Center also sponsored many different workshops on sexuality, career advising, and birth control. During meetings at the Women's Center, many women realized for the first time that frustrations and anxieties they experienced daily were also shared by many other women. Women began to link personal problems with larger social and political issues, which they then worked together to change. The Center operated throughout the 1970s and early 1980s.
Images
The Austin Women's Center was located here, accross from the Austin Women's Club, during the 1970s and early 1980s.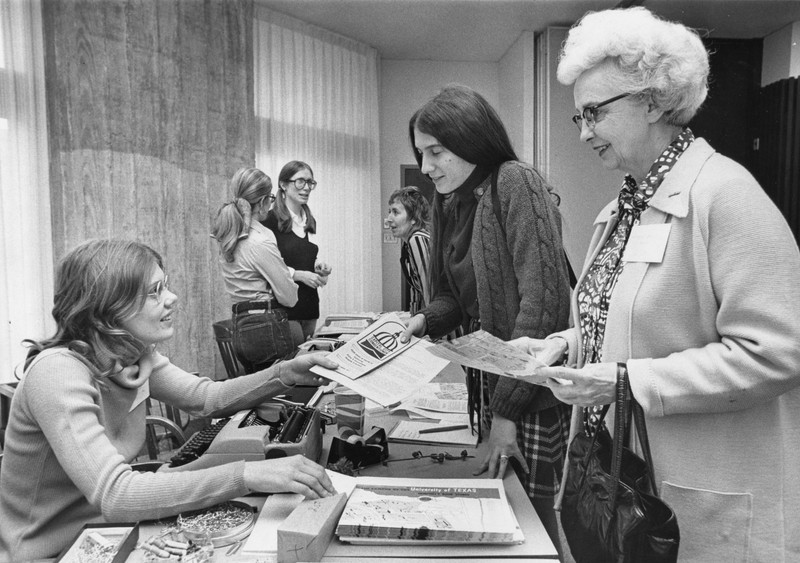 Backstory and Context
The Austin Women's Liberation was a cultural movement of local groups aiming to change society's expectations of women. As part of the New Left, women's liberation grew out of Students for a Democratic Society (SDS), whose leadership was largely male-dominated. Issues of sexism were raised in the Austin SDS chapter, but they were often ignored, which is why this feminist movement gained traction only after the demise of SDS. Underground media played a large part in furthering the women's liberation agenda. Women's Liberation groups also addressed topics such as birth control, job discrimination, and other shared experiences of women, with many conversations taking place at the feminist Austin Women's Center located at 711 San Antonio Street.

Most of the Women's Liberation movement in Austin, Texas emerged from already-established New Left organizations, as was also largely the case nationally. In the Austin chapters of SDS and the Student Nonviolent Coordinating Committee (SNCC), whose leadership was male-dominated, women raised the issue of sexism but were generally ignored. Sara Evans, a women's rights activist noted that "although the new left was engaged in a cultural revolt… it reflected more than it challenged the underlying sexual stereotypes [of the period]." The demise of SDS revealed the opportunity for a feminist left. Some of the first activists, such Alice Embree, were involved with SDS. Other leaders such as Linda and Judy Smith were never attracted to SDS.

In keeping with leftist ideology, the women's liberation wanted to redefine society's expectations for women. They worked to dismantle the socialization of Americans that led to the traditional gender roles and development of certain ideas: "Women's liberation means liberation from the role of woman that we have had built inside us by our society." Women's liberation was concerned with the psychology of sexism, aiming to divest themselves and others of the sex roles that penetrated their psyches. Feminists believed that liberation from a society with such absurd and restrictive gender roles would benefit all people, not just women. Many women essentially refused to participate in a society that oppressed women by refusing to embrace traditional gender roles, beauty standards, and relationships.

The tactics used by these Women's Liberation groups were heavily influenced by the New Left. For example, women in Austin "planned seminars on automobile mechanics, printing, gardening, and cooking, continuing the broader counterculture's emphasis on self-sufficiency." Inspired by the counterculture, the 'cultural feminism' that was a part of the Austin Women's movement since its very beginning became a form of political protest. One of the most common forms of Women's activism was guerilla theater performances designed to raise awareness of the inequalities suffered by women. One of the most memorable examples of this was a "Make a Man Feel Like a Sex Object Day" organized by Pat Cuney and Lori Hansel, among others. On this day, women 'whistled and catcalled' men walking by, in an attempt "just to kind of make [men] feel like [women] were made to feel every day, and they didn't like it a bit."

The New Left ideology of the Women's Liberation movement separated it from other national feminist movements. The National Organization for Women (NOW) wanted for women to share full and equal participation in society with men. While Women's Liberation focused on changing consciousness and culture, NOW focused on gaining equality through political and legal action. NOW had a very active Austin chapter that worked closely with other women's rights groups such as the Women's Equity Action League (WEAL) and the Texas Women's Political Caucus. In contrast with the young, leftist rebels of the Liberation movement, members of these women's rights groups were mostly older professional women, who were unfavorable of women's liberation radicalism.

Newspapers and newsletters facilitated communication between and within cities. One example was the Rag, an underground newspaper published in Austin, Texas. The Rag was home to many former SDS members and New Left activists such as Judy Smith and Alice Embree, who both were very active in women's liberation. The Rag became a platform for feminists to highlight the prevalence of sexism and to spread information on topics such as safe methods of abortion and upcoming workshops. Another important example of feminist media is the Red River Women's Press, which originally started as Fly by Night Printers. This Press printed everything from general 'movement printing' to feminist songbooks. The Press' slogan was: "The Rising of the Women Is the Rising of Us All," which originated from a Massachusetts textile strike in 1912.

A particularly important focus of Austin Women's Liberation was abortion. Strict laws in Texas prohibited abortion, forcing women who could afford it to travel to Mexico, where it was legal. Women who could not afford to travel were left without a safe way to end their pregnancy. Activists began writing articles in the Rag about safe and unsafe methods of abortion. In 1970, the Austin Women's Liberation Committee to Repeal Abortion Laws began engaging with statewide abortion rights activists. Judy Smith formed a team of lawyers— Sarah Weddington, UT Law School grad, and Norma McCorvey, who used the pseudonym Jane Roe—and began challenging the state to legalize abortion. The court case, known as Roe v. Wade, shaped abortion law after a dividied United States Supreme Court decision.
Sources
Judy Smith, "women," Rag, 12 May 1969. Judy Smith, "Women's Psyches," Rag, 31 July 1969.

Rossinow, Doug. The Politics of Authenticity (New York, NY: Columbia University Press, 1998), [Page 298].

McArthur, Judith N., and Smith, Harold L.. Texas Through Women's Eyes : The Twentieth-Century Experience. Austin, US: University of Texas Press, 2010. Accessed April 25, 2016. ProQuest ebrary, [Page 204].

Wiegers, M. "Women's liberation --who joins and why." The Austin Statesman (1970, Mar 24). Retrieved from http://ezproxy.lib.utexas.edu/login?url=http://search.proquest.com/docview/1514599214?accountid=7118

Hudlow, S. W. "Woman liberation activities 'mature to solid base' here." The Austin Statesman (1973, Jan 21). Retrieved from http://ezproxy.lib.utexas.edu/login?url=http://search.proquest.com/docview/1513857911?accountid=7118

Austin NOW More than Ever, Austin Files – Women's Liberation, Austin History Center, Austin Public Library.