Colonel Zackquill Morgan Statue
Introduction
The Colonel Zackquill Morgan statue erected on Spruce Street in Morgantown in 2016 was cast by Vandalia Bronze after five years of planning, design, and construction. Founded by Jamie Lester, Vandalia Bronze created the piece in part from Greek bronze dated to 7,000 B.C. The statue commemorates the role of Colonel Morgan in the foundation of his namesake town after receiving a charter from the Virginia Assembly in 1785. Morgan was influential in regional affairs long before that, however, and in fact played a pivotal role in the events of the American War for Independence in the area. The statue is accessible at all hours, every day of the year.
Images
Statue on unveiling day. http://vandaliabronze.com/the-zackquill-morgan-statue/
Portrait believed by some historians to be Zackquill Morgan.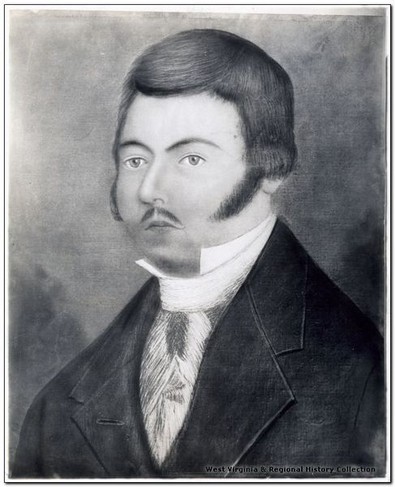 Gravesite of Zackquill Morgan.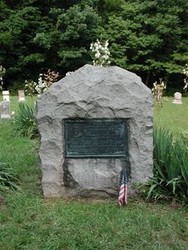 Backstory and Context
The Colonel Zackquill Morgan statue on Spruce Street does not, in fact, depict the actual image of its subject but instead the artist's rendering of a typical "Mountaineer" from the colonial period of American history. Indeed, even the image most often characterized as a portrait of Colonel Morgan is of uncertain origin. The portrait, of a middle-aged man in a suit with a mustache and sideburns, was simply one found among the personal effects of Morgan's wife Drusilla and may depict one of her male relatives. The uncertainty of even the colonel's appearance hints at the much broader lack of information regarding his life and activities more generally. Much about Zackquill Morgan's life prior to the outbreak of the American War for Independence remains unknown, and even his activities during and after that war continue to be surrounded by layers of mythology and misinformation. What is known, however, is that he played a pivotal role in that conflict, was involved in and with significant events and people prior to that period and opened the way for dramatically increased white settlement in the Appalachian area afterwards.
Zackquill Morgan was the penultimate son of Colonel Morgan Morgan, an individual that was long credited as the first white settler in what became West Virginia (a claim that has more recently been discredited in light of the existence of other white settlers in the same area prior to the Morgans' arrival). Zackquill Morgan grew to maturity in his father's large home in what was originally Orange County, Virginia but became Frederick County in 1738 (and later Berkeley County in 1772). The Morgans had significant influence in the area and Morgan Morgan played a key role in the creation of Frederick County from Orange four years after his arrival in the area from Delaware. Morgan Morgan was not only a local magistrate but also a commander in the local militia (hence his rank of colonel).
The Morgans also appear to have known George Washington as a young man while he served as a surveyor and commander of provincials in the area in the 1750s. Later, when he briefly settled in what was then Bedford County, Pennsylvania (now Fayette County) from 1769 to 1771, Zackquill would even be nominal neighbors with Washington, who had purchased the land adjacent to Zackquill's because it included the site of his ill-fated Fort Necessity. There were even rumors in the Morgan family that Zackquill had served alongside Washington in Edward Braddock's expedition against Fort Duquesne. Research into the available muster rolls for that expedition reveals, however, that Zackquill was most likely not present in that campaign. According to an affidavit by Jacob Prickett he was present in a later western expedition, that of Colonel Henry Bouquet against various members of the western Indian confederacy during Pontiac's War in 1764.
As mentioned above, after his involvement in Bouquet's expedition in 1764 Zackquill remained in Frederick County a further five years before pulling up stakes and traveling west. He settled briefly in Pennsylvania before migrating southwards in 1772 down the Monongahela and staking claim to the land between the Monongahela River and Deckers Creek where the town of Morgantown eventually rose. For much of the 1770s Zackquill spent a considerable portion of his time traveling between what became Morgan's Fort, nearby Prickett's Fort in what is now Marion County, West Virginia, and settlements around Fort Pitt (later Pittsburgh).
Zackquill did much of his traveling during the events of the American War for Independence. In that conflict, Zackquill aligned himself with the rebels and was appointed County Lieutenant of Monongalia County (formed in 1776) and elected a colonel in the local militia. In 1777, Morgan proved instrumental in quelling a suspected Loyalist plot against rebel authorities in the Fort Pitt region. A group of British-leaning colonists in the Redstone area twelve miles south of Fort Pitt swore oaths of loyalty to the Crown in August of that year, prompting Zackquill to rally the militia and march to arrest those of questionable loyalty to the cause of independence. Shortly after doing so, Zackquill was tasked with transporting one of these men (a Loyalist named Hickson) to Williamsburg from Fort Pitt for trial. While crossing the Cheat River Hickson fell into the water in his chains and drowned, leading to charges of murder against Zackquill that were eventually dropped.
After the war, Zackquill continued to promote his settlement at the convergence of the Monongahela River and Deckers Creek. In October of 1785, he received a charter from the Virginia Assembly to lay out half-acre plots of land for the settlement of a town. By 1790, however, only four houses had been constructed in the town despite many of the plots being purchased. It would take the cessation of hostilities with the western Indians in what is now Ohio after the 1795 Treaty of Greenville (following the 1794 Battle of Fallen Timbers) for settlement in what became Morgantown to grow more steadily. Zackquill never lived to see his town take off. He died on New Year's Day of 1795 with little wealth to his name and was buried at his request in Prickett's Fort. 
Sources
Ghion, Kathryn. "Morgantown Unveils Col. Zackquill Morgan Statue." WBOY.com, June 20, 2016. http://www.wvalways.com/story/32263696/morgantown-unveils-col-zackquill-morgan-statue.
Morgan, French. The History and Genealogy of the Family of Col. Morgan Morgan, the First White Settler of the State of West Virginia. Salt Lake City, UT: Filmed by the Genealogical Society of Utah, 1987.
Nelson, Larry L. A Man of Distinction among Them: Alexander McKee and the Ohio Country Frontier, 1754-1799. Kent, OH: Kent State University Press, 2000.
Thwaites, Reuben Gold, and Louise Phelps Kellogg. Frontier Defense on the Upper Ohio, 1776-1778: Compiled from the Draper Manuscripts in the Library of the Wisconsin Historical Society, and Published at the Charge of the Wisconsin Society of the Sons of the American Revolution. Madison, WI: Wisconsin Historical Society, 1912.
Image Sources
The West Virginia Encyclopedia

Find-A-Grave

Additional Information