The Moses Hepburn Row Houses
Introduction
The four townhouses were built in 1850 by Moses Hepburn, the wealthiest free African American in Alexandria. He was born as a slave in 1809 and freed seven years later. He was also one of the nine founders of Davis Chapel, later Roberts Memorial United Methodist Church, the oldest African American church building in Alexandria (1834). The houses were constructed somewhere after he purchased the property in 1850. Located in the middle of the block, they are relatively modest in scale when compared to the other existing houses on the street. The houses were added to the National Register of Historic Places in 2004.
Images
The Moses Hepburn Row Houses street view.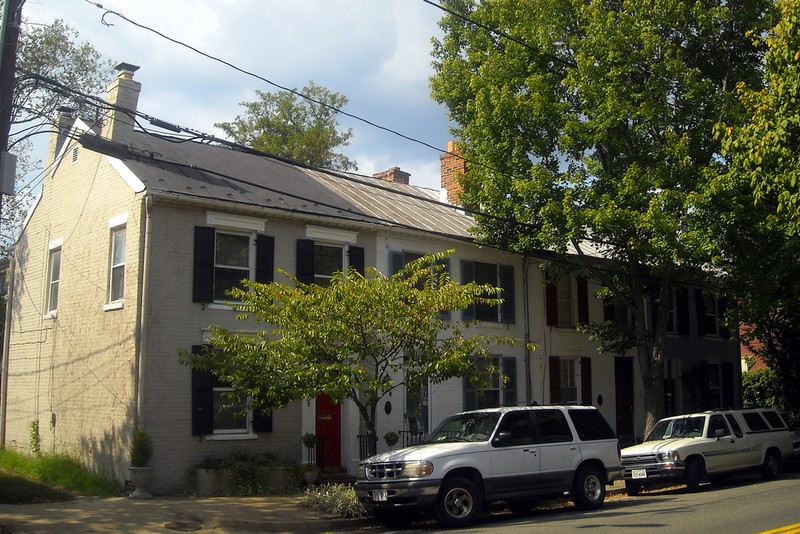 The Moses Hepburn Row Houses were built in 1850 right after Moses Hepburn purchased the land.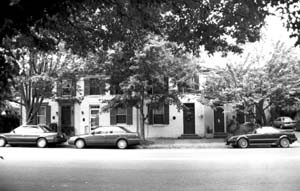 The Moses Hepburn Row Houses backyard.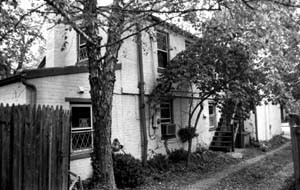 Backstory and Context
The significance of the houses comes from the Moses Hepburn himself. Born a slave in 1809 and freed seven years later, Hepburn overcame tremendous racial difficulties and became a successful entrepreneur in the antebellum city through his ownership and development of various residential and commercial properties. His father was a wealthy man, white merchant and member of City Council. Esther, his African American mother, was enslaved to his father in 1816 when she and her children, including Moses, were sold to her free Black sister, Harriet Jackson. Eleven days later, Harriet freed Esther and her children.
After receiving an education in Pennsylvania, Moses became successful businessman and served as a civic leader in the community. He was the one of the nine founding members of Davis Chapel (1834) as well as the first president of the church's missionary society. He also exhibited a great cconsern for the education of Alexandria's Blacks and served as a teacher at the Sabbath School of Roberts Memorial Church, the successor to Davis Chapel. In 1847, Alexandria was retroceded to Virginia, which forbade the education of African Americans. As a result, the family decided to leave, relocating to West Chester, Pennsylvania.
The Moses Hepburn Row Houses stands today as a testimony of and a tribute to the business acumen and leadership of one of Alexandria's remarkable early-nineteenth-century free African American citizens.
Sources
http://www.dhr.Virginia.gov/registers/Cities/Alexandria/NR_Alexandria_MosesHepburnRowHouses_100-5015-0004_text.pdf http://www.nps.gov/nr/feature/afam/2005/alexandria.htm https://www.alexandriava.gov/uploadedFiles/historic/info/Blackhistory/BHCourageousJourney.pdf
Additional Information