Walker's Wagon Wheel (1967-2000)
Introduction
Walker's Wagon Wheel was a bar in Mountain View. Named after an old wagon wheel that was displayed in the bar, Walker's was a place where engineers came to mingle, unwind, and share information. Even the fiercest rivals came together at Walker's, a sort of neutral territory where ideas could be discussed freely in a cooperative environment. Ideas were shared and employees recruited here, fueling Silicon Valley's rapid rise as a leader in tech. The tavern was demolished in 2003.
Images
Walker's Wagon Wheel was a popular watering hole where many engineers met and discussed their projects between the 1970s and 1990s. (Image from the Computer History Museum)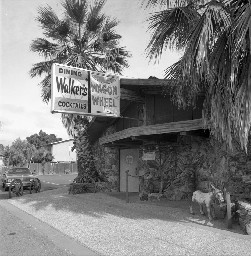 Backstory and Context
Walker's Wagon Wheel Tavern was a western-themed bar that many of the top engineers from all of the major companies frequented in the 1970s and 1980s. The bar opened in the 1960s and was hugely popular with the local population. The top engineers from Fairchild and National, which were two of the bigger companies working in Silicon Valley at the time, would often meet at the tavern after work to celebrate accomplishments. This intermingling of companies led to the sharing of ideas, which contributed to the incredible pace of technological growth in the region at this time.

According to David Laws, who works with the Computer History Museum, "The Wagon Wheel played a legendary role in the valley. People would get together and talk about technical problems. 'How did you etch that?' It's the sort of thing that would horrify an intellectual property lawyer" (quoted in Quinn / LA Times).

The interior of the bar featured upholstered booths and tables. Guests could order any number of cocktails from the wooden bar, as well as food, of which the hamburgers seemed to be the most popular. The western theme continued with wagon wheels and pictures, as well as an entire replica of a wagon on the roof of the building.

The bar was closed in 2000 after investigators found that the bar's card room was not meeting requirements stated in the 1997 Gambling Control Act, which all gambling institutions were required to follow. After three years of sitting empty and unused, the building was demolished in 2003. The lot that the bar sat on is still vacant as of this time.
Sources
"The Evolution of Silicon Valley." Computer History Museum. Accessed June 04, 2017. http://www.computerhistory.org/revolution/digital-logic/12/328.

Quinn, Michelle. "Preserving semiconductor's history, one bit at a time." Los Angeles Times, May 29, 2007. http://articles.latimes.com/2007/may/29/business/fi-semi29.

"Remembering Walker's Wagon Wheel." SF Gate. May 21, 2007. Accessed June 04, 2017. http://blog.sfgate.com/techchron/2007/05/21/remembering-walkers-wagon-wheel/.


Additional Information