Beaman House
Introduction
Despite its ordinary appearance, the historic c.1895 Beaman House has an interesting past. Local resident Alex Goyette built it as a rental property in the working-class section of Kalispell. Interestingly however, Goyette was active the local Populist Party which was critical of capitalism. Apparently he did not have problem collecting rent from the very people he supported politically. Additionally, the house is also significant for its Queen Anne architecture and somewhat unusual design. Goyette built it as a duplex with each residence side-by-side (versus one on each floor). The house is a single-family home today but its original layout wasn't obvious from the outside.
Images
The Beaman House was built around 1895. It is an interesting example of Queen Anne architecture.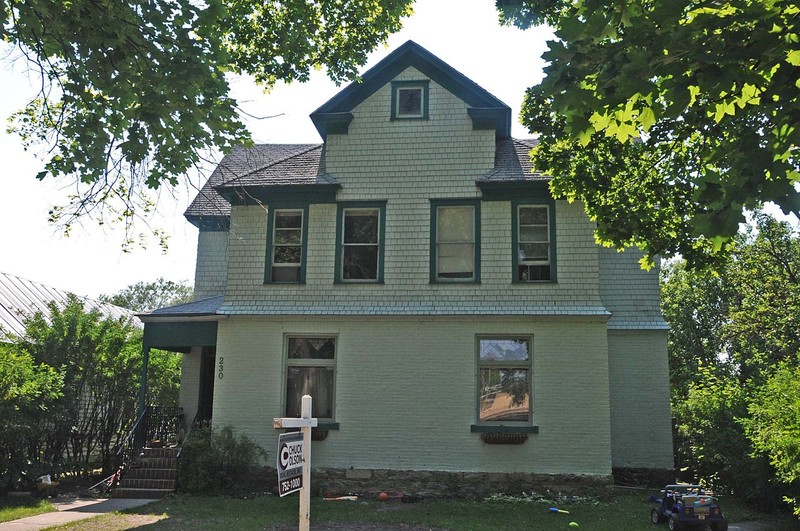 Backstory and Context
Goyette sold the house in 1907. After a series a of landlords, in 1922 William and Anna Beaman bought and converted it into a single-family home. William worked as a grain elevator manager and Anna was a music teacher and performer. They had two sons, Robert ("Budd") and La Vaughn. The Beamans first arrived in Kalispell in 1906 from Iowa. William and Anna lived in the house until they retired and then Budd and his wife, Anne, lived here until 1955. He and Ann were photographers and operated a successful studio in town. La Vaughn worked for the U.S. Forest Service and moved elsewhere. Added to the National Register of Historic Places in 1994, the house seems to have remained a single-family residence.
Sources
Chaix, Jaix. "Beaman House." Flathead Beacon. April 14, 2015. https://flatheadbeacon.com/2015/04/14/beaman-house.
McKay, Kathy. "Beaman House." National Park Service - National Register of Historic Places Nomination Form. August 24, 1994. https://npgallery.nps.gov/GetAsset/03671355-ca50-400c-baed-3311f370a43c.
Image Sources
Wikimedia Commons: https://commons.wikimedia.org/wiki/File:BEAMAN_HOUSE,_KALISPELL,_FLATHEAD_COUNTY.jpg

Additional Information