Buffalo Trace Prairie
Introduction
Purchased by the Champaign County Forest Preserve District in 1976, this land was officially named Buffalo Trace after the path that was first created by millions of migrating bison. Bison herds follow well worn trails, called traces. Native Americans, and later European settlers, also followed the trace as they hunted and traversed the Midwest. Interstate 74 now follows that same path.
Images
"Manning the Guns" Temporary Exhibit of WWI veteran Jesse Dowell, former owner of the land that is now Buffalo Trace Prairie.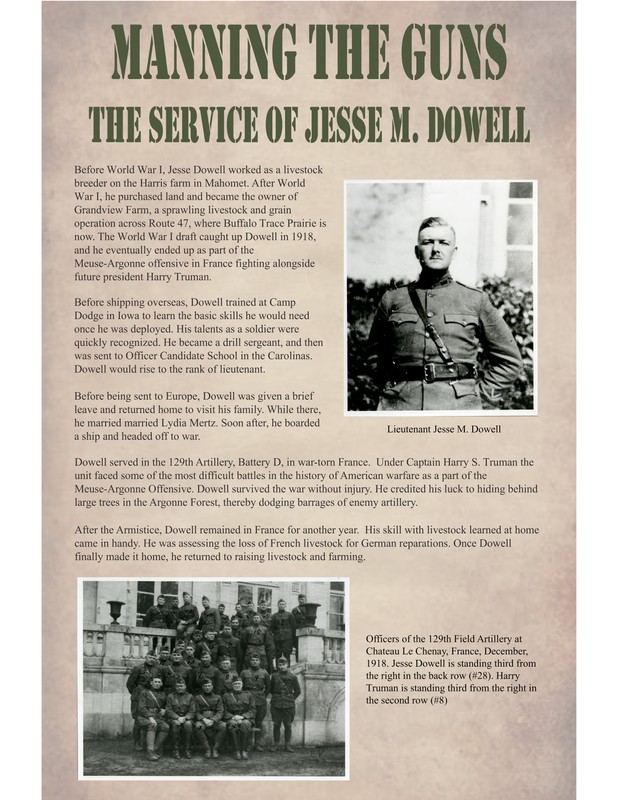 Lieutenant Jesse M. Dowell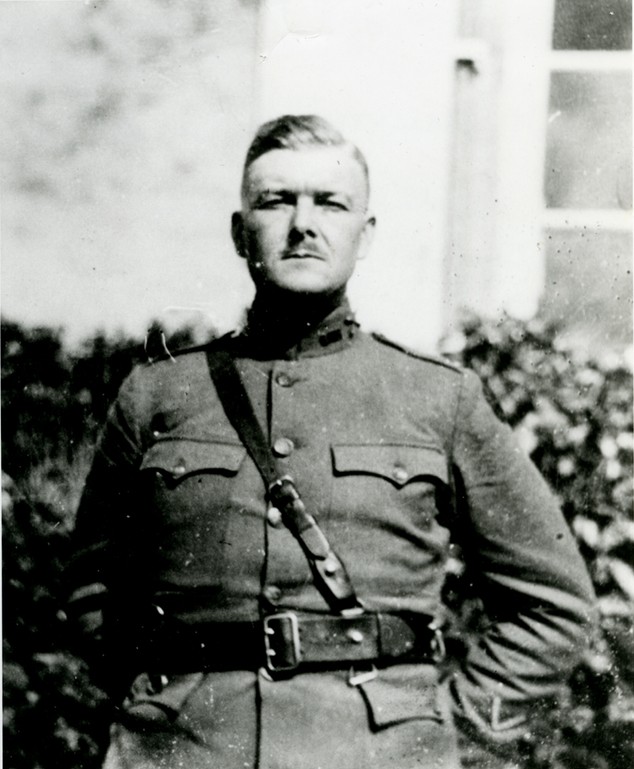 Officers of the 129th Field Artillery in December of 1918. Lt. Jesse Dowell is pictured with other officers including future president, Harry S. Truman.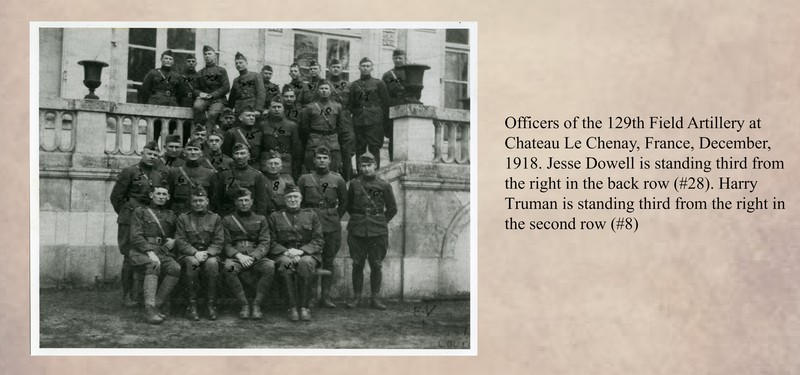 Wildflowers at Buffalo Trace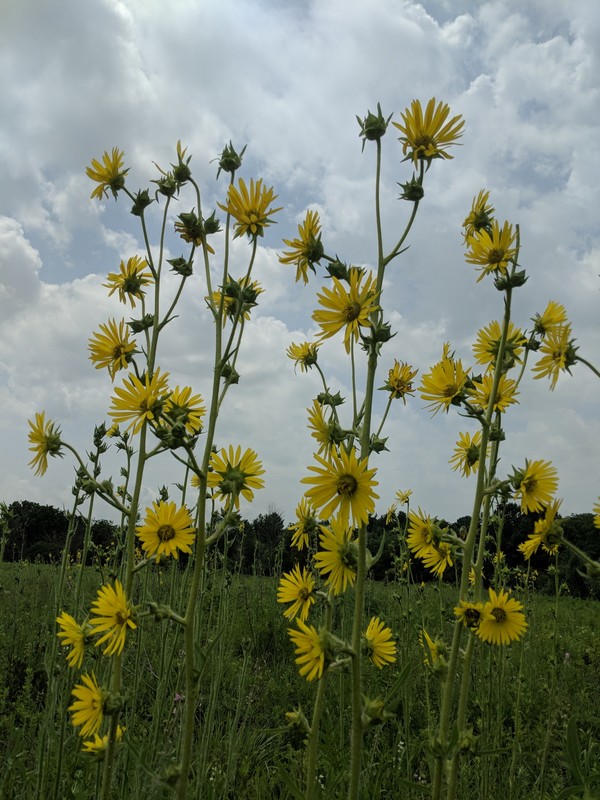 Sun setting at Buffalo Trace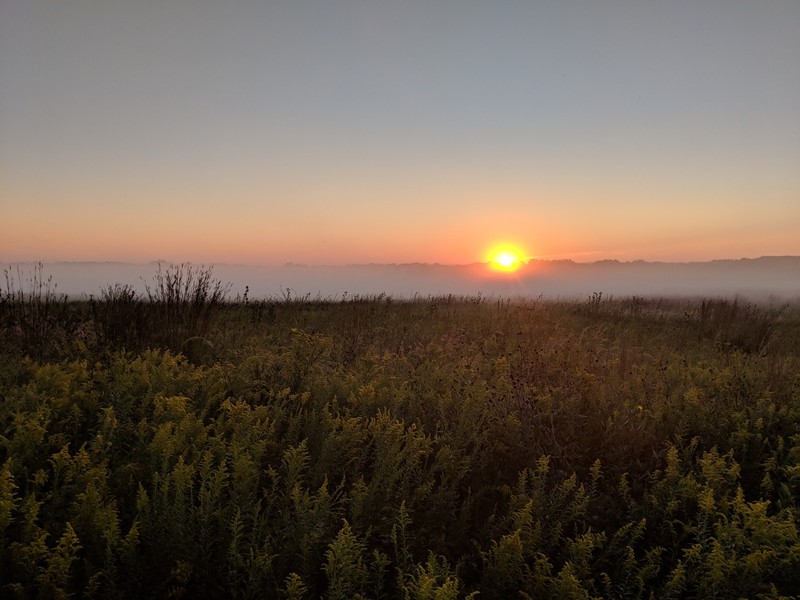 View of Buffalo Trace Prairie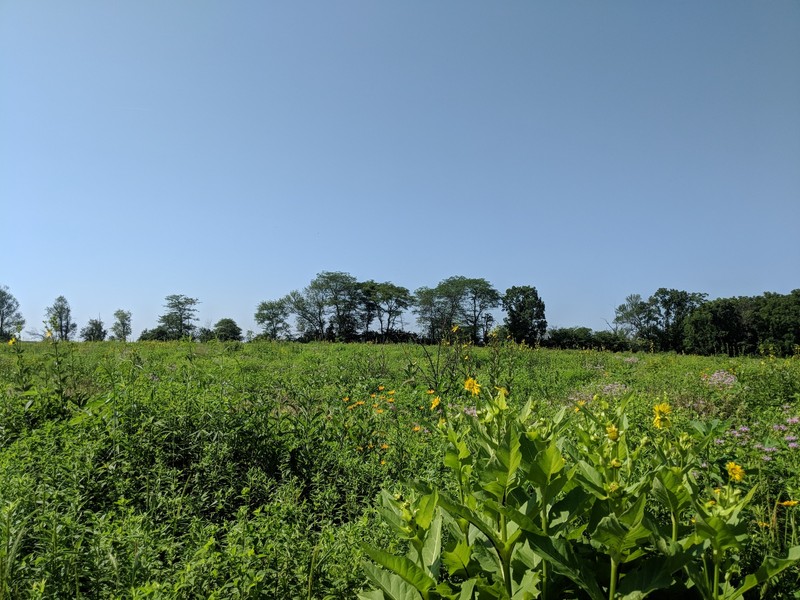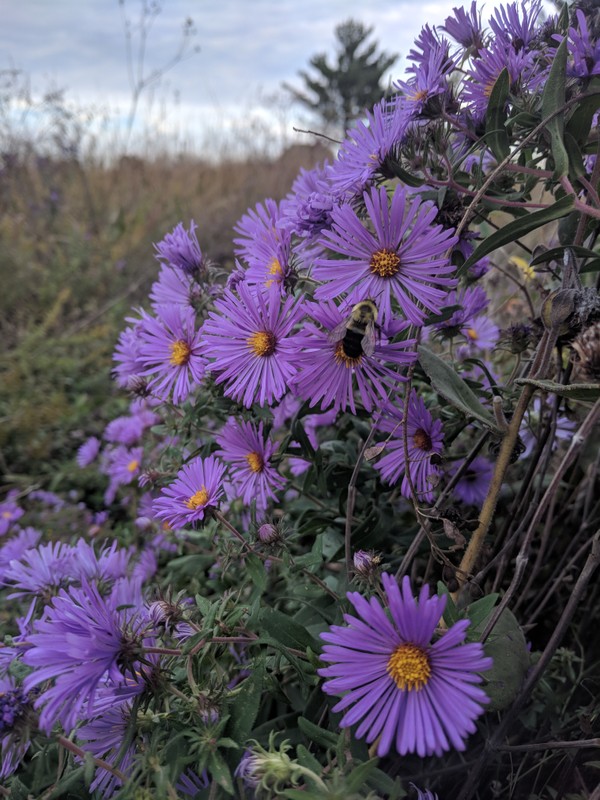 Prescribed burn at Buffalo Trace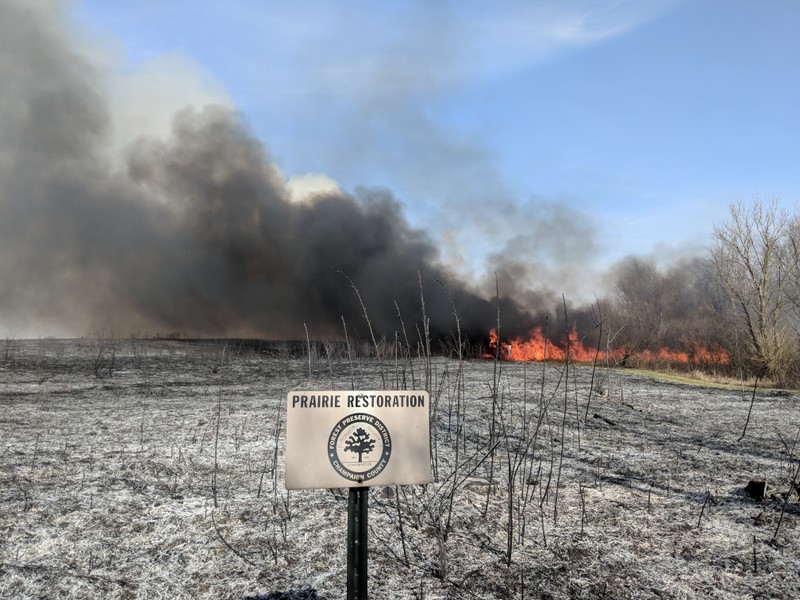 Buffalo Trace Trailhead Sign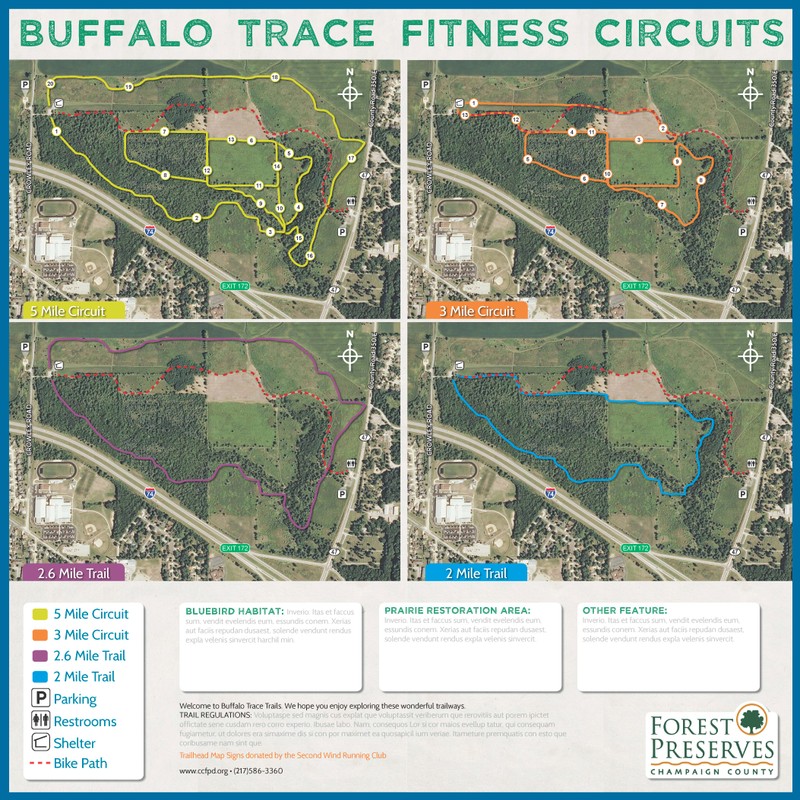 Backstory and Context
Tallgrass prairie is characterized by few trees, extreme seasonal temperatures and drought, and some of the richest soil anywhere in the world. When the first settlers arrived in Champaign County around the year 1820, more than 60% of Illinois, over 22 million acres, was prairie! Currently, less than 0.01% (just over 2,000 acres) of unplowed prairie remains, often along railroad tracks and in pioneer cemeteries. Historically, prairies thrived on natural disturbances such as wildfires and bison grazing. This reconstructed prairie is actively managed through strategic mowing, seed collecting and dispersal, planting, invasive species removal, and prescribed burns. In 1995, the paved pathway was installed and some of the older grass trails were left to return to their natural state. The network of trails is presently more than 7 miles long. 
Before World War I, Jesse Dowell worked as a livestock breeder on the Harris farm in Mahomet. After World War I, he purchased land and became the owner of Grandview Farm, a sprawling livestock and grain operation across Route 47, where Buffalo Trace Prairie is now. The World War I draft caught up Dowell in 1918, and he eventually ended up as part of the Meuse-Argonne offensive in France fighting alongside future president Harry Truman. Before being sent to Europe, Dowell was given a brief leave and returned home to visit his family. While there, he married married Lydia Mertz. Soon after, he boarded a ship and headed off to war.
Dowell served in the 129th Artillery, Battery D, in war-torn France. Under Captain Harry S. Truman the unit faced some of the most difficult battles in the history of American warfare as a part of the Meuse-Argonne Offensive. Dowell survived the war without injury. He credited his luck to hiding behind large trees in the Argonne Forest, thereby dodging barrages of enemy artillery. After the Armistice, Dowell remained in France for another year. His skill with livestock learned at home came in handy. He was assessing the loss of French livestock for German reparations. Once Dowell finally made it home, he returned to raising livestock and farming.
Additional Information