New Mexico History Museum
Introduction
In 1909, Santa Fe's Palace of the Governors ceased being the seat of government and became the home of the New Mexico History Museum. New Mexico's rich history includes Native, Spanish, Mexican, and U.S. influences. While the Palace of the Governors is itself a piece of history, it proved insufficient to the task of housing and displaying New Mexico's historic artifacts. A new museum campus, including a 96,000 square foot main building, was completed in 2009. Permanent and temporary exhibits relate the stories of New Mexico's history and diverse cultural influences. Highlights include the Palace of the Governors and the Segesser Hide paintings. Other campus buildings include the Palace Press, a Photo Archive, and the Fray Angelico Chavez History Library.
Images
New Mexico History Museum's roots date back to 1909 when it was established in the Palace of Governors. It moved into to its current building in 2009.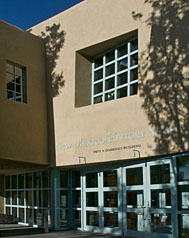 Exhibits in the New Mexico History Museum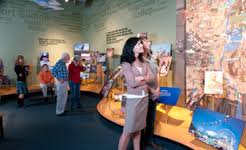 Fray Angelico Chavez History Library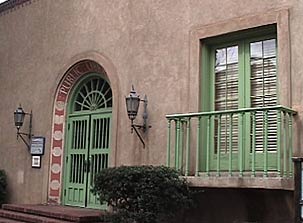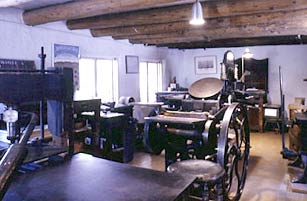 Native American artisans displaying their work
Backstory and Context
Evidence of human existence in New Mexico stretches back approximately 27,000 years. New Mexico's earliest inhabitants include the Sandia and Clovis peoples. Agricultural communities develop between 10,000 and 500 BCE with the Cochise people. Mogollon, Anasazi, and Pueblo cultures develop between 1 and 1500 CE. The Chaco Civilization reached its peak about 1300 CE.
1
Spanish exploration of the area began in 1536 with the expedition of Cabeza de Vaca. Spain establishes settlements throughout the late 1500's. In c.1610 Governor Pedro de Peralta founds Santa Fe and builds the Palace of the Governors. The building housed the seat of government until 1909. In 1680 the Pueblo Revolt occurs, Spanish missionaries were targeted and many were killed. Spanish settlers leave the region and do not return for twelve years. Diego de Vargas resettles Santa Fe in 1693. Wars between natives rage between Pueblos, Navajos, Apaches, and Commanches. Spanish control continued until 1821.2
Mexico gained its independence from Spain in 1821. Mexico allows trade along the Santa Fe Trail, Spain had kept the colony closed to outsiders. In 1837 the Chimayó revolt leads to violence in Santa Fe. Forces from Texas failed in her attempt to capture New Mexico in 1841.3 War between the U.S. and Mexico started in 1846, and the U.S. sent a force under Stephen W. Kearny to take control of Santa Fe and New Mexico. Kearny entered Santa Fe, without incident, on August 18, 1846 and the era of U.S. control began.4
New Mexico benefits from a wide range of cultural influences. Native nations from the Chaco Civilizations, to the Apaches, Pueblos, and Navajos have each contributed to New Mexico's culture. One feature of the New Mexico History Museum is the Portal Native Americans Artisan Program. Native artisans present their works on the front porch of the Palace of the Governors.5 One of the museum's better-known exhibits is the Segesser Hide Paintings.6 The paintings were made by an unknown artist between 1720 and 1758, and depict battles between Spanish forces and native groups. A Jesuit priest living in the American southwest sent three hides to his brother in Switzerland in 1758. Philipp von Segesser von Brunegg had acquired the hide paintings sometime before 1758. They remained the property of the Segesser family until the New Mexico History Museum acquired them in 1988.7
Sources
1. "Timeline of New Mexico History", PPSA Online Magazine, 2000, accessed March 28, 2015, http://www.ppsa.com/magazine/NMtimeline.html
2. "Timeline of New Mexico History", PPSA Online Magazine
3. "Timeline of New Mexico History", PPSA Online Magazine
4. Bradley, Glen Danford "The Story of the Santa Fe", (Boston: Richard G. Badger, The Gorham Press, 1920), accessed March 28, 2015, GooglePlay
5. "Museum Campus", New Mexico Museum of History, 2015, accessed March 28, 2015, http://www.nmhistorymuseum.org/campus.php
6. "Segesser Hide Paintings" New Mexico Museum of History, 2015, accessed March 28, 2015, http://www.nmhistorymuseum.org/calendar.php?&id=37
7. Chávez, Thomas E., "The Segesser Hide Paintings: History, Discovery, Art", Great Plains Quarterly, University of Nebraska-Lincoln, accessed March 28, 2015. http://digitalcommons.unl.edu/cgi/viewcontent.cgi?article=1412&context=greatplainsquarterly
Additional Information