New Century Guild
Introduction
Eliza Sproat Turner founded the New Century Guild in 1882 as a society to support and educate working women. The group occupied several sites in its first quarter-century -- originally on Girard Street until 1893, then on Arch St. -- before purchasing this four-story Italianate row house in 1906. Here, the organization ran a plethora of services for working women, supporting individual women with meals and health insurance as well as supporting protective labor legislation. The site was recognized as a National Historic Landmark in 1993 and a historic marker stands outside the building. The Guild House Hotel now occupies the structure, and the club is now called the New Century Trust.
Images
New Century Guild building in 2009, by Davidt8 on Wikimedia Commons (CC0)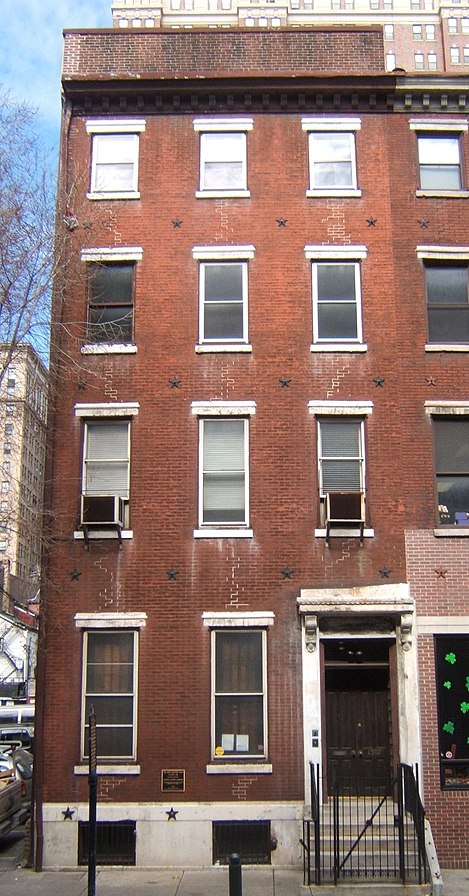 Historical marker outside New Century Guild building by Nick-philly on Wikimedia Commons (CC BY-SA 4.0)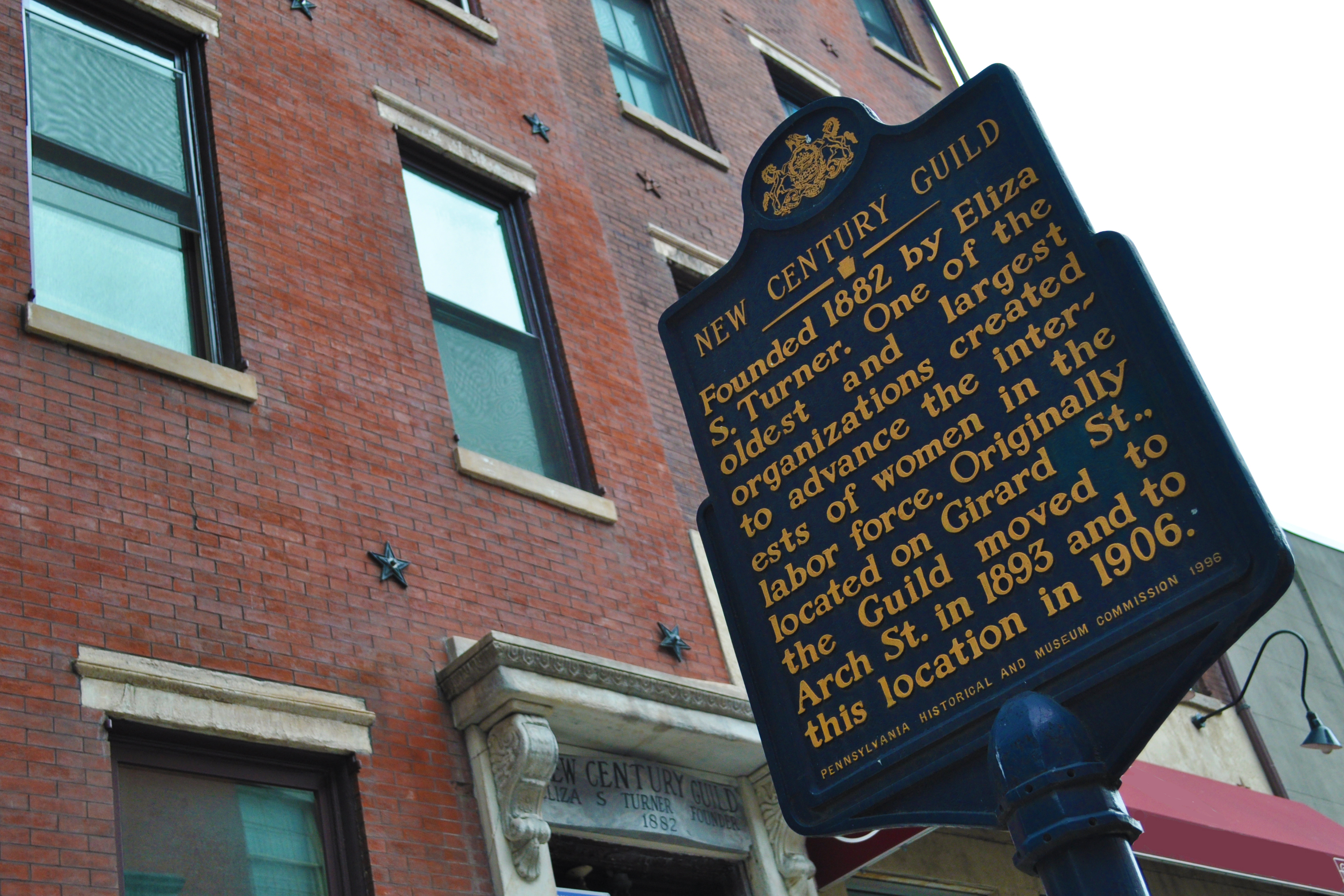 Backstory and Context
Eliza Sproat Turner (1826-1903) founded the New Century Guild with several other upper-class women from the New Century Club to advance the interests and education of working women. The guild's first headquarters was on two locations on Girard Street, and it then moved to Arch Street in 1893 before purchasing this four-story Italianate town house in 1906. At this time, the club had about 1000 members.
During the guild's first few decades, the percentage of the labor force occupied by women increased significantly. Women's groups expanded as well during this time period; the New Century Guild combined the functions of many types of organizations, including education, social programs, professional socializing, and advocating for improved working conditions. The club's services and output included a national newspaper; a research section devoted to collecting statistics related to women and labor to support policy proposals; a library with full-time librarian; evening classes; an assembly hall; guest rooms; a restaurant providing affordable midday meals for working women; and a health insurance plan. Club members could form "sections," or interest groups.
The house is a typical row house for its time period, four stories with a raised basement. The club added a marble inset sign with the name of the club and its founder. The Guild contracted the architectural firm Bunting and Shrigley to make recommendations for the renovation for the building and made changes included converting the first-floor laundry into a kitchen and expanding the space outward. At the time of the building's nomination as a National Historic Landmark in the 1990s, the woodwork and Victorian/Edwardian interior features were largely intact.
It was designated a National Historic Landmark in 1993, and the Philadelphia Historical & Museum Commission placed a marker outside the building in 1996. The Guild House Hotel now occupies the building. The New Century Guild is still extant in the form of its legal successor, the New Century Trust, a nonprofit working to end political and economic inequalities affecting women and girls.
Sources
Lumpkins, Charles L. Timeline of Pennsylvania Labor History, Pennsylvania Labor History Society. Accessed February 12th 2021. https://palaborhistorysociety.org/timeline-of-labor-history-in-pennsylvania/.
Morfe, Don. New Century Guild, Historical Marker Database. April 21st 2015. Accessed February 15th 2021. https://www.hmdb.org/m.asp?m=82572&Result=1.
Turner, Page Putnam, and Jill S. Mesirow. New Century Guild, National Historic Landmark Nomination. April 9th 1992. Accessed February 12th 2021. https://catalog.archives.gov/id/71994375.
Image Sources
https://en.wikipedia.org/wiki/File:New_century_guild_building.jpg

https://en.wikipedia.org/wiki/File:New_Century_Guild_Historical_Marker_1307_Locust_St_Philadelphia_PA_(DSC_3225).jpg

Additional Information