Louisville Palace Theater
Introduction
The Louisville Palace Theater opened in 1928 as Loew's Theater. It features a Spanish Baroque style with arcades, balconies, and turrets. In 1961, the theater was boycotted by Civil Rights activists because of their refusal to admit African Americans. Today, the theater operates as the elaborate setting for live performances, concerts, and summer cinema classics screenings. Painted in bursts of jewel tones, the Palace is heavily ornamented with alcoves, balconies, statues, and busts, and its theater ceiling imitates a starry, cobalt nighttime sky.
Images
Louisville Palace Theater facade (image from Pinterest)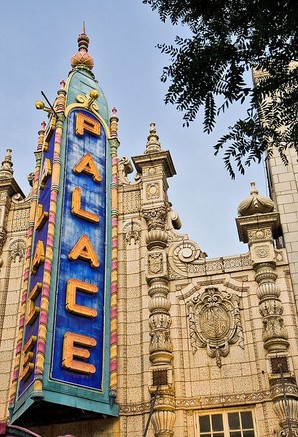 Palace Theater Ceiling of Celebrities Hall (image from Pinterest)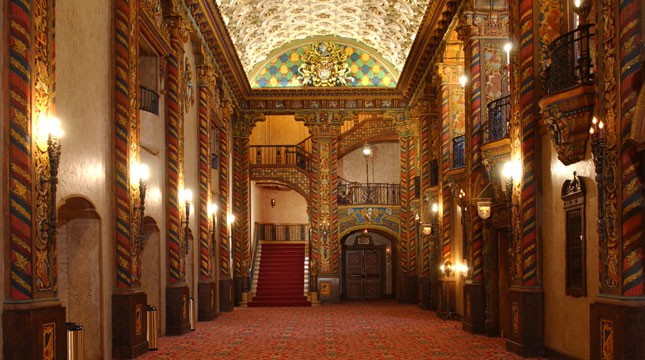 Hallway in the Palace (image from Palace Theater official website)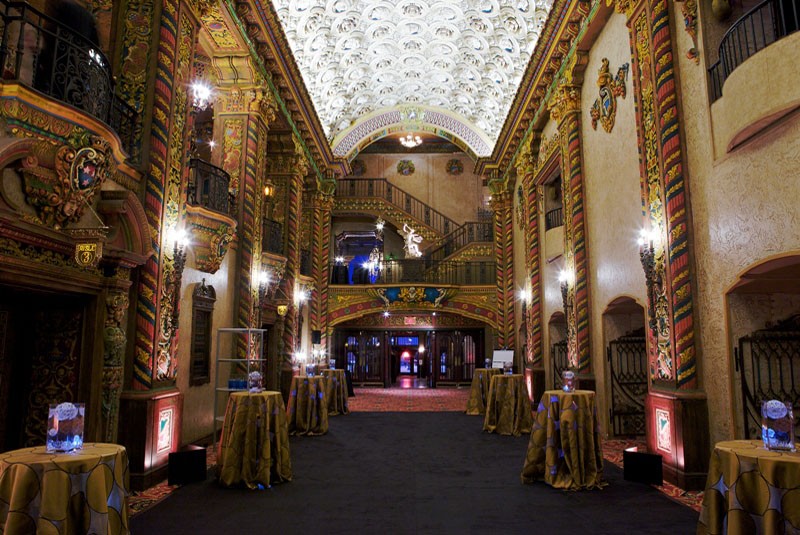 Palace stage (image from Palace Theater official website)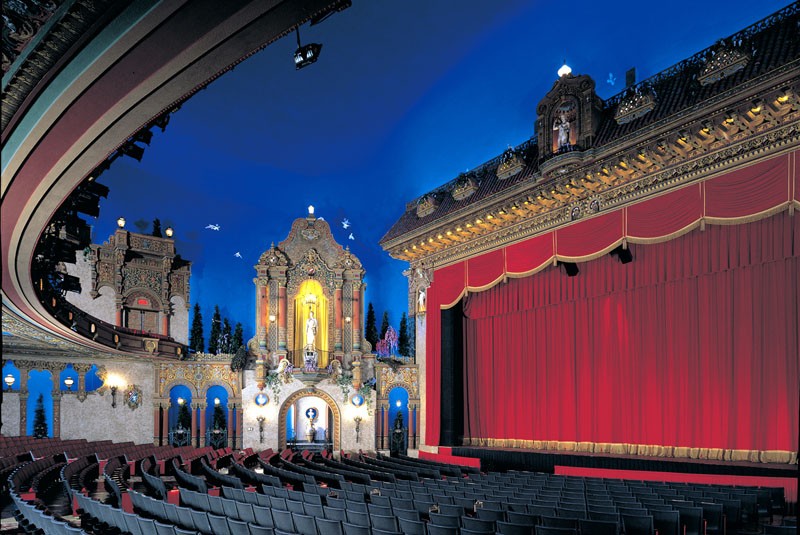 The Palace as an event venue (image from Palace Theater official website)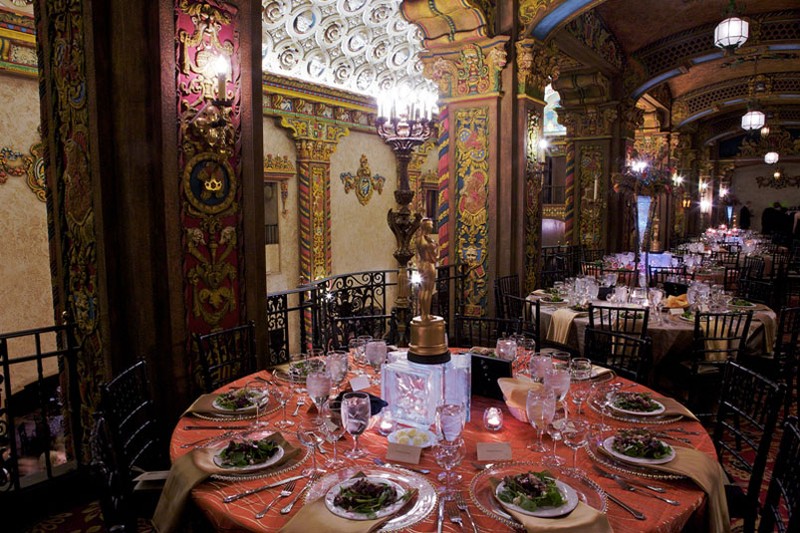 The Palace facade in 1978, as the Penthouse and United Artists Theater (image from the National Register of Historic Places)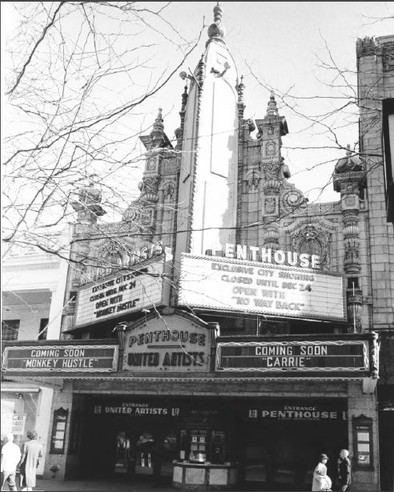 Sit-In Demonstration Site Penthouse/United Artists Theater (image taken with phone while on Louisville Downtown Sit-In Demonstrations Tour)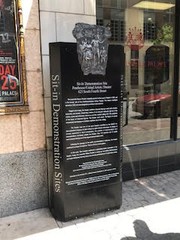 Loews Theater, Louisville, Kentucky, (image taken from University of Louisville Digital Library)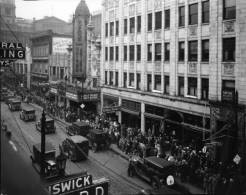 Civil Rights Demonstration. Integrating Louisville's Downtown In 1960, young members of CORE began weekly sit-ins at segregated businesses in downtown Louisville. (image taken from KET Foundation)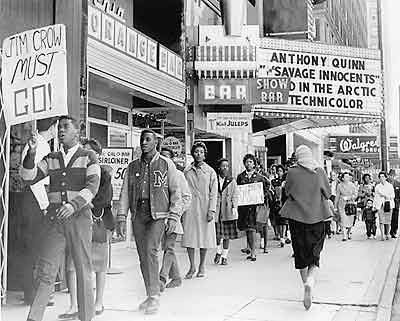 Backstory and Context
History of the Palace
From the mid-nineteenth century until the 1920s, St. Joseph's Infirmary stood on the present-day site of the Palace Theater. Owned by the Nazareth Literary and Benevolent Institute of Nelson County, Kentucky, the infirmary was sold in 1926 in preparation for opening a new hospital on Preston Street. Loew's Theaters hired Austrian-American architect John Eberson (1875-1954) to design a first-run cinema for the 4th Street site as an outlet for Columbia and Metro-Goldwin-Mayer. Despite having no formal architectural training, Eberson had changed careers in 1908, seven years after arriving in the United States, from electrical engineer to architect, and achieved fame in the field for his "atmospheric" theater designs.
For Louisville's Loew's Theater, Eberson designed a lavish, jewel-toned grand lobby and theater (seating 3,300) in Spanish Baroque "Churriguerresque" style, with alcoves, niches, fountains, statues and carvings of over 140 famous figures, and a ceiling inspired by a National Geographic photograph of the night sky with the lights placed to approximate actual stars.
The theater opened on September 1, 1928, showing The Old Gray Horse and Excess Baggage and a performance by Jan Garber's band and Haden Read on the 1000-pipe Wurlitzer organ. Though Louisville, and particularly 4th Street, boasted a number of theaters during the 1920s and 1930s, Loew's was the largest in the state and one of the largest in the region, heralded by Louisville's Courier-Journal as an "architectural marvel." It is also only one of two cinemas of the era still standing on Louisville's renewed hotspot, 4th Street. Among its famous out-of-town frequenters was gangster Al Capone, who would travel through underground steam heat tunnels running between the theater and the Seelbach Hotel during Prohibition. During the 1937 Flood, the theater's organ was raised above the high water level to save it from destruction.
In 1948, Loew's became the Loew's United Artist Theater, then the United Artist Theater in the mid-1950s, and the United Artists/Penthouse Theater in 1963, when the the 900-seat balcony was enclosed to accommodate a second screen. The first film shown in the Penthouse was Lawrence of Arabia.
The theater was one of six local theaters identified by the NAACP for demonstrations in 1961 because of their refusal to admit African Americans. As images of arrests appeared in the local newspaper The Courier Journal, the number of demonstrators and demonstrations increased outside the theater. Over 170 students and 10 adults were arrested during one of the largest demonstrations held during the same year. Following the passage of the public accommodations ordinance, the theater continued to prosper through the seventies as a first-run movie palace.
In 1978, it was renamed the Louisville Palace, but closed due to financial difficulties soon afterward. Purchased and renovated the same year by John Siegel, the Palace reopened in 1981 as a live entertainment venue, but continued to struggle and periodically close throughout the next four years, in spite of its addition to the National Register of Historic Places in 1982. It closed for nine years between 1985 and 1994, becoming one of downtown Louisville's ten most endangered historic buildings for a time.
The Palace Today

With new ownership and restoration, the Palace reopened in 1994 with a sellout Yanni concert and rededication. Despite changing hands from one theater and entertainment company to another since that time, the Palace has regained its place as a Louisville fixture, featuring Broadway and other theatrical performances from local to international artists; classic film screenings in the summer; and concerts and comedians. The restored space is also a popular venue for weddings, corporate and social events, dinners and fundraisers, renowned for its barrel-vaulted "ceiling of celebrities", "Faces Lobby", Spanish courtyard garden-style theater, and several reported ghosts. The Faces Lobby also holds monthly concerts featuring local bands.

Sources
1. Dwight, George. "Standing Ovation: Louisville Palace."
Louisville Magazine.
June 3, 2013. Accessed March 10, 2017. https://www.louisville.com/content/standing-ovation-louisville-palace.
2. Hayden, Joe. "A Guide to the Louisville Palace Theater and Its Rich History."
Louisville Real Estate News and Information
. October 13, 2013. Accessed March 10, 2017. http://www.joehaydenrealtor.com/blog/a-guide-to-the-louisville-palace-theater-and-its-rich-history/.
3. Louisville Palace. Official website. Accessed March 10, 2017. http://www.louisvillepalace.com.
4. McNulty, Denise. "Loew's and United Artists' State Theatre." National Parks Service, National Register of Historic Places. April 1977. Accessed March 10, 2017. https://npgallery.nps.gov/NRHP/AssetDetail?assetID=f47d329b-b4d5-479d-93c8-0e62d8387a21.
5. Triplett, Jo Anne. " Behind the scenes: Unlocking the secrets of the Louisville Palace."
Leo Weekly
. November 17, 2010. Accessed March 10, 2017. http://www.leoweekly.com/2010/11/behind-the-scenes/.
6.
DIGITAL COLLECTIONS. (n.d.). Retrieved May 12, 2017, from http://digital.library.louisville.edu/cdm/singleitem/collection/cs/id/1476/rec/11


7. Fosl, Catherine. "Louisville." Comp. Cathy Hinko and Nicole Cissell. Ed. Tracy E. K'Meyer.
Making Louisville Home for Us All
(2013): n. pag. Web. 15 May 2017. <https://louisvilleky.gov/sites/default/files/planning_design/general/making_louisville_home_for_us_a....

8. "Living the Story: The Civil Rights Movement in Kentucky."
KET Education
. N.p., n.d. Web. 15 May 2017. <https://www.ket.org/education/resources/living-story-civil-rights-movement-kentucky/>.
Additional Information