Mother of Invention mural
Introduction
See this large-scale mural by Rosalia Torres-Weiner on the 6th Street side of Discovery Place. This colorful and bold mural was painted for the Charlotte Shout celebration in 2019. With an emphasis on science and the mystical sciences, the artist draws our attention to the idea of invention with multiple symbols and the use of iconography.
Images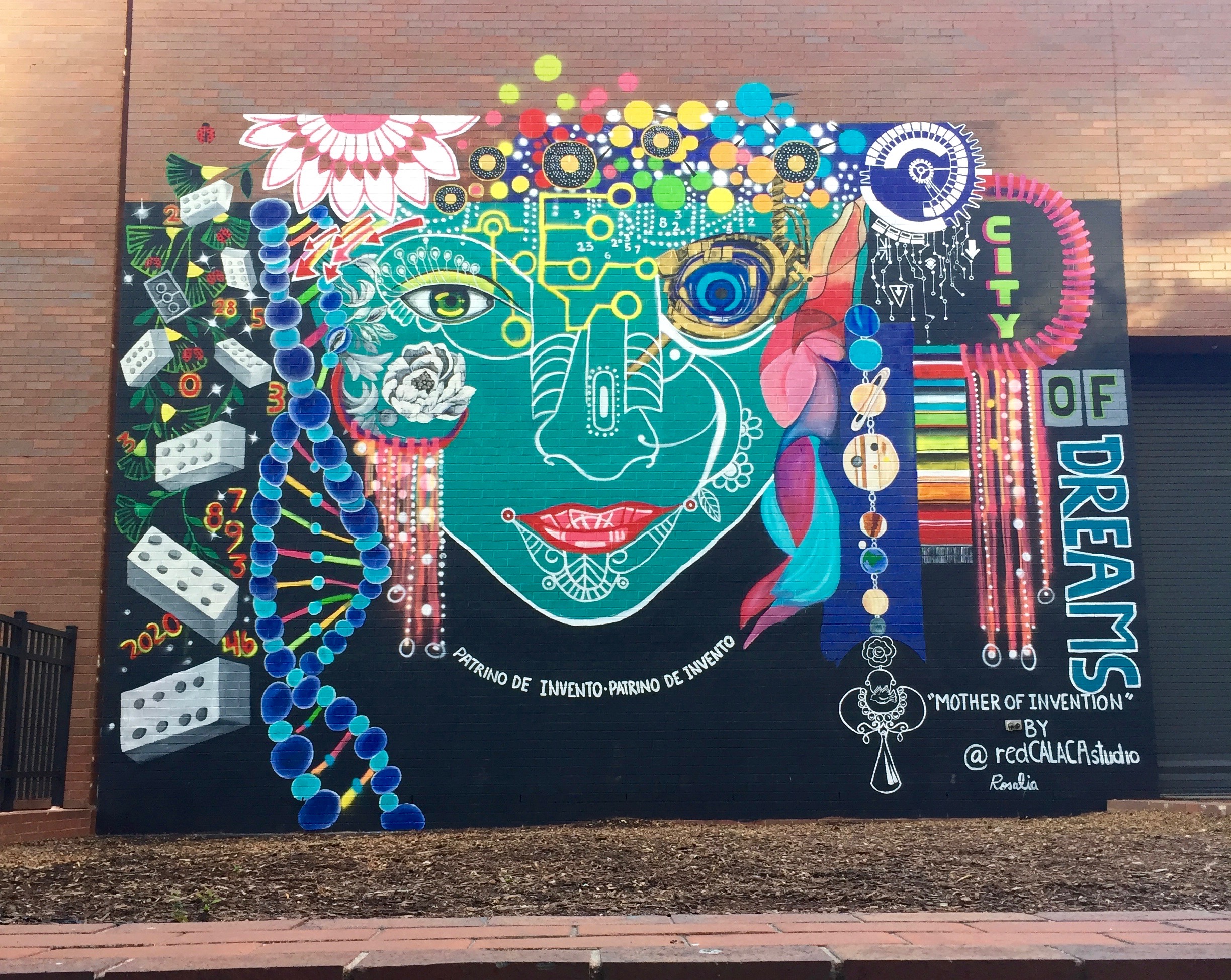 Backstory and Context
Artist and activist Rosalia Torres-Weiner is a native of Mexico and one of the leading mural artists and community builders in Charlotte. Her mural on the side of Discovery Place is a Charlotte Shout project curated by Talking Walls. The Charlotte Shout festival was a celebration of art, music, and ideas that coincided with the commemoration of Charlotte's 250th anniversary and was held in May 2019. 
Rosaliia Torres-Weiner had a productive career in the corporate world before she started painting community-based murals. One of her first murals was her iconic portrayal of Our Lady of Guadalupe along Central Avenue which acknowledged the growing Hispanic communities in that area. Her work is characterized by bold colors and shapes, use of outline, strong female figures, and social justice issues. Her murals are also in South End, Camp North End, and the EastSide of Charlotte.   
Key Formal Elements:
Symmetrical balance
Use of white outline
Make the Connection: Torres-Weiner presents a colorful and decorated "Mother of Invention." So many symbols are here to help you make the connection to both the location of the mural and her title. Notice first how the eyes are each rendered differently. One is painted as a natural eye and one is a robotic eye.  Some scientific symbols like the solar system and DNA helix iconography are combined with more mystical symbols like a dreamcatcher. What do you think this may suggest about the idea of invention? Perhaps, the DNA helix is there to remind us that a female scientist, Rosalind Franklin, played an integral, if often uncredited role in research of the double helix structure of DNA.  Also, look closely. Could there be a statement with the inclusion of "2020" and "46" in the bottom left corner? Remember, the title of this mural is "Mother of Invention."
Sources
Accessed March 22nd 2021. https://www.charlotteobserver.com/entertainment/arts-culture/article233704392.html.
Accessed March 22nd 2021. https://www.theguardian.com/science/2015/jun/23/sexism-in-science-did-watson-and-crick-really-steal-rosalind-franklins-data.
Additional Information