Monument Park
Introduction
In the midst of Monument Park is the titular monument, named the Soldiers and Sailors Monument. Soldiers and Sailors Monument is a Civil War Monument dedicated to those who had fought for the Army of The Potomac in the Civil War, with no known contributions to the Confederacy. It denotes and honors all four branches of the military at the time via 4 statues at the corners of the monument with a principal statue of Liberty, holding olive branches that denote the peace that all hoped for after the bloodiest fighting that ever took place on American soil.
Images
Photo of the Monument taken close to its installment.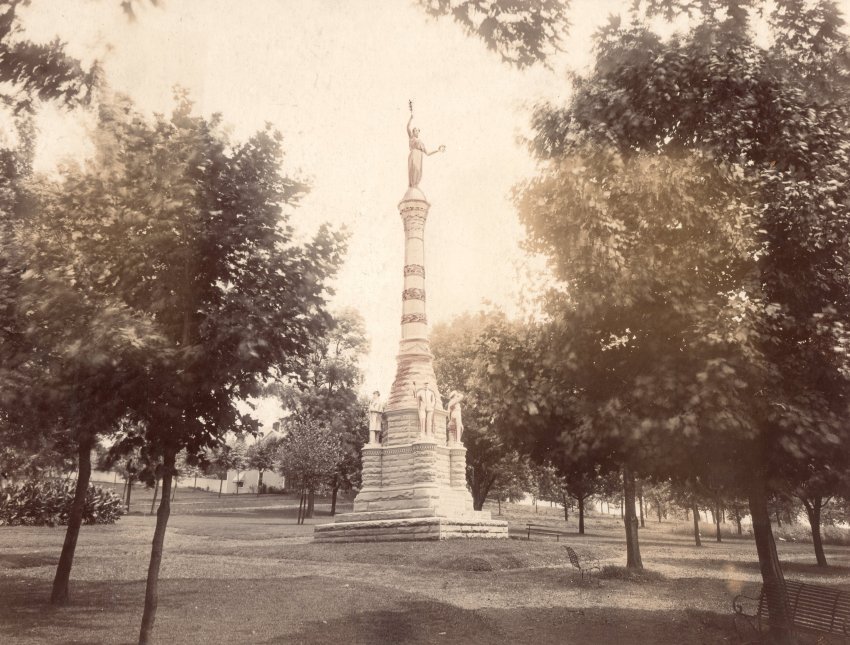 A detailed look at the statue of Lady Liberty atop the monument.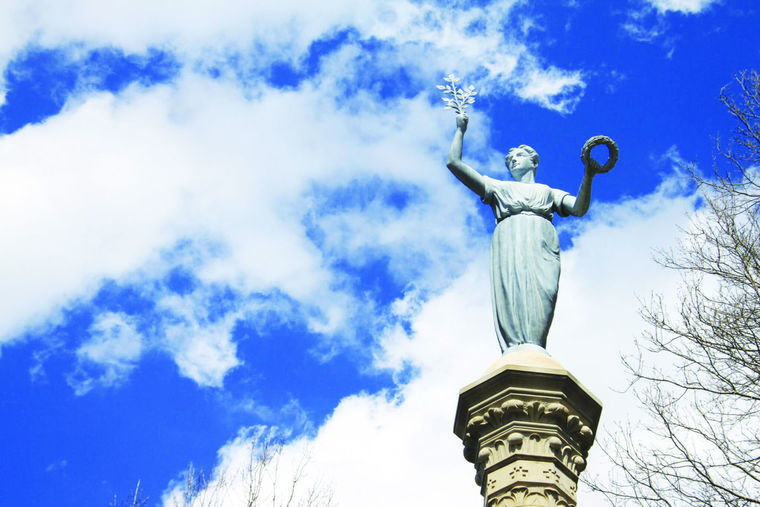 A vintage postcard displaying the Monument.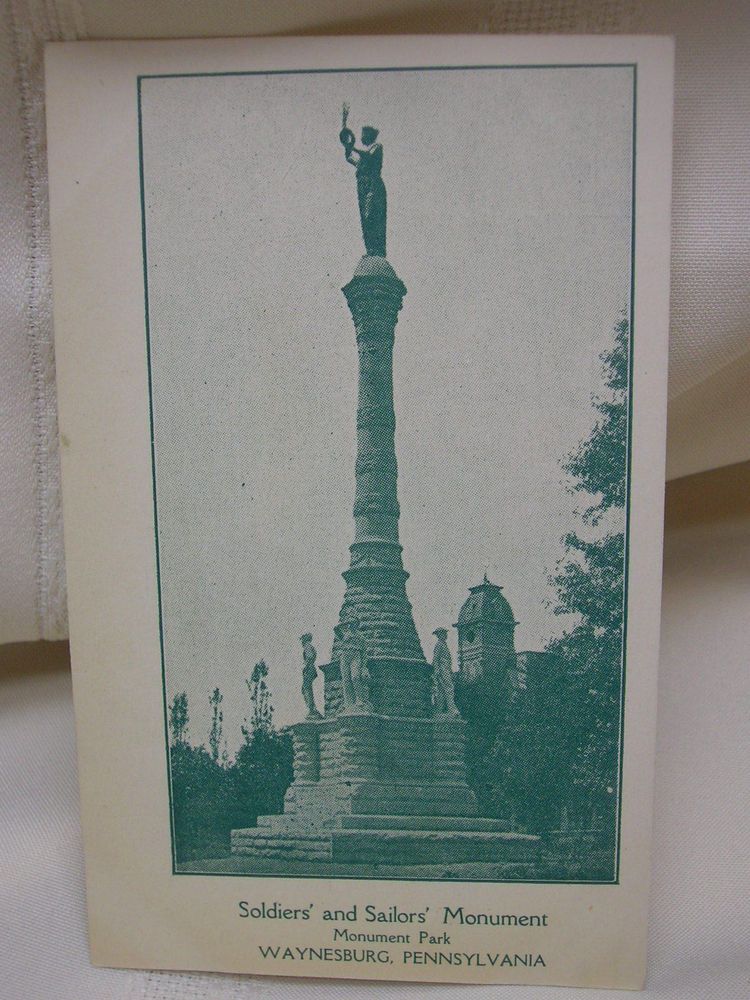 A postcard of the Presbyterian Church before it was burned down.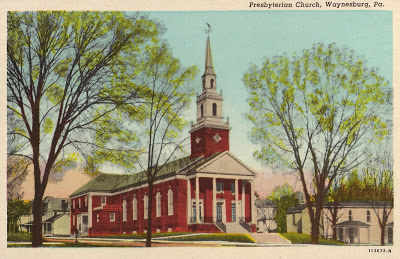 Backstory and Context
        Monument Park is the closest to the University, and has the most prominent architecture, that being a monument. Soldiers and Sailors Monument was constructed by stonecutter S.A. Rinehart, who also sculpted many other notable things in town, such as many of the gravestones used in the few cemeteries. Soldiers and Sailors Monument honors Civil War veterans from Greene County, having 4 seven-foot statues that represent Union infantry, cavalry, artillery, and navy at each corner. The Monument was topped with a spire that holds a statue of a fourteen-foot-tall woman holding a bundle of olive branches, representing Lady Liberty. The plaque reads "Erected by the County of Greene in grateful memory of her soldiers and sailors of the war for the Union." Greene County only contributed soldiers to the Army of the Potomac, there are no known records of Confederate soldiers hailing from Greene County. The monument was dedicated on July 4th, 1899.
               Monument Park was home to a few other structures, such as a Presbyterian Church located at the current day position of approximately near Buhl Hall that had burned down during Waynesburg's horrible Downey House Fire in 1925. The cemetery had the headstones relocated, yet the bodies remained interred.
               Close-by to Hanna Hall resided the Union School, which was the last holdover of the Greene Academy, which was the only higher schooling in Greene County until the founding of Waynesburg University in 1850. It had since been demolished, with few pictures thought to exist.
Sources
Hanna, William. History of Greene County. Waynesburg, Pennsylvania. Hanna Publishing, 1882.
Toothman III, Glenn J.R.T.. Buchanan, Candice L.. Images of America: Waynesburg. Charleston, South Carolina. Arcadia Publishing, 2015.
High, Fred. Waynesburg: Prosperous and Beautiful. Parsons, West Virginia. McClain Printing Company, 1973.
Parks and Recreation, Borough of Waynesburg. Accessed April 21st 2021. waynesburgboro.com/parks.html.
Image Sources
Greeneconnections.pastperfectonline.com

Greene County Messenger

Pinterest user K N K

greenconnections.org

Additional Information