The Butler Institute of American Art
Introduction
The Butler Institute of American Art was founded in 1919 and was the first building in the U.S. that was constructed for the sole purpose of housing collections of American art. Beginning in 1917, Joseph G. Butler, a collector of American art, contracted New York architectural firm, Mckim, Mead, and White, to design a museum for Youngstown. The firm was famous for their brilliant, collaborative designs, which is why the Butler is known for it's impressive architecture. A Georgian and Carrara marble structure is home to the Butler Institute. Over the years additions to the building have been made, such as the Beecher Court Atrium. Today, the museum has well of 20,000 pieces of American art, and is famous for being "America's Museum."
Images
The Butler Institute of American Art as it currently stands.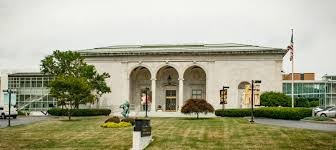 Backstory and Context
The Butler Institute of American Art was opened in 1919. Named after its founder Joseph G Butler, a prominent Youngstown businessman. Mr. Butler was an executive at Brier Hill Steel Company, he had collected an extensive art collection throughout his life however it was destroyed in a fire in 1917. This event was the catalyst for the Butler Institute, Butler was determined to create a permanent public museum for art. The museum received funding from businessmen and socialites such as J.P Morgan, Douglas Fairbanks and Mary Pickford and President Woodrow Wilson.
The institute is unique in the fact that it houses only American art and houses a permanent collection with famous pieces such as "Snap the whip" which Butler had originally bought in remembrance for his childhood friend President William Mckinley. The museum started with a collection of 34 works, it has since grown to over 22,000 various works. Including works by famous artists such as Andy Warhol, Jack Levine, Ben Shahn and Edward Hopper. 
Sources
Guerrieri, Vince. The Butler Institute of American Art Turns 100, www.ohiomagazine.com. January 20th 2019. Accessed September 9th 2019. https://www.ohiomagazine.com/ohio-life/article/the-butler-institute-of-american-art-turns-100.
Johannesen , Eric . Butler Institute of American Art . United States Department of the Interior National Park Services . Published October 27th 1974. National Register of Historic Places- Nomination Form .
Butler , Joseph G. History of Youngstown and the Mahoning Valley, Ohio. Chicago and New York, American Historical Society, 1921 .