Sedgwick on the Defensive, May 4, approx. 8:00-11:00am
Introduction
Salem Church, Part VII: As Early began the Confederate offensive on the morning of May 4, Sedgwick was still waiting for clear information and orders from General Hooker. Unsure of the exact situation at Chancellorsville and with the Confederate moving towards Fredericksburg, Sedgwick repositioned his corps again into a stronger defensive position. 
Images
Confederate and Union positions after 8:00am on May 4, 1863 (map by Kathleen Thompson)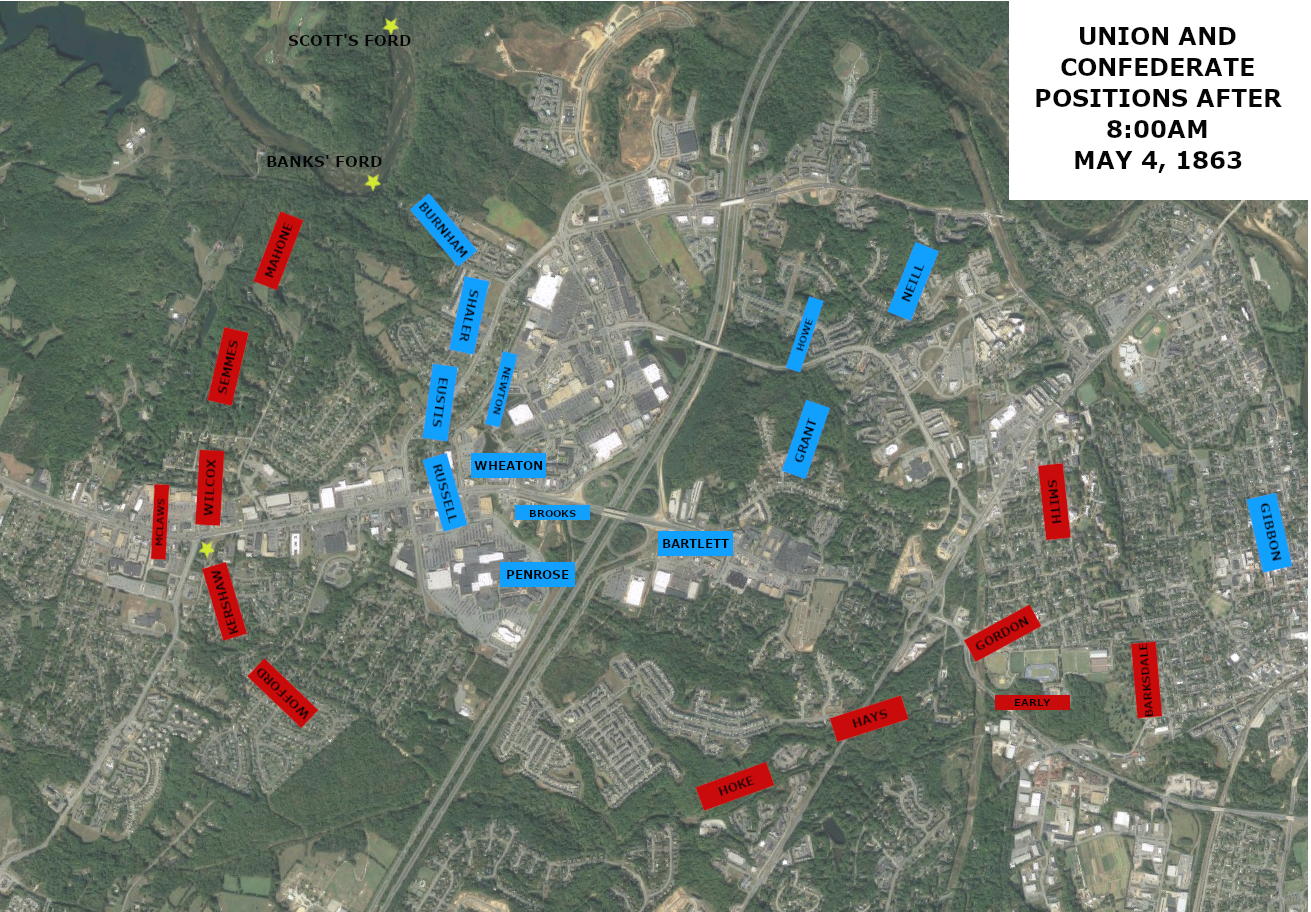 Backstory and Context
As Early advanced on Marye's Heights, Sedgwick still waited for clear instructions from General Hooker. He had received no orders overnight, except for some information from Brig. Gen. Gouverneur K. Warren who had ridden back to Hooker's headquarters for an update. Around 8:00am, the same time that Early was moving to take Marye's Heights, Sedgwick finally received a dispatch from Hooker asking about his position and strength and a request to send any possible troops to support the position at Chancellorsville.
Sedgwick responded to Hooker's inquiry about his position and situation and awaited orders. In the meantime, he needed to respond to the Confederate movement on Fredericksburg and reposition his corps. The new VI Corps line took the form of three sides of a square, with the Rappahannock and Scott's Ford to their rear. Howe's Second Division now faced east towards Fredericksburg and the position of Early's new line. Brooks' First Division was parallel to the Plank Road facing south and Newton's Third Division faced the Confederate line on Salem Ridge from the tollgate towards the river. Sedgwick's new line allowed him to face the two known threats (Early and McLaws), protect his possible retreat point at Scott's Ford, and reestablish a line of communication at the river while he waited for orders from Hooker.
Both Sedgwick and Gibbon felt increasingly uneasy in their positions, but Hooker sent orders for them to remain. Hooker's orders did however state that he supported Warren's earlier information, which included the statement to "Look well to the safety of your corps." This gave Sedgwick some ability to act on his own. Around noon Sedgwick received a message from Hooker to continuing holding his position and that Hooker planned to advance the next day. Hooker also give Sedgwick permission to lay a second bridge at Scott's Ford, which Sedgwick immediately did. 
Sources
Furgurson, Ernest B. Chancellorsville, 1863: The Souls of the Brave. New York: Vintage Books, 1992.
Gallagher, Gary W. The Battle of Chancellorsville. National Park Civil War Series. Eastern National, 2007.
Parsons, Philip W. The Union Sixth Army Corps in the Chancellorsville Campaign: A Study of the Engagements of Second Fredericksburg, Salem Church and Banks's Ford, May 3-4, 1863. Jefferson, NC: McFarland & Company, Inc., 2006.
Sutherland, Daniel E. Fredericksburg and Chancellorsville: The Dare Mark Campaign. Lincoln: University of Nebraska Press, 1998.
Additional Information