Feuchtwanger Stable
Introduction
The red brick building with the triple arched entrances was built as Feuchtwanger Stable around 1888. The three-story building, at 159 Carlton Avenue, is Romanesque Revival style. Meyer Feuchtwanger hired a prominent local architect, Marshall J. Morrill, to design the commercial stable. The entrances were designed to fit a horse-drawn carriage. Ramps once led to the top two stories where the horses were boarded. The building became a candy factory in 1913 and later was a warehouse. Feuchtwanger Stable was listed in the National Register in 1986. The building now houses people in condominium residences.
Images
Feuchtwanger Stable building in 2012 photo (Onorland)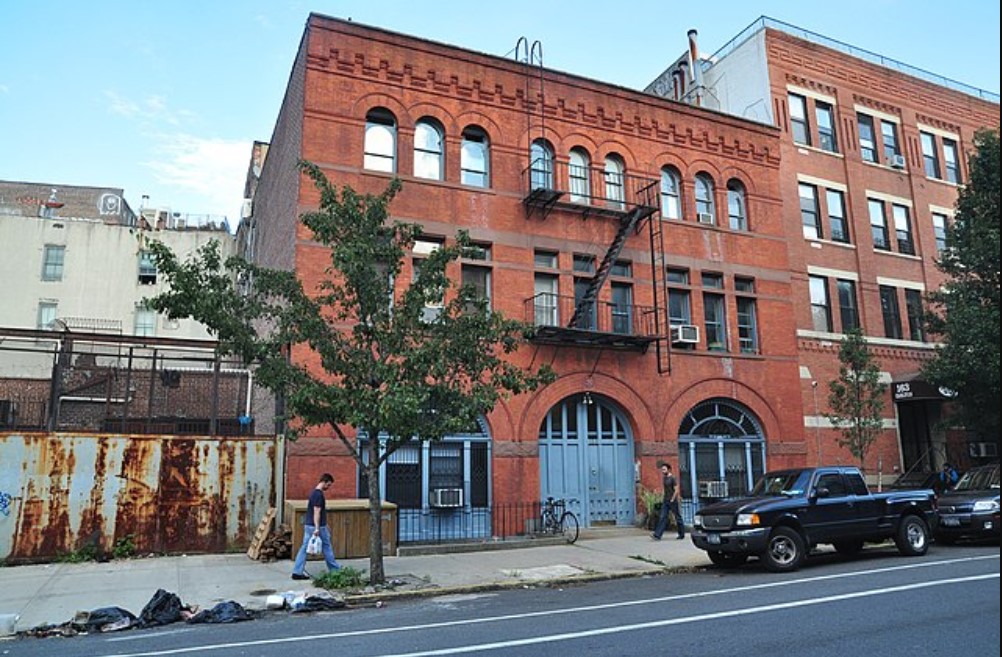 "Chapman and Co." Stable (green arrow) on 1904 Sanborn map (Vol. 2, p. 55)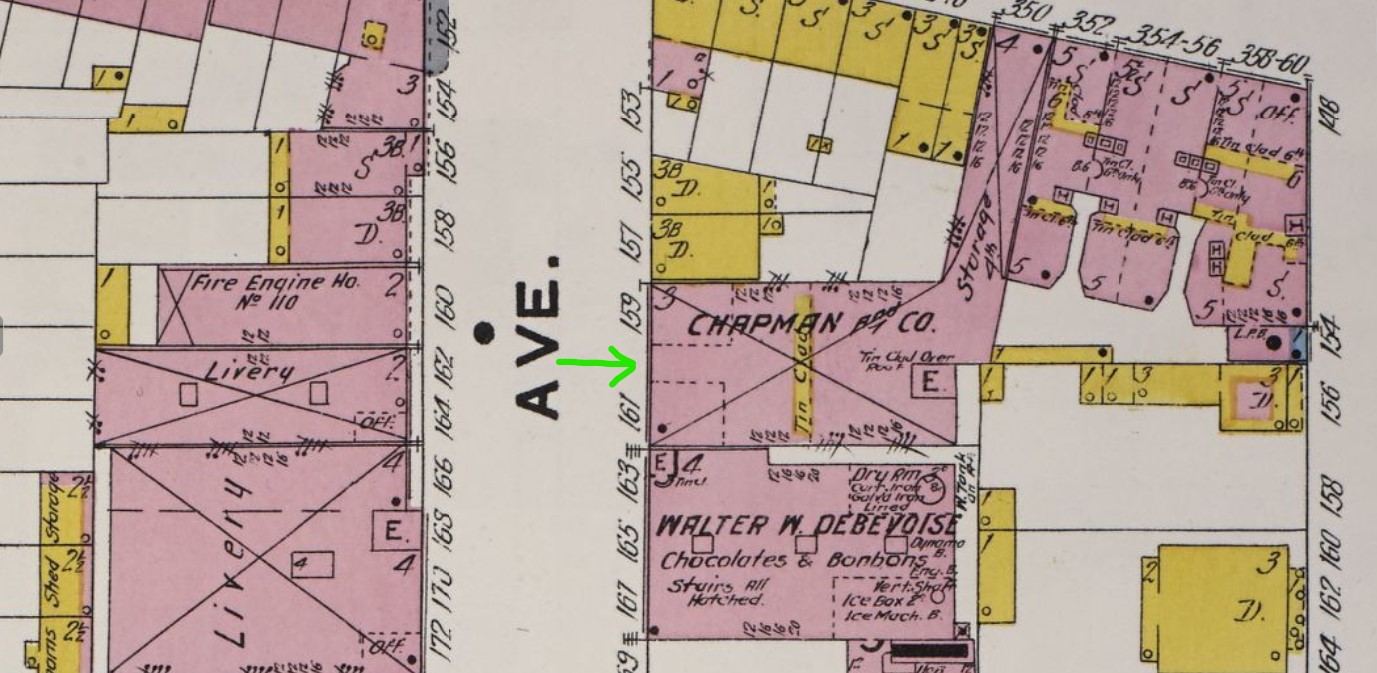 Backstory and Context
Wealthy Brooklynites in the nineteenth century typically owned their own stables to store their horses. For those without a private stable, commercial stables were established for boarding horses. The stables tended to be located on the fringes of residential neighborhoods in wood frame structures. Due to fire hazards, masonry stables became preferable and the only kind city regulations allowed for new construction. Meyer Feuchtwanger purchased the 25 by 100-foot lot on Carlton Avenue in November 1877 from Ellen R. and Ellen A. Hansen, the widow and heir, respectively, of Henry Hanson; Feuchtwanger paid $3,750.
The stable's third story windows feature arches below a brickwork cornice. Some of the building's trim is in sandstone. The stable at 159-161 Carlton Avenue was known as Gilbert's Stable by 1890; Gilbert's Stable used to be located at Cumberland Street at the corner with Fulton, as of 1878. By 1904, the stable was operated as "Chapman and Company" and was physically connected to a four-story brick building that fronted on Myrtle Avenue at #350; the four-story building used the fourth floor for storage. Meyer Feuchtwanger had purchased the Myrtle Avenue lot from Sarah Danzig in 1893 for $4,050. He soon filed paperwork to build a four-story extension of his stable on the new lot, to cost $11,000. The four-story brick extension was to be 25 by 76 feet. Another livery stable was located across Carlton Avenue from Feuchtwanger's by the 1890s; the competitor was Israel's Livery Stable.
The brick building to the south of the stable was already a candy factory in 1904, Walter W. Debevoise Chocolates & Bonbons. The two neighbors' windows may have made for an interesting mixture of aromas! The factory likely expanded north into the adjacent former stable. After the candy factory moved out of 159-161 Carlton, the building became a storage warehouse. Next, it housed an auto repair garage. The building's interior burned in the 1980s during an arson fire. The structure was then boarded up and vacant for many years.
After being nominated to the National Register in 1986 for its architectural significance, the still-vacant building was renovated by Anderson Associates, using tax credits for reusing historic buildings. The building now contains 12 boutique condominium residences featuring high ceilings, exposed brick, and wood-burning fireplaces.
Sources
Anonymous. "Houses - Lots." Brooklyn Daily Eagle (Brooklyn) November 5th 1887. 2-2.
Anonymous. "Transfers." Brooklyn Citizen (Brooklyn) February 21st 1893. 5-5.
Anonymous. "New Buildings and Real Estate." Brooklyn Daily Eagle (Brooklyn) March 18th 1893. 8-8.
Gilbert's Stable. "A Fine Light Bay Horse, 15-1/2 Hands." Brooklyn Daily Eagle (Brooklyn), Classifieds sec, May 23rd 1878. 3-3.
Gilbert's Stable. "A Bay Horse for Sale, 16 Hands High." Brooklyn Daily Eagle (Brooklyn), Classifieds sec, November 8th 1890. 3-3.
Gilbert's Stable. "Bay Mare for Sale, 7 Years Old." Brooklyn Daily Eagle (Brooklyn), Classifieds sec, September 30th 1894. 19-19.
Israel's Livery Stable. "A Young Imported Welsh Pony for Sale." Brooklyn Daily Eagle (Brooklyn), Classifieds sec, September 30th 1894. 19-19.
Spellen, Suzanne. Building of the Day: 159 Carlton Avenue, Brownstoner. April 1st 2013. Accessed January 13th 2022. https://www.brownstoner.com/architecture/building-of-the-day-159-carlton-avenue/.
Image Sources
https://en.wikipedia.org/wiki/Feuchtwanger_Stable#/media/File:Feuchtwanger_Stable.JPG

Library of Congress (LOC): https://www.loc.gov/item/sanborn05791_014/

Additional Information