The Graham Home for Old Ladies
Introduction
This four-story red brick building in the Clinton Hill neighborhood was built in 1851 for the Brooklyn Society for the Relief of Respectable Aged and Indigent Females. The group home was later known as The Graham Home for Old Ladies in honor of donor John B. Graham. The building offered housing for as many as ninety widows and other elderly women and contained a hospital, chapel, and meeting areas. The Society later added a library, more bedrooms, and an outdoor porch. The group home operated for over a century and closed due to funding issues in the early 1960s. After closing, the building was used as a motel with a notorious reputation that included prostitution. The motel closed in 1986, and the building was boarded up and vacant until it was renovated in 2001 and converted into luxury condominium apartments.
Images
2013 photo of front of former Graham Home for Old Ladies (Beyond My Ken)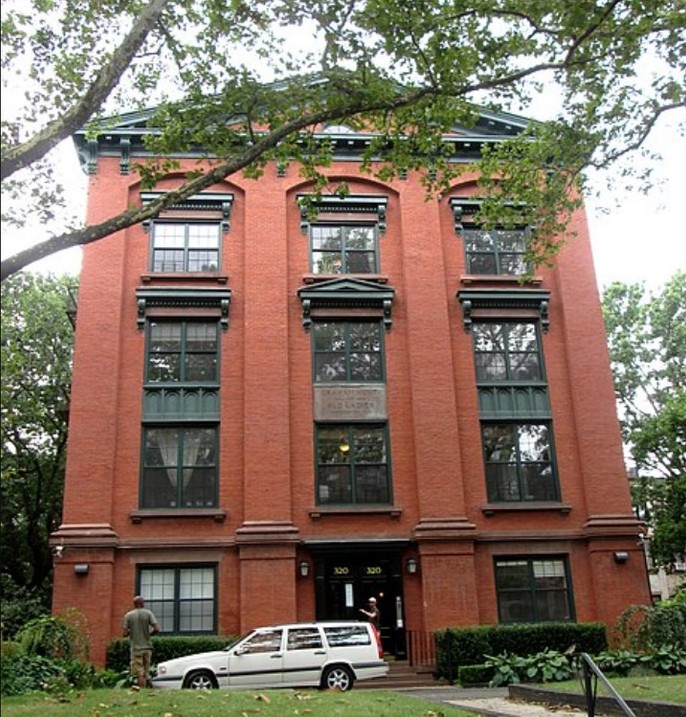 Lithograph of Graham Home from Brooklyn Daily Eagle newspaper in 19th century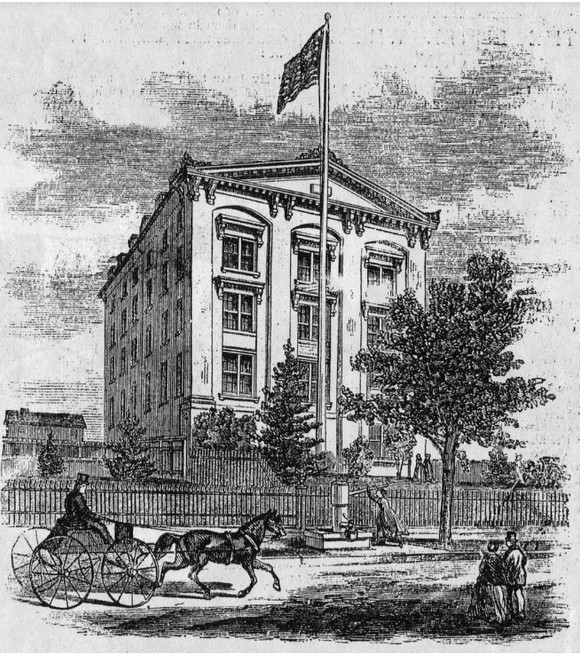 Graham Home on 1904 Sanborn map (Vol. 2, p. 61)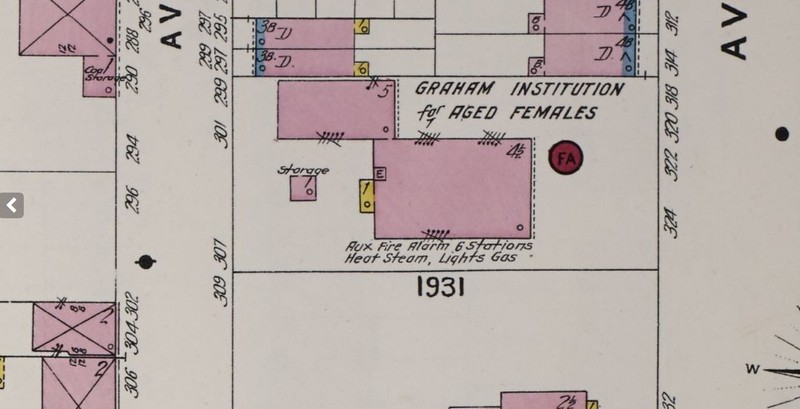 Backstory and Context
Brooklyn attorney and paint manufacturer John B. Graham took the lead in providing assistance to elderly women with no remaining relatives or local friends who no longer had the means to continue the genteel standard of living they had become accustomed to. With his financial support and others, Brookly residents worked to create a local institute that could provide housing and assistance for elderly women in their community. A board of managers was formed that represented 26 churches and seven men formed an advisory committee.
Graham donated land at the corner of Washington and DeKalb Avenues where the home was constructed; the cornerstone was laid on July 1, 1851. The home's original name was the Brooklyn Society for the Relief of Respectable Aged Indigent Females. The home was later renamed the Graham Institute for Aged Females. The first fundraising party for the home raised $400 in December 1852. When John B. Graham died in 1893, he was in the midst of plans to add two more brick buildings on lots adjacent to the Graham Institute. He bequeathed the home for over $13,000.
The home was renamed the Graham Home for Old Ladies in the early twentieth century. By 1914, there were 80 women living there and the waiting list held 43 names. The home began hosting an annual bazaar in 1913 featuring handicrafts made by the residents, a home-cooked turkey dinner, and tours of the facility.
The home had strict rules for residents, and consequences for breaking them could include eviction as a 75-year-old woman discovered in 1920 when she was forced to leave for "bad behavior" after living there for 11 years. The reported violations included refusal to allow entry into her room for inspection, the use of foul language, and disturbing the other residents. She was sent to live at the Poor Farm on Staten Island.
The home includes many more positive stories of residents. For example, Rachel Fayette celebrated her 104th birthday at the Graham Home in 1935. Her late husband was said to be related to the Marquis de Lafayette but had shortened his last name. Mrs. Fayette loved to knit and was given an award for the knitted goods she contributed during World War I. Although she shared a birthday with George Washington, she thought that Lafayette was a better soldier than Washington. Fayette lived at the home for 22 years. A Brooklyn resident for 72 years, she was remembered for sharing stories of the borough before the Brooklyn Bridge.
A 1947 source reveals the requirements for eligibility to live at the Graham Home. At that time, a woman needed to be at least 65 years old and a Brooklyn resident for at least five years. They had to submit testimonials on their respectability of character and propriety. Fees were $1,000 for a room (up from the original $50), and furniture could be brought in with the new resident. After a six-month probationary period, the woman was welcome to spend the rest of her life at the home. The home provided meals, lodging, care, and hospitalization for its 69 residents in 1947. A hospital wing contained 12 beds and was staffed by three nurses. Committees of volunteers organized regular visits, monthly socials, and local churches sent a minister to lead services in the home's chapel each Sunday.
The Graham Home was the second oldest surviving institution of its kind in New York City, with the oldest being the Presbyterian Home for Women in Manhattan. Unlike most of the similar institutions in Brooklyn, the Graham Home was still in its original location in 1950.
While the 2002 renovations updated the interior of the former Graham Home, the exterior was restored, and the grounds have been landscaped. The building now contains 25 condominium residences and is adjacent to a public park, Underwood Park.
Sources
---, Leslie. A Home for 'Ladies', Brooklyn Public Library, Brooklynology. July 22nd 2009. Accessed January 20th 2022. https://www.bklynlibrary.org/blog/2009/07/22/home-ladies.
Anonymous. "Old Folk Happy at Graham Home Fair." Brooklyn Daily Eagle (Brooklyn) December 10th 1914. 21-21.
Anonymous. "Old Lady, 75, Ousted from Graham Home, Stirs up Clubwomen." Brooklyn Daily Eagle (Brooklyn) January 17th 1921. 2-2.
Anonymous. "Mrs. Fayette at 104 Eats Peppermint on her Birthday, Refuses to Make Speech." Brooklyn Daily Eagle (Brooklyn) February 23rd 1935. 3-3.
Davis, Ruth G. "Graham Home Provides Genteel Living for Aged." Brooklyn Daily Eagle (Brooklyn) May 25th 1947. 18-18.
Davis, Ruth G. "Contemporary Comment: Graham Home Plans Benefit Bridge Party." Brooklyn Daily Eagle (Brooklyn) April 25th 1950. 13-13.
Kershaw, Sarah. "Brooklyn Condo in Historic 'Graham Home for Old Ladies' Is for Sale." New York Times (New York) October 28th 2010. Real estate sec, 2-2.
Spellen, Suzanne. Building of the Day: 320 Washington Avenue, Brownstoner. October 13th 2011. Accessed January 21st 2022. https://www.brownstoner.com/architecture/building-of-the-day-320-washington-avenue/.
StreetEasy. Building: 320 Washington Avenue, StreetEasy, Brooklyn, Clinton Hill. January 1st 2022. Accessed January 21st 2022. https://streeteasy.com/building/320-washington-avenue-brooklyn.
Image Sources
https://commons.wikimedia.org/wiki/File:Graham_Home_for_Old_Ladies_320_Washington_Avenue.jpg

Reproduced in 2010 New York Times article (Sarah Kershaw)

Library of Congress (LOC): https://www.loc.gov/item/sanborn05791_014/

Additional Information