Site of the Peg Leg Bates Country Club (Mountain Valley Country Club)
Introduction
Clayton "Peg Leg" Bates became famous for his improvisational tap dancing and the fact that he performed on one leg, having lost the other in an accident when he was a child. He performed for much of the twentieth century and danced with some of the most famous bands of the age, including the bands of Jimmy Dorsey and Duke Ellington. In the 1960s, he opened the Peg Leg Bates Country Club in Kerhonkson, New York, which served a predominantly Black clientele. The club continued operating until Bates's retirement in 1989.
Images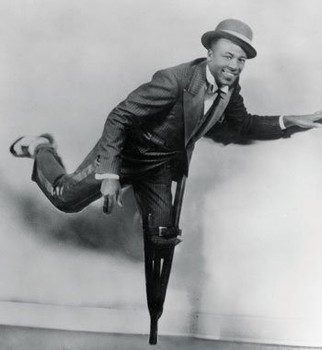 An advertisement for the Peg Leg Bates Country Club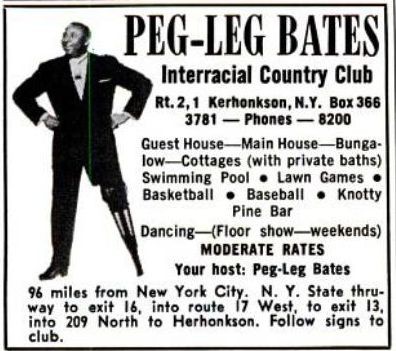 The country club after it shut down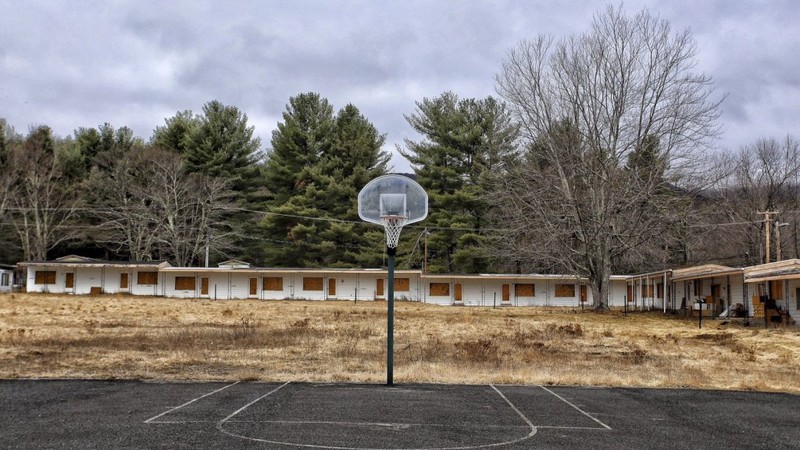 Backstory and Context
Clayton Bates was born in South Carolina in 1907. His family was poor, and he began working in local textile mills as a child to help support them. When he was 12, one of his legs was crushed in a machine at the mill and given the poor medical care available to African Americans at the time, the doctor had no choice but to amputate the leg at the knee, performing the operation on Bates's kitchen table.
Bates already had a love of dancing, a habit he developed in early childhood. It didn't occur to him that, after losing one of his legs, he might not be able to dance anymore. When his uncle carved a wooden leg for him, Bates simply kept dancing, learning to use the rubber base of his wooden leg to make a distinctive sound as he danced. By the time he was in his teens, Bates was regularly performing in minstrel shows and carnivals, eventually getting shows in Black theaters around the country.
He got a big break in the late 1920s when he was performing in Harlem and was spotted by Lew Leslie, the producer of the "Blackbirds" musical theater reviews. Bates performed on Broadway in "Blackbirds of 1928," and from there began performing around the world, including at venues in France and Australia, as well as numerous nightclubs in New York City.
Bates went on to have a remarkable career, appearing in movies and television, and even performing for British royalty. He danced with all of the most well-known bands of the 1930s, including the bands of Duke Ellington, Jimmy Dorsey, Cab Calloway, and Count Basie, to name just a few. He also performed on the Ed Sullivan Show 21 times, more than any other tap dancer.
In the 1950s, Bates opened the Peg Leg Bates Country Club in Kerhonkson. Though it was in a resort area that catered largely to white, Jewish patrons, Bates's club had a predominantly Black clientele. At the time, it was reportedly the largest Black-owned and operated resort in the country. At its peak, the resort included 70 rental units and a nightclub, as well as a roller disco rink and a spacious swimming pool. Bates modeled the resort after the white resorts in the Catskills where he once performed but was not allowed to stay. His resort featured several all-you-can-eat buffets and one-day picnic packages on Saturdays and Sundays. The one-day options were particularly popular in the summer among New York City residents, who were eager to escape the heat and smell of the city, even for a day. Bates also offered guests the option of attending a service with him at a nearby church.
The resort was in operation until Bates's retirement in 1989, which followed years of decline. Bates attributed the loss of revenue to integration, noting that the end of segregation meant his clientele had other options and that white-owned resorts frequently offered amenities that he could not afford. Doreen Richardson purchased the property and began operating it as the Mountain Valley Resort, which closed several years ago.
Sources
Back in Business, Hudson Valley Magazine. March 12th 2009. Accessed February 8th 2022. https://hvmag.com/publications/back-in-business/.
Winerip, Michael . A Legend and His Catskills Resort for Blacks, New York Times . July 15th 1989. Accessed February 8th 2022. https://www.nytimes.com/1985/07/15/nyregion/a-legend-and-his-catskills-resort-for-Blacks.html.
Dunning, Jennifer. Peg Leg Bates, One-Legged Dancer, Dies at 91, New York Times . December 8th 1998. Accessed February 8th 2022. https://www.nytimes.com/1998/12/08/arts/peg-leg-bates-one-legged-dancer-dies-at-91.html.